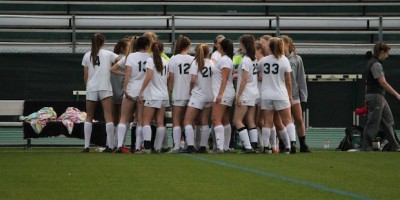 Westminster's girls are tops in Class 3A.
In the state's highest class, Lassiter is still the team to beat with Milton chasing. A new No. 3, Parkview, is in the fray after Mill Creek fell to seventh following a 3-1 loss to Peachtree Ridge on March 8. Peachtree Ridge and Walton are fourth and fifth, respectively. Lassiter is coming off a 2-1 victory over Roswell on March 8.
Johns Creek is still the top-ranked team in Class AAAAAA with a little shuffling going on among the teams below it. Previous No. 5 Lee County fell to unranked following consecutive losses to unranked teams. Filling the void is Apalachee which rounds out the top five beind Harrison, Sequoyah and Dacula.
If anyone can dethrone McIntosh, we have yet to see it. The Lady Chiefs have one tie on their record — to Walton in the first game of the season — but since then, the defending champions have been steadfast. On March 6, they defeated cross-county rival Fayette County in a 10-0 showing.
Marist comes in as the top-ranked team in Class AAAA for two weeks in a row ahead of Blessed Trinity. Marist has not played since Feb. 26, and following the 6-0 victory over Grady, it had to wait until March 13 for its next game against White County. Previous No. 3 Columbus fell to fifth following a loss to St. Vincent's on March 10.
Westminster is at the top of Class AAA. The Lady Wildcats are coming off a 6-1 thrashing of Etowah on March 8. Its only blemish is a 2-2 tie with Blessed Trinity on March 6. Lovett, GAC, Lumpkin County and Savannah Arts rounds out the top five.
Despite losses to Class AAAA No. 3 St. Pius (March 10, 7-0) and Class AAAA No. 5 Columbus (March 10, 6-3), St. Vincent's remains the team to beat in Class AA. Lamar County, East Laurens, Model and Screven County finish out the top five.
Athens Academy made the jump from fifth to second this week following victories over White County and Providence Christian. Holy Innocents', however, is still the team to beat and is coming off a 10-0 victory over the Weber School on March 6.
Class AAAAAA
1. Lassiter
2. Milton
3. Parkview
4. Peachtree Ridge
5. Walton
6. North Gwinnett
7. Mill Creek
8. Brookwood
9. Newnan
10. Roswell
Class AAAAAA
1. Johns Creek
2. Harrison
3. Sequoyah
4. Dacula
5. Apalachee
6. Pope
7. Glynn Academy
8. Lanier
9. Alexander
10. Creekview
Class AAAAA
1. McIntosh
2. Flowery Branch
3. Veterans
4. Decatur
5. Starr's Mill
6. Whitewater
7. Grady
8. Harris County
9. Riverwood
10. Paulding County
Class AAAA
1. Marist
2. Blessed Trinity
3. St. Pius X
4. Spalding
5. Columbus
6. Jefferson
7. Mary Persons
8. North Oconee
9. Chapel Hill
10. Druid Hills
Class AAA
1. Westminster
2. Lovett
3. Greater Atlanta Christian
4. Lumpkin County
5. Savannah Arts Academy
6. Dawson County
7. Bremen
8. Pike County
9. Sonoraville
10. Jackson County
Class AA
1. St. Vincent's
2. Lamar County
3. East Laurens
4. Model
5. Screven County
6. Vidalia
7. Rockmart
8. Jefferson County
9. Harlem
10. Fitzgerald
Class A
1. Holy Innocents'
2. Athens Academy
3. Mount Pisgah
4. First Presbyterian
5. Savannah Country Day
6. Brookstone
7. Stratford
8. Calvary Day
9. Walker
10. Mt. Vernon Presbyterian