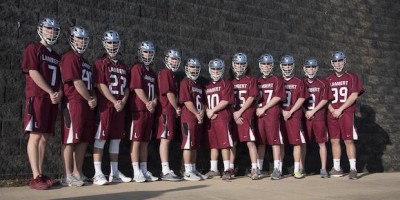 Lambert's seniors have led the Longhorns to No. 1 in 6A-7A. Credit: Brad Burgess
BOYS
In the boys' Class 6A-7A , No. 1 Lambert added a pair of 14-3 victories to out-of-state opponents and improved to 7-0, while No. 2 Centennial racked up two out-of-state victories and a 26-2 win over Brookwood to reach 7-0 this week. These two schools will face off at Lambert this Friday in a battle of No. 1 vs. No. 2. There is a new No. 3 in North Gwinnett. The Bulldogs scored a 13-5 win over previously unbeaten Grayson and jumped Lassiter for the third spot. Lassiter is now No. 5 and Walton (the first team to reach 9-0) jumped to No. 4. Johns Creek also made a significant leap in the poll, scoring a 17-9 win over Pope and improving to No. 6. Roswell enters the rankings at No. 9 after scoring a 9-8 triple overtime victory over No. 10 Cambridge.
The Class A-5A standings did not change since last week, but there are several games to watch for this week that could impact the poll significantly. No. 4 Blessed Trinity hosts Class 6A-7A's eighth-ranked Milton tonight and No. 5 Marist hosts Class 6A-7A's No. 10 Cambridge on Friday.
Class 6A-7A
1. Lambert (7-0)
2. Centennial (7-0)
3. North Gwinnett (8-0)
4. Walton (9-0)
5. Lassiter (3-3)
6. Johns Creek (6-1)
7. Grayson (7-1)
8. Milton (4-4)
9. Roswell (4-1)
10. Cambridge (3-4)
Class A-5A
1. Lovett (6-0)
2. Westminster (8-2)
3. Kell (6-1)
4. Blessed Trinity (7-1)
5. Marist (1-1)
6. Greater Atlanta Christian (5-2)
7. Starr's Mill (9-1)
8. Wesleyan (3-2)
9. Whitefield Academy (5-1)
10. Woodward Academy (6-0)
GIRLS
Maryland's powerhouse program Roland Park Country is going to provide a ton of insight into the Girls' Class 6A-7A poll in the ensuing days. The Reds defeated No. 1 Milton 19-12 Tuesday night and will now take on No. 3 Cambridge tonight and No. 2 Lassiter on Thursday. Walton made a jump to No. 4 in this week's poll after scoring an 8-5 win over Blessed Trinity.
In Class A-5A, No. 1 Blessed Trinity will host No. 2 Kell on Thursday. The Titans are coming off an 8-5 loss to Class 6A-7A No. 4 Walton, and Kell is fresh off a 10-9 victory over fifth-ranked Kennesaw Mountain.
Class 6A-7A
1. Milton (4-1)
2. Lassiter (8-1)
3. Cambridge (8-1)
4. Walton (3-1)
5. Kennesaw Mountain (5-2)
6. North Gwinnett (3-2-1)
7. Mill Creek (6-2)
8. Northview (6-2)
9. Centennial (4-0)
10. West Forsyth (6-2)
Class A-5A
1. Blessed Trinity (7-1)
2. Kell (5-2)
3. Wesleyan (6-1)
4. Westminster (2-3)
5. Starr's Mill (5-0)
6. Marist (1-0)
7. St. Pius (2-2)
8. McIntosh (2-4)
9. Pinecrest Academy (3-0)
10. Woodward Academy (4-2)