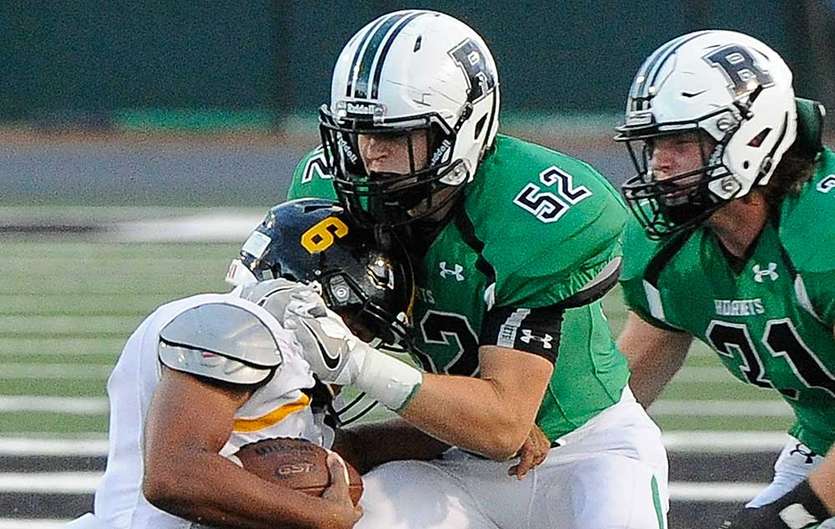 Photo by John Amis
In Class AAAAAAA, South Forsyth defeated South Gwinnett 39-20 to debut at No. 9 in this week's poll. North Gwinnett remains No. 8 despite a 38-24 loss to No. 5 Norcross due to its 42-24 over Hillgrove, which defeated No. 9 South Forsyth 27-14 to open the season.
Eight undefeated teams strengthen the Class AAAAAA top 10, with one-loss Tucker and Glynn Academy coming in at No. 8 and No. 10, respectively. Arabia Mountain made its debut in the Class AAAAA rankings at No. 8 and is 4-0 on the year. Bainbridge dropped out of the poll after its 0-2 start.
In Class AAAA, Marist returned to the poll at No. 8 after a 13-0 win over rival St. Pius on Friday.
Even with a loss to Valor Christian, Colo. 21-17 on the road, Greater Atlanta Christian rises to the No. 1 spot in Class AAA after Pace Academy falls to No. 3 following a 38-10 loss against Thomson. Stanford-commit Davis Mills made his season debut under center for the Spartans after a preseason injury was thought to keep him sidelined for at least another month. Elsewhere in the poll, No. 10 Pierce County clings onto a top ten spot after a 24-17 loss to Richmond Hill. Central-Macon makes an appearance at No. 9 replacing Monroe who falls out after a 35-7 loss to Thomas County Central.
A week after losing the No. 1 ranking in Class AA to Benedictine, No. 2 Fitzgerald came out and made a statement, picking up a 70-42 victory over former Class A-Public No. 1 Macon County, who now drops to No. 4. Vidalia sinks two spots to No. 8 after a 28-7 loss to West Laurens. Replacing Dodge County is No. 9 Pepperell. Dodge County fell to 1-2 over the weekend after a 41-34 loss to Appling County.
Not much changed in Class A-Private aside from Athens Academy replacing Aquinas in the No. 10 spot. No. 5 Darlington and No. 6 Calvary Day picked up impressive wins, the Tigers rallying from 14-0 to defeat AA No. 10 Heard County 28-14 while the Cavaliers knocked Aquinas out of the top ten with a 32-13 win.
Commerce rises to No. 1 in Class A-Public. Macon County slips to No. 4 with their loss against Fitzgerald. Replacing Trion and Irwin County are No. 9 Randolph-Clay and No. 10 Taylor County. Trio falls out of the top ten due to a 40-7 loss against 1-3 Bremen. Randolph-Clay has outscored opponents 70-6 while Taylor County has been powered by junior running back sensation Lyn-J Dixon. The highly sought after playmaker already has 726 yards rushing and 12 rushing touchdowns. Dixon brings his 242 yard per game average to No. 4 Macon County on Sept. 23 which a chance to prove the Vikings' legitimacy in the top ten.
Class AAAAAAA
1. Mill Creek
2. Roswell
3. Grayson
4. McEachern
5. Norcross
6. Lassiter
7. Brookwood
8. North Gwinnett
9. South Forsyth
10. South Gwinnett
Class AAAAAA
1. Northside-Warner Robins
2. Houston County
3. Valdosta
4. Lee County
5. Northgate
6. Harrison
7. Dalton
8. Tucker
9. Creekside
10. Glynn Academy
Class AAAAA
1. Buford
2. Stockbridge
3. Thomas County Central
4. Carrollton
5. Kell
6. Jones County
7. Ware County
8. Arabia Mountain
9. Grady
10. Rome
Class AAAA
1. Cartersville
2. Thomson
3. Sandy Creek
4. Blessed Trinity
5. Woodward Academy
6. Mary Persons
7. Burke County
8. Marist
9. Oconee County
10. Jefferson
Class AAA
1. Greater Atlanta Christian
2. Liberty County
3. Pace Academy
4. Lovett
5. Cedar Grove
6. Calhoun
7. Westminster
8. Peach County
9. Central-Macon
10. Pierce County
Class AA
1. Benedictine
2. Fitzgerald
3. Rabun County
4. Brooks County
5. Callaway
6. Jefferson County
7. Model
8. Vidalia
9. Pepperrell
10. Heard County
Class A-Private
1. Eagle's Landing Christian
2. Wesleyan
3. Prince Avenue
4. Landmark Christian
5. Darlington
6. Calvary Day
7. Stratford Academy
8. Mt. Pisgah
9. First Presbyterian Day
10. Athens Academy
Class A-Public
1. Commerce
2. Clinch County
3. Emanuel County Institute
4. Macon County
5. Mt. Zion
6. Marion County
7. Manchester
8. Lincoln County
9. Randolph-Clay
10. Taylor County