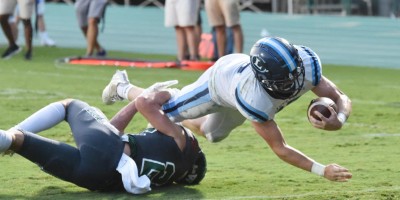 No. 7 Marist controlled the entirety of the opening half against host Blessed Trinity, building a 17-0 lead before the break and holding on through the No. 10-ranked Titans' comeback attempt to improve to 4-1 on the season. The 31-14 victory was the fourth-straight win for the War Eagles, and their third in a row against Blessed Trinity.
The Titans defense entered the matchup having allowed just seven points per game through three games, but an opportunistic Marist offense got a 36-yard field goal following Trayce Gaynes' return of the opening kickoff deep into Titans territory and a touchdown on an option pitch to Joseph Pizzo after converting on fourth down. Blessed Trinity ended the opening frame with a fourth-down conversion of its own but was forced to punt again to start the second. The Titans got the ball for just the third time with 3:39 left in the half after a missed Marist field goal attempt, then punted for the third time following a big sack from senior Luke Harpring. Junior Jack Euart took advantage of the final possession of the half, finding a seam for the long rushing score and a 17-0 edge heading into the third quarter.
The Titans' opening drive of the second half ended in a punt as well, but freshman DJ Jacobs forced a fumble on the following Marist possession and Luke Ferguson recovered it in War Eagle territory. Junior quarterback Brooks Goodman then found Arizona-commit Bryce Lewis for a 21-yarder to put Blessed Trinity on the board at the 6:18 mark of the third. After finally forcing a punt from Marist, the Titans marched 84 yards down the field in 12 plays, cutting the War Eagles' lead to 17-14 with Goodman's TD on the keeper early in the fourth. Senior Jackson Hughes added a pair of rushing scores — including one from 42 yards out — for Marist, however, which also got a blocked punt from Harpring to secure the win.
The loss was the first of the season for the Titans, who will begin Region 7 play at Sprayberry next week. Marist will face its first Region 4 foe following next week's bye when the War Eagles take on Dunwoody.
The AJC has writers at Kennesaw Mountain at Harrison, Cedar Grove at Mill Creek and Carver-Atlanta at Buford. Follow the link to Todd Holcomb's Friday night wrap or see the Friday recaps below.
Class 7A
Newton 27, Westlake 12
The Newton Rams came out on top of a battle between two unbeatens, handing the No. 7-ranked Lions their first loss of the season and improving to 5-0 ahead of their bye with the 27-12 victory. The Rams set the tone early with an impressive goal line stand after the Lions offense picked up 1st-and-goal at the Newton 1-yard line, forcing a turnover on downs and getting on the board shortly after with an 84-yard touchdown from Zion Johnson. Newton will kick off Region 4 play in two weeks at Grayson.
Brookwood 23, Carver-Columbus 22
Trailing Class 3A No. 10-ranked Carver-Columbus 22-0, Brookwood finally got on the board late in the third quarter before completing the comeback victory with an onside kick and go-ahead field goal from junior kicker Caitlyn Soroka in the game's final moments. After a scoreless first, the Class 3A Tigers got a rushing score and a pick-six in the second quarter. The teams traded interceptions in the third, and an 80-yard touchdown completion from Jamarcus Davis to Martavious McCoy put Carver up 22-0. Broncos quarterback Sebastian Boyd found Manuel Scott at the end of the third before connecting with Lee Niles on a 54-yarder in the fourth to get within a touchdown. After the teams traded interceptions again, Matt Peavy and Dayson Forbes connected on a 58-yard touchdown with less than a minute to play to set the stage for Soroka's heroics.
West Forsyth 28, Cherokee 19
West Forsyth closed out non-region play with a 28-19 road win over Region 5's Cherokee. The host Warriors cut West Forsyth's lead to just 14-10 before the break and trailed by one possession (21-13) heading into the fourth, but the Wolverines stayed out in front the remainder of the game. Following a bye, West Forsyth will kick off Region 6 play with a visit from Denmark.
Parkview 48, St Pius X 0
The sixth-ranked Panthers got their second shutout of the season in a 48-0 rout of visiting St Pius X out of Class 6A. Parkview led 34-0 at the break and by the game's final margin heading into the final frame and will host No. 3-ranked Mill Creek next week in a battle of two unbeatens.
East Coweta 42, Lowndes 30
East Coweta kept its perfect season alive with a 42-30 victory over host Lowndes. The Indians took their first lead of the game in the second quarter (21-17) when quarterback Cohen Peeples connected with Deshun Horsley for a 73-yard touchdown, but the Vikings took advantage of return into East Coweta territory with another touchdown to lead 24-21 with 6:30 left in the half. From there, however, East Coweta outscored Lowndes by a margin of 21-6 to close out the win.
Harrison 31, Kennesaw Mountain 7
Braylan Ford accounted for all four of Harrison's touchdowns en route to a victory over visiting Kennesaw Mountain. Ford completed 13 of 17 passes for 217 yards and three touchdowns and also rushed for a 24-yard score. Xavier Hill, Amari Watson and Brady Kluse hauled in Ford's scoring strikes. The game was tied at 7-7 in the second quarter, but Harrison seized a 21-7 lead by halftime and coasted the rest of the way. Nalin Scott scored the Mustangs' lone touchdown and finished with 10 receptions for 119 yards.
Milton 37, Alpharetta 12
The No.8-ranked Eagles handled business at home, holding visiting Alpharetta out of Class 6A to -3 yards of total offense in the opening half, then outscoring the Raiders 21-6 in the final frame to secure the victory. Milton improves to 3-1 with the win and still has a matchup against North Cobb and a bye week before the Eagles' Region 6 opener against South Forsyth. The 1-3 Raiders will kick off Region 7 play at home next week against Pope.
North Gwinnett 39, Duluth 10
The Bulldogs got their third win in four games and handed Duluth its first loss of the season in the teams' Region 7 opener. North Gwinnett led 32-0 at the break and 39-0 in the fourth quarter before the Wildcats finally got on the board. Duluth will look to secure its first region win next week at Discovery, and the Bulldogs will host Berkmar.
Walton 52, Marietta 8
No. 4-ranked Walton will enter its bye week with a record of 4-0 following an emphatic 52-8 victory over visiting Marietta (1-4). The Region 5 Raiders led 35-0 at halftime and 38-0 heading into the final frame and have now scored at least 49 points in each of their games.
North Cobb 35, Northside-Warner Robins 17
Ellis Reid scored on a 68-yard run with eight minutes left in the first quarter and the Warriors never looked back on the way to their first-ever victory over the Eagles. TJ Smith caught a 22-yard touchdown pass with three minutes left in the first quarter to put North Cobb up 14-0. Smith caught an 18-yard touchdown reception to give the Warriors the 21-3 lead. Reid scored on a 5-yard run to put North Cobb up 28-3 and a 41-yard run to cap scoring for the Warriors. Northside got scoring from a 22-yard field goal from Noe Yanez-Robles, a short run from Colt Henson and a 9-yard pass from Ricardo Jones to Keron Milton Jr.
Carrollton 47, Jenkins 14
No. 5 Carrollton led 47-0 at halftime at home against Jenkins of Class 5A. Carrollton's Julian Lewis threw for three touchdown passes, with two going to Jordan White for 41 and 7 yards in the first quarter. Lewis found Caleb Odom for a 21-yard touchdown in the second quarter. Kimauri Farmer rushed for touchdowns of 54 and 7 yards in the first quarter for Carrollton. The Trojans scored touchdowns on an interception return by Jadyn Thompson and a punt return by Keshun Thompson in the second quarter. Carrollton improved to 4-1.
In other Class 7A games – Norcross got a trio of touchdowns in both the first and second quarters en route to a 49-0 victory over visiting Discovery in the Region 7 opener. … McEachern got its first win of the season — a 49-7 rout of visiting Tucker — but the Indians still have a trip to Valdosta to face a ranked Wildcats team before they can begin Region 3 play. … Peachtree Ridge improved to 5-0 with a 39-7 victory over host Berkmar in a Region 7 matchup. … Archer rode a 40-point second quarter to a 47-0 win over visiting Shiloh and will begin Region 4 play following the Tigers' bye with a visit from Brookwood.
Class 6A
Mundy's Mill 21, Alcovy 6
Mundy's Mill got its fourth win of the season in its Region 3 opener against visiting Alcovy (1-3). Following a scoreless opening frame, the Tigers were first on the board at the 5:42 mark of the second quarter with a 37-yard touchdown pass from senior quarterback Donovon Morton. Morton threw another touchdown pass just before the break for a 14-0 edge, and the Tigers extended their lead with one last score at the end of the third.
Lambert 49, Flowery Branch 33
The Lambert Longhorns led by as much as 49-19 in the fourth before giving up a pair of late touchdowns, but senior safety Jack Ryan sealed the victory with a pick. Lambert got a Baker Kimbrel field goal in the first quarter and touchdowns from Tommy Lafayette and Cam Bland — along with a safety — in the second for a 19-0 edge. The Falcons got on the board shortly after, but their onside kick attempt was returned by Jaden Carter for another Longhorn score. In the third, Christian Smith connected with Ethan Daughtery on a reverse pass to extend the lead, and Smith's pick-six following Branson Brooks' scoop-and-score put Lambert in front 49-19.
Sequoyah 21, Etowah 12
Sequoyah won its Region 6 opener against visiting Etowah 21-12, with Jackson Hancock's second touchdown of the night — a 66-yard fourth-quarter run — sealing the win for the 3-2 Chiefs after a late comeback attempt by the previously-undefeated Eagles. Hancock had a 17-yard touchdown reception in the second quarter as well, and Ean Marria' 47-yard rushing score put Sequoyah on the board in the opening frame.
Gainesville 70, Apalachee 6
The top-ranked Red Elephants opened Region 8 play with an emphatic 70-6 victory over visiting Apalachee (0-5) to improve to 5-0 on the season. Gainesville led 63-0 at halftime, thanks in part to a pair of long kick returns for touchdowns and will host Lanier following next week's bye.
Woodward Academy 56, Morrow 0
No. 9 Woodward Academy won on the road at Tara Stadium over Morrow in a Region 3 matchup. Woodward Academy, now 2-2 and 1-0 in region play, got eight touchdowns, all by different players. Quarterback Griffin Marshall rushed for a 1-yard score to put the War Eagles ahead 7-0 four minutes into the game and threw a 14-yard touchdown pass to Jerome Bettis Jr. in the second quarter. Backup QB Landon Walker also ran and threw for scores, rushing for a 1-yard touchdown and throwing a 74-yard touchdown to Josiah Abdullah. Caden Morris returned a fumble 45 yards for a score in the first quarter.
Hughes 47, New Manchester 0
Justus Savage ran for a 71-yard touchdown on the first play from scrimmage and visiting Hughes never looked back in a dominant win over New Manchester. Both Savage and Terquavious Brown delivered two touchdown runs for the Panthers, who led 20-0 through one quarter and 40-0 at halftime before a running clock made for a quick second half. Hughes also got a 65-yard scoring scamper by Dorian Page, a 50-yard interception return to the endzone by Jakob Gude and an 18-yard touchdown pass from Prentiss Nolan to Xavier Tiller.
Creekview 38, Allatoona 14
Creekview got a win in its Region 6 opener, leading host Allatoona by as much as 38-7 in the fourth to improve to 4-1 on the season. The Grizzlies got touchdown runs from Mason Munn and Austin Guest in the opening frame, plus another from Guest and a 5-yard rushing score from Cal Schubert before the break. In the third, Josh Tuten added a 25-yard pick six, and Lucas Hubert connected on a 38-yard field goal for Creekview's final points.
In other Class 6A games – Paulding County got its first win of the season with a go-ahead fourth-quarter touchdown over visiting Newnan in the Region 5 opener. … No. 5-ranked Lee County responded to its first loss of the season last week with an emphatic 45-14 victory over visiting Lake Gibson out of Florida. The Trojans will travel to Houston County next week to kick off Region 1 play … Dunwoody improved to 4-0 with a 33-0 shutout of visiting Northview and will open Region 4 play next week against Lakeside-Atlanta. … The Douglas County Tigers traveled to Alexander for their Region 5 opener and came away with a comfortable 50-8 victory to improve to 4-0 on the season.
Class 5A
Troup 56, Whitewater 7
No. 3 Troup traveled to Whitewater in the teams' Region 4 opener, with the Tigers improving to 4-0. Quarterback Taeo Todd rushed for a first-quarter touchdown before leaving with injury. In his place at quarterback, Logan Sinkfield scored three rushing touchdowns for the Tigers. Ashton Williams also rushed for two touchdowns for Troup, and Javari Fannin rushed for one.
Mays 40, Chapel Hill 0
Mays had little trouble in its 40-0 win over Chapel Hill at Lakewood Stadium. Mays scored on their first three drives and led 26-0 in the second quarter before extending their lead to 32-0 at the half.
Ola 42, Eastside 14
Host Ola defeated Eastside in a Class 5A non-region matchup. The Mustangs led 21-7 at halftime led by a touchdown rush from running back Caden Waye and two touchdown rushes from quarterback Jake Holmes. Waye scored again in the second half, and fellow running backs Nigel Newkirk and Caiden Young also rushed for scores. Ola, of Region 2, improved to 4-0, and Eastside, of Region 8, fell to 2-2.
In other Class 5A games – No. 2 Creekside won its Region 5 opener over Lithia Springs on the road, 49-6, to improve to 3-1. … No. 3 Coffee defeated Class 3A Salem at home, 58-0. … No. 5 Cartersville shut out Salem 45-0 at home in a Class 5A non-region contest. Khristian Lando scored two rushing touchdowns, and the Purple Hurricanes scored on a punt return and an interception return. … No. 6 Warner Robins held off Dutchtown 29-22 in a Region 2 matchup to improve to 2-2.
Class 4A
Westminster 31, Centennial 22
Michael Buhay completed 10 of 14 passes for 117 yards and threw both of his touchdown strikes to Brand Morgan as visiting Westminster defeated Centennial. The Wildcats also got a touchdown run by Wade Penn and a scoop and score off of a fumbled lateral by Lawton Sodemann. Centennial battled back to make it a one-possession game in the fourth quarter thanks in part to touchdowns by Sean Siracusa and Palmer Sperier, but Will Simpson's 49-yard field goal with a little more than two minutes remaining iced it for Westminster.
Starr's Mill 21, LaGrange 7
Taylor Ratinaud broke a 7-7 tie with an 80-yard interception return for a touchdown in the third quarter as Starr's Mill battled past visiting LaGrange. Ratinaud also intercepted a pass late in the fourth quarter to put away any chance LaGrange had of mounting a comeback. The Panthers got touchdown runs by Dorsey Benefield and Logan Inagawa. LaGrange's lone score came just prior to halftime on a 63-yard pass from Malik Kemp to Denorayon Reid that tied things up at 7-7.
Burke County 49, Oconee County 17
Burke County led 28-7 at the half in a romp of Oconee County. The Bears entered the fourth quarter with a 28-10 lead and scored three touchdowns to pull away.
North Oconee 38, Madison County 8
North Oconee led 14-0 after the first quarter and 28-0 at the half to overwhelm Madison County. Landon Roldan scored three touchdowns to lead the Titans.
In other Class 4A games – Pace Academy blanked Woodland-Stockbridge 37-0. Maddox Crawford scored twice on the ground and Terrence Kiel Jr. returned a punt for a touchdown. … Holy Innocents' led 28-0 at halftime and coasted to a 38-14 victory over Douglass. The Golden Bears got two touchdowns from Nemo High and one each by Nick Morgan, Jamie Savula and Zach Jackson. … Cedar Shoals won a defensive struggle with Walnut Grove 14-6. The Jaguars trailed 6-0 midway through the second quarter, but Anthony Hubbard scored on a 20-yard run to give them a 7-6 lead at halftime and Taiwan Green provided the clincher from three yards out with two minutes left in the game. … Cairo had too much firepower in all three phases for Pelham in a 43-27 victory. The Syrupmakers faced deficits of 7-0 and 14-7 before taking control thanks in part to special teams and defense. Bryian Duncan returned an interception for a score and Keshen Spence returned a kickoff for a touchdown and also recovered a blocked punt for a TD. … Southeast Bulloch shut out Tattnall County 17-0. A dominant defensive effort saw Kyle O'Brien score on an interception return. Quentin Reed added a touchdown run and Cole Snyder kicked a 40-yard field goal for the Yellow Jackets.
Class 3A
Sandy Creek 27, Collins Hill 21 (OT)
The defending state champion Fighting Patriots responded to last week's loss — their first of the season — with a big overtime win over host Collins Hill out of Class 7A. No. 4-ranked Sandy Creek led 7-0 after the opening frame, and the 14-7 score stood until early in the fourth when Chase Usher added a pick-six for the visitors. Collins Hill forced overtime with a pair of late scores but was unable to score in extra minutes, thanks to a Sandy Creek defense that forced five turnovers on the night. The Fighting Patriots will host Jackson next week, while the Eagles will travel to Westlake.
Harlem 47, Aquinas 42
Cayman Davis recovered a failed onside kick attempt to secure the victory for Harlem over Aquinas. Harlem led 14-3 after the first quarter and 28-16 at the half but Aquinas responded and cut into the lead in the third quarter leaving Harlem leading 34-29 entering the fourth quarter.
Adairsville 49, Lakeview-Fort Oglethorpe 13
Adairsville led 21-0 after the first quarter and 35-0 at the half on the way to beating Lakeview. The Tigers scored a touchdown in each the third and fourth quarters to expand the margin.
Upson-Lee 21, Haralson County 3
Trailing 3-0, Ja'Quan Bentley scored on a 39-yard touchdown to give Upson-Lee the lead after a 34-yard field goal from Haralson's Dane Kimball. The Knights scored on a run with nine minutes left in the third quarter and again minutes later to secure the victory.
Savannah Christian 35, Savannah Country Day 0
Leading 6-0, Blaise Thomas passed to Kenry Wall on a 29-yard touchdown to put Savannah Christian up 12-0 early in the second quarter. He passed to Tyler Penrose on a 49-yard touchdown to expand the margin. The Raiders scored on a short run to make it a 26-0 game just before halftime. Zo Smalls scored on a 27-yard run to give Savannah Christian a 32-0 lead with six minutes left in the third quarter and a 27-yard field goal with eight minutes left in the game capped scoring.
Stephens County 56, White County 26
Stephens County was nursing a 14-10 lead after the first quarter and a 21-20 lead at the half but took control in the third quarter outscoring White County 28-6 to take control.
Coahulla Creek 35, Ridgeland 0
Chase Ward passed for one touchdown and added a touchdown run alongside Karim Bradley, who scored two rushing touchdowns to lead Coahulla Creek past Ridgeland.
Bremen 31, Gordon Lee 3
Bremen led 14-0 after the first quarter and 17-3 at halftime before expanding the margin in the second half against Gordon Lee.
Class 2A
Pierce County 49, Charlton County 6
No. 4 Pierce County defeated Class A Division 2 Charlton County at home. Bears quarterback Caden McGatha threw four touchdown passes, including two to Joe Drew of 22 and 4 yards. Jah Evans rushed for three touchdowns of 89, 7 and 4 yards. McGatha also threw touchdowns of 11 yards to Chance Williams and 4 yards to Nigel Brown. Pierce County, which improved to 4-0, led 28-0 at halftime.
Providence Christian 71 Athens Christian 0
Providence Christian controlled the game against Athens Christian from start to finish. Providence Christian took the lead early in the first quarter. Four different players scored for the Storm, helping Providence Christian continue their program-best 4-0 start.
Northeast 52, ACE Charter 26
Nick Woodford scored on a 15-yard run to open scoring for Northeast. Ezekiel Hicks pushed the margin on a 10-yard run. ACE got on the board with a rushing touchdown with eight minutes left in the second quarter. Woodford scored on a 15-yard run with four minutes left in the first half to give Northeast a 20-7 advantage after the missed PAT. Woodford's 47-yard run put Northeast up 27-10 with 10 minutes left in the third quarter. Woodford scored a 65-yard touchdown run to expand the lead. Reginald Glover returned a punt 89 yards for a touchdown to put Northeast up 39-20. Woodford scored on a 30-yard run to expand the lead to 45-20. Glover's 15-yard touchdown run capped scoring for the Raiders.
North Cobb Christian 21, Therrell 14
North Cobb Christian kicked off Region 6 play with a 21-14 victory over Therrell. Michael Rowe scored on a 1-yard run, Coker Ormsby passed to Will Hewitt for a 28-yard touchdown and Teddy Jarrett passed to Hewitt on a 8-yard touchdown. The win ended a two-game losing streak for the Eagles, who cracked the top 10 earlier this month after a 2-0 start to the season. North Cobb Christian (3-2) will host region foe Washington next Friday before its bye the following week.
Class A Division I
Prince Avenue 58, Eagle's Landing Christian 18
Georgia Tech-commit quarterback Aaron Philo passed for 390 yards and six touchdowns while rushing for one touchdown in a romp of Eagle's Landing Christian. Philo passed to Hudson Hill for three touchdowns and CJ Dockery for two. The Wolverines led 48-12 at the half.
Dublin 28, Metter 0
Dublin shut out Metter at home in a non-region contest. The Fighting Irish got two touchdowns in the first half from Xavier Bostic, who scored from 5 yards in the first quarter and 38 yards in the second quarter. Dublin led 14-0 at halftime and extended the lead with a 73-yard rushing touchdown by Kameron Hampton in the third quarter. Dublin, of Region 2, improved to 3-1, and Metter, of Region 3, fell to 1-4.
Trion 31, Model 12
Trion had a pair of 100-yard rushers in their 31-12 road win over Model to move to 4-0. Senior Toby Maddux ran for 117 yards and two touchdowns on 15 carries in the first half. Junior Zach Camp carried the ball 16 times for 84 yards. Junior quarterback Kade Smith added 45 yards rushing and 94 yards passing for the Bulldogs. Model (2-1), from Region 7-AA, had two scoring drives in the first quarter to take a 6-0 lead. After senior Amir Pinkard recovered a surprise onside squib kick to start the game, Model used five plays to cover 25 yards, with Kevin Espinoza kicking a 30-yard field goal to put the Blue Devils up 3-0. Pinkard intercepted a Trion pass on the next possession, and Model went on a 12-play, 76-yard drive that finished with a 22-yard Espinoza field goal. But from that point on, Trion seized control of the game. The Bulldogs drove 68 yards in nine plays, and Maddux capped it off with a 12-yard touchdown run. Andy Ramirez kicked the PAT for a 7-6 lead. Three plays into Model's ensuing drive, linebacker Lucas Stoker picked up a Model fumble and sprinted 30 yards to the end zone for a touchdown. The Ramirez kick gave Trion a 14-6 lead. Just two minutes before halftime, Maddux barreled into the end zone for a 27-yard touchdown, and Trion enjoyed a 21-6 lead at the break. After forcing the Blue Devils to a 3-and-out to start the third quarter, Trion marched 74 yards in 15 plays, adding to the lead when Ramirez connected on a 38-yard field goal and a 24-6 lead. The Bulldogs then salted the game away with a long 12-play, 83-yard drive that covered over six minutes on the clock. Cohen Blaschke had a 20-yard TD run to finish it off, giving Trion a 31-6 advantage. Model's last score came on a 14-yard touchdown pass from Jake Sanders to Keith Sprayberry late in the fourth quarter. Sanders finished the night going 6-of-15 for 80 yards, but he was sacked twice and chased out of the pocket on multiple other occasions by the Trion pass rush. Jeremiah Gamble was Model's leading rusher, gaining 75 yards on 11 carries.
Jasper County 12, Lake Oconee Academy 6
Knox Van Mol kicked a 37-yard field goal to get Lake Oconee ahead early but Jasper responded with an interception on the ensuing drive and a 15-yard touchdown run with one minute left in the first quarter to lead 6-3 at halftime. Jasper capped scoring on a 2-yard run with three minutes left in the third quarter to secure the victory.
Class A Division II
Schley County 42, Central-Talbotton 14
Senior quarterback Jay Kanazawa was 6-for-6 passing for 89 yards and four touchdowns to lead top-ranked Schley County. Sophomore quarterback Jake Little was 2-for-3 passing for 60 yards and a touchdown. Junior Jeremiah Rogers made three carries for 62 yards and a touchdown. Kendall Sims, Jonathan Leggett, Connor Rhyne, Sam Forehand and Jordan Hudson each caught touchdown passes for Schley.
Elbert County 36, Washington-Wilkes 27
Braylon Scarborough passed to Brady Dickerson with two minutes left in the third quarter to leave Elbert trailing 27-23 but Jacari Bennett's 5-yard run with 11 minutes left in the game gave Elbert the lead. The Blue Devils scored on another run with less than a minute left in the game to secure victory.
Taylor County 34, Chattahoochee County 14
Taylor County led 8-0 after the first quarter and 20-0 at the half but entering the fourth quarter, the Vikings were nursing a 20-14 lead.
Lanier County 10, McIntosh County Academy 0
Lanier County secured its first-ever victory over a ranked team in 55 attempts after moving past McIntosh County Academy.
Thursday night recaps
Class 6A
Riverwood 35, Chamblee 13
Quarterback Jackson Davis passed for two touchdowns and rushed for three to lead Riverwood past Chamblee. He was 10-of-14 passing for 153 yards and had 20 carries for 202 yards in the romp. Jim Fluker and Zach Stair each caught one touchdown pass.