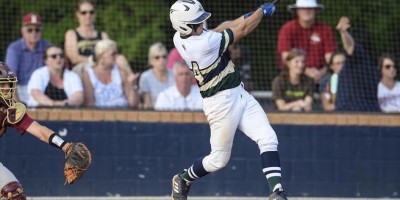 In Class 7A, Parkview took two out of three games against rival Brookwood and ascended to No. 2. Brookwood dropped down to No. 6 and Grayson moved up from No. 4 to No. 3. Also, Walton was defeated 4-2 by Harrison and fell to No. 10 behind the No. 9 ranked Hoyas.
Buford remains No. 1 in Class 6A and recently took over No. 1 in the Maxpreps National Poll. The Wolves are 19-0 and have outscored opponents 156-17 so far this season. Carrollton, Winder-Barrow, Pope and Allatoona round out the latest top 5 and Lassiter improved from No. 8 to No. 6.
Blessed Trinity reclaimed No. 1 in Class 5A. Also, East Paulding swept Alexander and makes its debut at No. 9 and Lakeside-DeKalb debuts at No. 10 after Cambridge exited the poll following River Ridge sweeping the Bears.
Perry improved to No. 9 in Class 4A and Ringgold improved to No. 9 in Class 3A. Also, Hart County reclaimed No. 1 from North Hall—which dropped down to No. 2. In Class 2A, Lovett's 14-5 loss to Pace Academy on Friday sent the Lions down from No. 1 to No. 2. Additionally, Pace Academy climbed to No. 4 following the victory. Also, Elbert County, Banks County and Toombs County replaced Jeff Davis, Westside-Augusta and Heard County in the latest Class 2A poll.
Down in Class A Private, Mt. Paran climbed one slot to No. 4 and Fellowship Christian climbed to No. 3 following Hebron Christian sliding down to No. 5. Also, First Presbyterian Day and Brookstone replaced King's Ridge and Darlington in the latest poll. In Class A Public, the rankings did not shift and Irwin County maintains its No. 1 status following its 16-1 start.
Class 7A
1. North Paulding
2. Parkview
3. Grayson
4. Woodstock
5. Lambert
6. Brookwood
7. East Coweta
8. Lowndes
9. Harrison
10. Walton
Class 6A
1. Buford
2. Carrollton
3. Winder-Barrow
4. Pope
5. Allatoona
6. Lassiter
7. Houston County
8. River Ridge
9. East Paulding
10. Lakeside-DeKalb
Class 5A
1. Blessed Trinity
2. Loganville
3. Greenbrier
4. Cartersville
5. Harris County
6. Starr's Mill
7. Wayne County
8. Eastside
9. Decatur
10. Calhoun
Class 4A
1. North Oconee
2. Benedictine
3. Marist
4. West Laurens
5. Flowery Branch
6. Troup
7. Jefferson
8. Northwest Whitfield
9. Perry
10. Bainbridge
Class 3A
1. Hart County
2. North Hall
3. Cherokee Bluff
4. Mary Persons
5. Oconee County
6. Morgan County
7. Pierce County
8. Franklin County
9. Ringgold
10. West Hall
Class 2A
1. Vidalia
2. Lovett
3. Callaway
4. Pace Academy
5. Bremen
6. Model
7. Bleckley County
8. Elbert County
9. Banks County
10. Toombs County
Class A-Private
1. Wesleyan
2. Tattnall Square
3. Fellowship Christian
4. Mt. Paran
5. Hebron Christian
6. Savannah Christian
7. Prince Avenue Christian
8. Stratford Academy
9. Brookstone
10. First Presbyterian Day
Class A-Public
1. Irwin County
2. Gordon Lee
3. Schley County
4. Johnson County
5. Commerce
6. Wilcox County
7. ACE Charter
8. Chartlton County
9. Metter
10.Crawford County