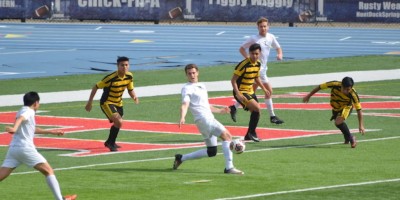 In the state's highest classification, Lambert leads the pack after two road victories in the past week. The Longhorns traveled to Forsyth Central on April 12 and took a 2-0 victory. Lambert then rode the momentum to a 3-1 victory over West Forsyth on Monday. Lakeside-DeKalb is coming off a 3-0 victory against Grady on the road to take the No. 2 spot. Hillgrove, Collins Hill and Pebblebrook round out the top-5.
Dalton is leading Class AAAAAA this week as it is flawless on the year at 16-0. In April, Dalton has weathered three-straight road games and come away with victories over Baylor 4-1, Sprayberry 4-1 and Allatoona 6-1. Gainesville is chasing at 14-2 and is riding a four-game winning streak over Dacula, Winder Barrow, Lanier and Cherokee Bluff. Chattahoochee has won four straight and in the past two games, it hasn't allowed a goal beating Buford 10-0 and Alpharetta 2-0. After losing to Harrison on April 9, No. 4 Pope rebounded with a 3-1 victory over Centennial on the road.
In Class AAAAA, Cross Keys is 13-1-0 and leads the pack. The Indians haven't lost since a 5-4 contest with No. 4 McIntosh on March 8. Since then Cross Keys have won six-straight with three shutouts and 10-0 victories over Miller Grove and Columbia. Starr's Mill is riding a high from five-straight shutout victories including a 3-0 contest against St. Pius X on Monday. No. 3 McIntosh lost to No. 2 Starr's Mill on March 28 1-0 but since it's won two shutouts over Griffin 9-0 and Oak Mountain 1-0.
Upson-Lee is the team to beat in Class AAAA and is peaking at the proper time. Since its 2-2 tie to Fayette County on Feb. 22, Upson has won nine-straight with five shutout victories. No. 2 Eastside beat Morgan County 4-1 on April 12 to extend its winning streak to 10 games. Chestatee, Woodward and St. Pius X fill out the top-5.
In Class AAA, Westminster is at the top again this week. The Wildcats have two regular season games left and, since losing to Station Camp 1-0 on March 29, Westminster has won three matches over McCallie 4-1, Lovett 2-0 and Fort Payne 3-0. Greater Atlanta Christian holds the No. 2 spot and is coming off a 4-1 victory over Fannin County on the road and a 2-1 victory over No. 3 East Hall on April 12. East Hall, Lovett and Islands round out the top-5.
Coosa is the team to topple in Class AA as its only allowed six goals this year and is riding momentum from its latest victories over Model 5-0 and Armuchee 5-1 on the road. No. 2 Pepperell hasn't lost since a March 7 meeting with No. 1 Coosa. Pepperell is coming off victories over Model 4-2 and Armuchee 5-1 in April. Putnam County, Harlem and Lamar County round out the top-5.
In Class A-Private, Whitefield Academy is leading the way. St. Anne Pacelli is No. 2 with Paideia, Mount de Sales and Atlanta International making up the top-5. Georgia Military is leading Class A-Public with Atkinson County, Drew Charter, Academy for Classical Education and Trion chasing.
Class AAAAAAA
1. Lambert
2. Lakeside-DeKalb
3. Hillgrove
4. Collins Hill
5. Pebblebrook
6. North Gwinnett
7. Mountain View
8. Colquitt County
9. Mill Creek
10. Roswell
Class AAAAAA
1. Dalton
2. Gainesville
3. Chattahoochee
4. Pope
5. Sprayberry
6. Tucker
7. Cambridge
8. Glynn Academy
9. Greenbrier
10. Northview
Class AAAAA
1. Cross Keys
2. Starr's Mill
3. McIntosh
4. Decatur
5. Johnson-Gainesville
6. Clarkston
7. Carrollton
8. Clarke Central
9. Lithia Springs
10. Rome
Class AAAA
1. Upson-Lee
2. Eastside
3. Chestatee
4. Woodward Academy
5. St. Pius X
6. Southeast Whitfield
7. Oconee County
8. Northwest Whitfield
9. Marist
10. Blessed Trinity
Class AAA
1. Westminster
2. Greater Atlanta Christian
3. East Hall
4. Lovett
5. Islands
6. Benedictine
7. Jefferson
8. Pace Academy
9. Coahulla Creek
10. Morgan County
Class AA
1. Coosa
2. Pepperell
3. Putnam County
4. Harlem
5. Lamar County
6. Fitzgerald
7. Vidalia
8. Woodville-Tompkins
9. Bremen
10. Thomasville
Class A-Public
1. Georgia Military
2. Atkinson County
3. Drew Charter
4. Academy for Classical Education
5. Trion
6. Claxton
7. Lake Oconee
8. Echols County
9. Montgomery County
10. Elite Scholars
Class A-Private
1. Whitefield Academy
2. St. Anne Pacelli
3. Paideia
4. Mount de Sales
5. Atlanta International
6. Athens Academy
7. Pinecrest Academy
8. Wesleyan
9. Holy Innocents'
10. Riverside Military