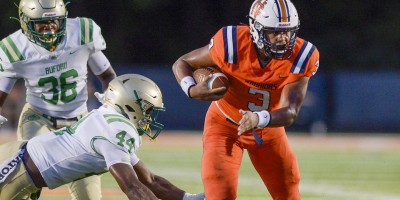 In Class 7A, No. 1 Grayson and No. 2 Lowndes were both off with byes this week and are 4-0 heading into Week 6. No. 3 Colquitt County scored a 63-27 win over Dothan (AL) to improve to 3-0 and No. 4 Brookwood topped North Paulding 45-28 to improve to 4-0 for the first time since the 2005 season. North Cobb's 28-10 win over Etowah moved the Warriors to 4-0 and up a slot to No. 5 in the poll ahead of No. 6 Norcross and No. 7 Collins Hill. Cherokee scored a massive 14-12 win over Cartersville to improve to 5-0 and makes its first appearance in the ranking since 2007 at No 8. Roswell (3-0) debuts at No. 9 and North Gwinnett is out of the top 10 after falling 14-13 to Archer. Parkview scored a big 50-28 win over Marietta, but the Panthers' loss to North Gwinnett was considered in this week's top 10 and Mill Creek got the nod at No. 10.
Lee County replaced Valdosta at No. 1 in Class 6A and the Wildcats come in at No. 2. Allatoona, Buford and Lovejoy round out the top 5 with Richmond Hill sitting at No. 6. Douglas County climbed two slots to No. 7 and Westlake dropped from No. 5 to No. 8 after its 42-21 loss to Hillgrove. Dacula sits at No. 9 with its competitive 1-2 start and Carrollton remains at No. 10 with its 1-1 start.
Cartersville's loss to Cherokee resulted in the Canes' first regular season defeat since 2014. The aftermath was Cartersville dropping from No. 2 to No. 4 and Ware County (4-0) replaced the Canes at No. 2. Warner Robins (3-1) sits at No. 3 and Veterans (4-0) rounds out the top 5. St. Pius dropped a 27-24 loss to Westminster and fell from No. 7 to No. 9.
In Class 4A, the top 6 did not see any changes, but Bainbridge jumped to No. 7 following Islands' big victory over former No. 7 Jenkins. Islands debuts at No. 8 after its win over Jenkins and sits in front of No. 9 Northwest Whitfield (4-0) and Hapeville Charter at No. 10.
Crisp County leads Class 3A ahead of Cedar Grove, Oconee County, Peach County and GAC. The top 10 did not shift from last week. In Class 2A, Callaway leads the pack with Fitzgerald, Lovett, Rabun County and Early County chasing.
ELCA, despite losing to ranked 3A programs – No. 1 Crisp and No. 6 Pierce County — in each of the past two weeks, the Chargers remain on top of the poll. Athens Academy, Prince Avenue Christian, Wesleyan and Fellowship Christian make up the top 5.
Brooks County is the team to beat in Class A-Public ahead of Macon County, Metter, Irwin County and Clinch County.
Class 7A
1. Grayson
2. Lowndes
3. Colquitt County
4. Brookwood
5. North Cobb
6. Norcross
7. Collins Hill
8. Cherokee
9. Roswell
10. Mill Creek
Class 6A
1. Lee County
2. Valdosta
3. Allatoona
4. Buford
5. Lovejoy
6. Richmond Hill
7. Douglas County
8. Westlake
9. Dacula
10. Carrollton
Class 5A
1. Blessed Trinity
2. Ware County
3. Warner Robins
4. Cartersville
5. Veterans
6. Calhoun
7. Coffee
8. Ola
9. St. Pius X
10. Harris County
Class 4A
1. Marist
2. Jefferson
3. Benedictine
4. Stephenson
5. Carver-Columbus
6. Flowery Branch
7. Bainbridge
8. Islands
9. Northwest Whitfield
10. Hapeville Charter
Class 3A
1. Crisp County
2. Cedar Grove
3. Oconee County
4. Peach County
5. Greater Atlanta Christian
6. Pierce County
7. White County
8. Westminster
9. Rockmart
10. Sandy Creek
Class 2A
1. Callaway
2. Fitzgerald
3. Lovett
4. Rabun County
5. Early County
6. Pace Academy
7. Bleckley County
8. Thomasville
9. Haralson County
10. Heard County
Class A-Private
1. Eagle's Landing Christian
2. Athens Academy
3. Prince Avenue Christian
4. Wesleyan
5. Fellowship Christian
6. Trinity Christian
7. North Cobb Christian
8. Holy Innocents'
9. Darlington
10. Aquinas
Class A-Public
1. Brooks County
2. Macon County
3. Metter
4. Irwin County
5. Clinch County
6. Commerce
7. Dublin
8. Taylor County
9. Marion County
10. Pelham