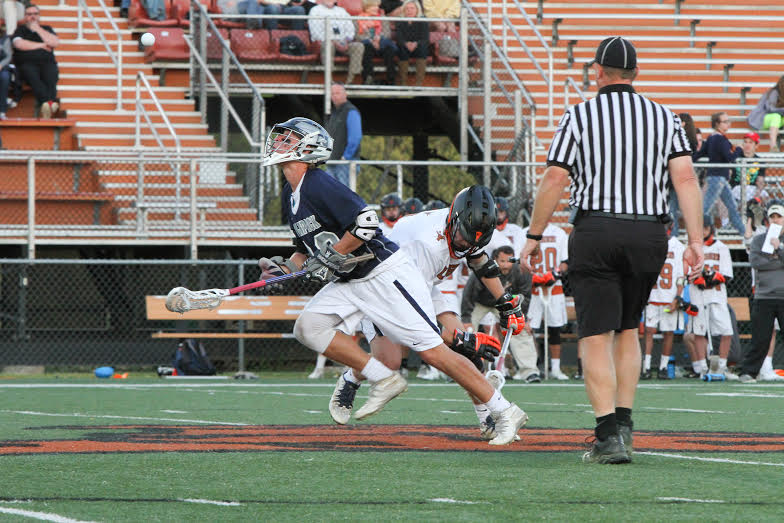 Photo by Deanna Fiveash
In the boys Class AAAAAAA poll, top-ranked North Gwinnett survived a 9-8 double-overtime thriller over No. 4 Etowah to retain its No. 1 status. No. 2 Lambert stymied Wando (SC) 9-4 on Wednesday to improve to 11-0 and No. 3 Lassiter extended its winning streak to six games with a 19-4 win over Wheeler this Tuesday. Walton dropped to No. 9 after a 13-5 loss to Pope over the weekend. Johns Creek jumped to No. 8 with a 11-10 win over defending champion Roswell on Tuesday.
In Class A-AAAAA, Allatoona improved to No. 2 and is riding a seven-game winning streak. The Bucs' only loss came in a 10-8 battle at Class AAAAAA No. 2 Lambert on Feb. 27. Previously-ranked No. 2 Greater Atlanta Christian suffered a 9-7 loss to Cambridge and slid to No. 3.
BOYS
Class AAAAAA
1. North Gwinnett
2. Lambert
3. Lassiter
4. Etowah
5. Pope
6. Mill Creek
7. Centennial
8. Johns Creek
9. Walton
10. North Paulding
Class A-AAAAA
1. Westminster
2. Allatoona
3. Greater Atlanta Christian
4. Lovett
5. Cambridge
6. Wesleyan
7. McIntosh
8. Blessed Trinity
9. Kell
10. Marist
In the girls Class AAAAAA poll, Walton took over No. 2 and Mill Creek slid to No. 3 after squeaking by No. 4 Chattahoochee 14-13 this weekend. West Forsyth jumped Harrison for No. 8 after a 15-14 victory over the Hoyas. Centennial debuts at No. 10 after a 15-14 win over previous No. 10 Lambert this weekend.
In Class A-AAAAA, the top 10 remained the same as top-ranked Blessed Trinity survived a 13-12 battle with Cambridge on Tuesday. No. 2 Kell exploded for more than 20 goals for the sixth time in seven games with a 22-2 win at East Paulding on Wednesday and have outscored opponents 86-14 in the four games following its 8-6 win at Class AAAAAA No. 5 Lassiter.
GIRLS 
Class AAAAAA
1. Milton
2. Walton
3. Mill Creek
4. Chattahoochee
5. Lassiter
6. North Gwinnett
7. Northview
8. Harrison
9. West Forsyth
10. Centennial
Class A-AAAAA
1. Blessed Trinity
2. Kell
3. Cambridge
4. Westminster
5. Wesleyan
6. Sprayberry
7. Marist
8. McIntosh
9. Creekview
10. Lovett