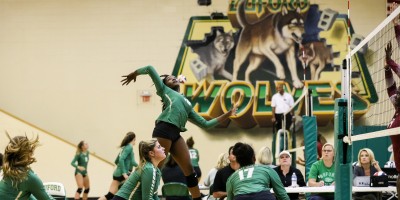 David McGregor
Tuesday night, a face-off between top-ranked Walton and second-ranked Lassiter resulted in a 3-0 sweep by the Raiders to keep them at the top of class AAAAAAA. The Trojans will get an opportunity to bounce back against a tough Marist team this Thursday. Following a strong win against Fellowship Christian, Lambert went on to lose 2-0 to Walker. Their 3-0 sweep over North Forsyth puts the team back on track as they approach a rematch against Chattahoochee, a team they've been able to defeat once before this season. Kennesaw Mountain has been on a back and forth streak of wins and losses, losing to Newnan before tackling Hillgrove. They'll have it rough for the next few weeks as they stare down matchups against North Cobb Christian, Allatoona and Lassiter. Hillgrove enters the top ten at the nine-spot but will have to overcome matchups against fifth ranked North Gwinnett and class AAAAAA top dog Alpharetta to keep their spot.
Alpharetta extended its win streak to 22 straight games with a pair of wins over Johns Creek and second-ranked Pope. The Raiders will look to maintain their spot at the top with an upcoming matchup against a more than capable North Gwinnett team. Allatoona climbed from sixth to fourth in the rankings thanks to a pair of wins over Pace Academy and Mt. Paran Christian. Their upcoming game against North Cobb Christian this Thursday gives the Buccaneers another opportunity to upset a to team. The Greenbrier Wolfpack defeated Grovetown 2-0 for the second time this season, keeping them undefeated in the region.
McIntosh defended their spot at the top of class AAAAA with a 2-0 sweep of region opponent Starr's Mill. The Buford Wolves continued to roll with wins over Walnut Grove and rivals Johnson-Gainesville. They'll face-off against St. Pius this Thursday, who they previously lost to, but an upset win can't be completely ruled out. Union Grove climbed up one spot in the rankings following a region win over Ola and a 2-1 victory over Eagle's Landing Christian. They'll go up against the seventh ranked Veterans this weekend, a team that has won thirteen straight matches.
A pair of region wins over Chestatee and Denmark kept Blessed Trinity 4-0 in the region. St. Pius also sits at 4-0 in the region with an upcoming match against Oconee County for a chance to extend their region record to 5-0. First, they'll try to tackle Buford, who sit at the three-spot in class AAAAA. The Marist War Eagles' most recent victory was an upset win over Newnan, a win with enough weight to move them up the rankings. They now await the Lassiter Trojans, one of the hardest opponents they'll face this season. With losses to Alpharetta, Harrison and Blessed Trinity, the Trojans will need to be in top shape to come out with the big win.
Westminster and Pace Academy both squared off against Alpharetta. Each team has dealt with the Raiders before but were unable to walk away with a win keeping Alpharetta undefeated against them both. Westminster's next test will come this weekend as they stare down a contest against Blessed Trinity. Though they lost to Columbus and Hebron Christian, Lovett pulled out an upset victory over Harrison to shed some light on their week. A pair of losses from Columbus and Alpharetta showed Greater Atlanta Christian how some of the juggernauts in the state like to play, but the Spartans managed to eke out a 2-1 win over Marist which helps make their case for the four-spot in class AAA.
A 2-0 sweep over Johnson-Augusta keeps Harlem undefeated in their region. They'll be going up against Evans tonight for a change at revenge after suffering a 2-1 loss to the Knights. Coosa's 2-0 sweep over Rockmart extends their region record to 3-0. The Eagles will face Sonoraville during their next match, a team they failed to defeat earlier this season. A four-game losing streak for Model was snapped with a pair of upset wins over Pepperell, who previously bested the Blue Devils 2-1. They'll get a second shot at redemption in their looming game against Rome who has beaten Model twice already this season.
Mt. Paran Christian was served its second loss of the season after a 2-1 defeat brought to them by North Cobb Christian. While the win for North Cobb Christina is big, they themselves were served a 3-2 loss from Mt. Paran earlier in the season. With losses to Etowah and Pace Academy, two teams Mt. Paran was able to defeat, North Cobb Christian remains second-ranked behind Mt. Paran. Following a strong 2-1 victory over Lassiter, the Walker Wolverines went up against Mt. Paran Christian. The Wolverines took them to five sets, but ultimately lost 3-2 to lose their first region game of the season.
Class AAAAAAA
1. Walton
2. Lassiter
3. Lambert
4. Newnan
5. North Gwinnett
6. South Forsyth
7. Kennesaw Mountain
8. East Coweta
9. Hillgrove
10. Roswell
Class AAAAAA
1. Alpharetta
2. Pope
3. Harrison
4. Allatoona
5. Apalachee
6. Sequoyah
7. Creekview
8. Lakeside-Evans
9. Greenbrier
10. Dunwoody
Class AAAAA
1. McIntosh
2. Chamblee
3. Buford
4. Union Grove
5. Locust Grove
6. Riverwood
7. Veterans
8. Starr's Mill
9. Eagle's Landing
10. Carrollton
Class AAAA
1. Blessed Trinity
2. St. Pius
3. Columbus
4. Northside-Columbus
5. LaFayette
6. Marist
7. Northwest Whitfield
8. Heritage-Catoosa
9. Flowery Branch
10. Southeast Whitfield
Class AAA
1. Pace Academy
2. Westminster
3. Lovett
4. Greater Atlanta Christian
5. Calhoun
6. Sonoraville
7. Morgan County
8. East Hall
9. Islands
10. Fannin County
Class AA/A-Public
1. Coosa
2. Harlem
3. Pepperell
4. Gordon Lee
5. Armuchee
6. Jordan
7. Westside-Augusta
8. Model
9. Johnson-Augusta
10. Chattooga
Class A-Private
1. Mt. Paran
2. North Cobb Christian
3. Hebron Christian
4. Calvary Day
5. Walker
6. Savannah Christian
7. Athens Academy
8. Lakeview Academy
9. Trinity Christian
10. Eagle's Landing Christian