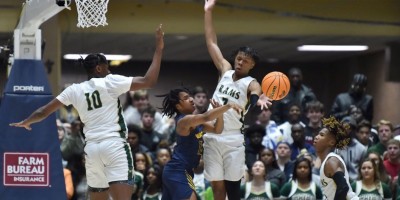 In Class 7A, No. 1 Wheeler is 8-4, but has not lost within the state. The Wildcats lead the poll with Norcross and Grayson remaining No. 2 and No. 3. Milton moved up to No. 4 following an 11-2 start and McEachern rounds out the top 5 ahead of No. 6 Newton—which the Indians previously defeated 58-52. Archer moved up to No. 7 following its 11-2 start and Buford replaced Osborne in the poll and returns at No. 9 ahead of Carrollton, which is also off to an 11-2 start.
In Class 6A, Lanier made a jump from No. 7 to No. 4 and Grovetown slid to No. 8 following a tough 4-8 start. Additionally, Blessed Trinity moved up to No. 9 and Woodward Academy replaced South Paulding in the poll at No. 10 and is off to a 12-2 start. The Class 5A poll saw Jones County move up two spots to No. 3 and Hiram remains No. 4 ahead of No. 5 Dutchtown and No. 6 Chapel Hill—which moved up from No. 8. Also, Northside-Columbus replaced Lithonia in the poll and debuts at No. 10 following an 8-2 start.
The Class 4A poll shifted with North Oconee moving up to No. 5 and Westover replacing Miller Grove and debuting at No. 10. Monroe replaced Upson-Lee in the Class 3A poll and Model replaced Vidalia at No. 10 in Class 2A. In Class A Division I, Social Circle dropped five slots to No. 10 after dropping five of its last six contests. Finally, in Class A Division II, Telfair County replaced Dooly County at No. 10 and Mitchell County moved up two spots to No. 5.
Class 7A
1. Wheeler
2. Norcross
3. Grayson
4. Milton
5. McEachern
6. Newton
7. Archer
8. Pebblebrook
9. Buford
10. Carrollton
Class 6A
1. Alexander
2. Jonesboro
3. Hughes
4. Lanier
5. St. Pius
6. Marist
7. Etowah
8. Grovetown
9. Blessed Trinity
10. Woodward Academy
Class 5A
1. Kell
2. Eagle's Landing
3. Jones County
4. Hiram
5. Dutchtown
6. Chapel Hill
7. Creekside
8. Mays
9. Tri-Cities
10. Northside-Columbus
Class 4A
1. McDonough
2. Pace Academy
3. Fayette County
4. Southwest DeKalb
5. North Oconee
6. Bainbridge
7. Baldwin
8. Lovett
9. Madison County
10. Westover
Class 3A
1. Sandy Creek
2. Johnson-Savannah
3. Beach
4. Cedar Grove
5. Monroe Area
6. Calvary Day
7. Monroe
8. Cross Creek
9. Oconee County
10. Wesleyan
Class 2A
1. Westside-Augusta
2. Columbia
3. Thompson
4. Providence Christian
5. Spencer
6. Putnam County
7. Drew Charter
8. Windsor Forest
9. North Cobb Christian
10. Model
Class A Division I
1. Mt. Bethel
2. Mt. Pisgah
3. King's Ridge
4. Mt. Vernon
5. Darlington
6. Tallulah Falls
7. Savannah
8. Dublin
9. Oglethorpe County
10. Social Circle
Class A Division II
1. Greenforest Christian
2. Christian Heritage
3. Portal
4. Manchester
5. Mitchell County
6. Charlton County
7. Wilkinson County
8. Calhoun County
9. Macon County
10. Telfair County