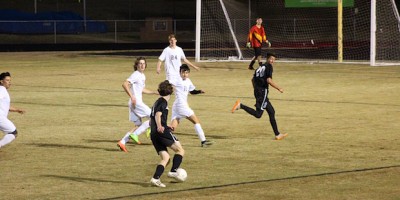 Class 2A No. 7 Model (black) takes on Rockmart. Credit: Model HS
In the state's highest classification, Norcross holds the top spot again in Week 7's poll. Walton, previously third, moved up to second following Central Gwinnett's slide to third. Grayson, previously No. 8, moved up to fourth, and Hillgrove, previously seventh, moved to fifth following Parkview's slide to 10th.
In Class AAAAAA, Dalton climbed from third to first following victories over Sprayberry and Creekview last week. Chattahoochee still holds the No. 2 spot this week with Cambridge making a climb from sixth to third. Gainesville, previously first, fell to fourth following a 2-1 loss to Dacula on March 27. Previously ranked fourth, Allatoona fell to ninth this week.
Decatur is still the team to beat in Class AAAAA with McIntosh making a move toward the top of the rankings again at No. 2 this week. Cross Keys, previously second, fell to fourth, and Carrollton, previously fourth, moved up to third. Johnson-Gainesville is fifth again this week.
Marist and Chestatee hold the top rankings in Class AAAA, respectively, again this week. Northwest Whitfield, No. 4 last week, jumped up one spot to third. Blessed Trinity fell from third to fourth, and Woodward Academy still holds the No. 5 spot this week.
Westminster still has a target on its back this week in Class AAA. The Wildcats hold the top spot ahead of North Murray, Windsor Forest, East Hall and Greater Atlanta Christian.
Ranked No. 1 again this week, Putnam County leads Class AA ahead of Benedictine, Jefferson County, Harlem and Thomasville. The top of the poll did not shift from last week.
Paideia leads in Class A again this week with a defending champion, Whitefield Academy, chasing. Atlanta International is third ahead of No. 4 Pinecrest Academy. Athens Academy, No. 4 last week, fell to fifth this week.
Class AAAAAAA
1. Norcross
2. Walton
3. Central Gwinnett
4. Grayson
5. Hillgrove
6. Lambert
7. Lakeside-DeKalb
8. South Forsyth
9. Collins Hill
10. Parkview
Class AAAAAA
1. Dalton
2. Chattahoochee
3. Cambridge
4. Gainesville
5. Alpharetta
6. Greenbrier
7. Dacula
8. Heritage-Conyers
9. Allatoona
10. Sprayberry
Class AAAAA
1. Decatur
2. McIntosh
3. Carrollton
4. Cross Keys
5. Johnson-Gainesville
6. Clarkston
7. Clarke Central
8. Rome
9. Grady
10. Veterans
Class AAAA
1. Marist
2. Chestatee
3. Northwest Whitfield
4. Blessed Trinity
5. Woodward Academy
6. Upson-Lee
7. Columbus
8. Southeast Whitfield
9. Druid Hills
10. Perry
Class AAA
1. Westminster
2. North Murray
3. Windsor Forest
4. East Hall
5. Greater Atlanta Christian
6. Savannah Arts
7. Lovett
8. Fannin County
9. Stone Mountain
10. Pike County
Class AA
1. Putnam County
2. Benedictine
3. Jefferson County
4. Harlem
5. Thomasville
6. Model
7. Westside-Augusta
8. Pepperell
9. Vidalia
10. Callaway
Class A
1. Paideia
2. Whitefield Academy
3. Atlanta International
4. Pinecrest Academy
5. Athens Academy
6. Savannah Country Day
7. Wesleyan
8. Providence Christian
9. Brookstone
10. St. Anne Pacelli