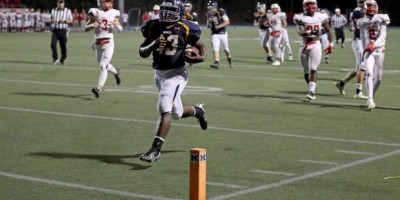 Class 4A No. 3 Marist handled Class 6A Gainesville. Credit: Jason Getz/AJC
North Gwinnett continued its climb up the rankings after its win over previously unbeaten Mill Creek, which fell to seventh right in front of two-loss Brookwood. The state had a short schedule on Friday night with numerous regions on bye weeks. There was no other movement in Class AAAAAAA as a result.
Coffee was just the latest quality team to fall victim to Class AAAAA Warner Robins, and the Trojans fall from third to seventh. A couple of teams that started out unranked continue piling up wins. Douglas County coasted to a win over New Manchester, and Winder-Barrow blew out county rival Apalachee.
In Class AAAAA, No. 1 Rome defeated Carrollton 45-24, which fell two spots to No. 6 after the defeat. No. 2 Buford's only loss came out of state, and No. 3 Stockbridge, No. 4 Jones County and No. 5 Warner Robins remain undefeated. Bainbridge dropped out of the top 10 after a 41-27 loss to Rickards (FL) and Eagle's Landing edged Carver-Atlanta for this week's No. 10.
Troup's 71-16 win over Sandy Creek was enough to jump the 6-0 Tigers to No. 4 in the Class AAAA poll and send the Patriots out of the top 10. Mary Persons returned to the poll at No. 10 after a 42-18 win over Spalding and its two losses coming to ranked teams out of the classification (Lee County and Peach County).
Cedar Grove, Peach County, Lovett and Pace Academy had the week off and most of the rankings stayed the same in Class AAA with the exception of previous No. 6 Crisp County falling to Class AA Brooks County 31-21. The Cougars slid from sixth to ninth following the loss. Monroe Area moved from No. 9 to No. 8 with Bremen moving from No. 8 to No. 6 following Crisp's slide.
Benedictine handled Bryan County 42-7 last week and holds the top spot in Class AA again this week. A new debut in the rankings, No. 10 Heard County, replaces Fitzgerald as it tumbled to unranked. Brooks County, following a win over Class AAA Crisp County, moved up to seventh. Hapeville, Callaway Thomasville and newly-ranked Heard County had last week off.
Undefeated Mt. Zion-Carroll jumped Commerce for a spot in the Class A-Public top 5 after the Tigers fell 21-6 to Prince Avenue Christian on Friday and the rest of the poll remained intact.
Eagle's Landing Christian continued its dominance in Class A Private, blowing out previous No. 3 (now No. 7) Wesleyan 45-6. Previous No. 8 Fellowship Christian suffered an upset at the hands of Walker, and Darlington, which had just climbed back to No. 10 after recovering from two losses to start September, fell to Mt. Zion-Carroll. Both fell out of the Top 10 as Mt. Vernon Presbyterian and Savannah Country Day make the rankings.
Class AAAAAAA
1. Grayson
2. Lowndes
3. Archer
4. Walton
5. North Gwinnett
6. Colquitt County
7. Mill Creek
8. Brookwood
9. McEachern
10. Tift County
Class AAAAAA
1. Tucker
2. Lee County
3. Harrison
4. Mays
5. Douglas County
6. Northside-Warner Robins
7. Coffee
8. Winder-Barrow
9. Alpharetta
10. Dalton
Class AAAAA
1. Rome
2. Buford
3. Stockbridge
4. Jones County
5. Warner Robins
6. Carrollton
7. Starr's Mill
8. Kell
9. Wayne County
10. Eagle's Landing
Class AAAA
1. Cartersville
2. Thomson
3. Marist
4. Troup
5. Blessed Trinity
6. Jefferson
7. Ridgeland
8. Burke County
9. Woodward Academy
10. Mary Persons
Class AAA
1. Cedar Grove (5-0)
2. Peach County (4-1)
3. Greater Atlanta Christian (5-1)
4. Calhoun (5-1)
5. Jenkins (5-0)
6. Bremen (6-0)
7. Lovett (2-3)
8. Monroe Area (6-0)
9. Crisp County (4-1)
10 Pace Academy (2-2)
Class AA
1. Benedictine (6-0)
2. Hapeville Charter (4-1)
3. Screven County (5-0)
4. Rabun County (5-0)
5. Thomasville (5-0)
6. Callaway (5-0)
7. Brooks County (5-0)
8. Jefferson County (6-0)
9. Dodge County (5-0)
10. Heard County (5-1)
Class A-Public
1. Manchester
2. Irwin County
3. Macon County
4. Clinch County
5. Mt. Zion-Carroll
6. Commerce
7. Charlton County
8. Taylor County
9. Emanuel County Institute
10. Trion
Class A-Private
1. Eagle's Landing Christian
2. Prince Avenue Christian
3. Mt. Paran Christian
4. Athens Academy
5. Tattnall Square
6. Stratford Academy
7. Wesleyan
8. Mt. Pisgah Christian
9. Mt. Vernon Presbyterian
10. Savannah Country Day