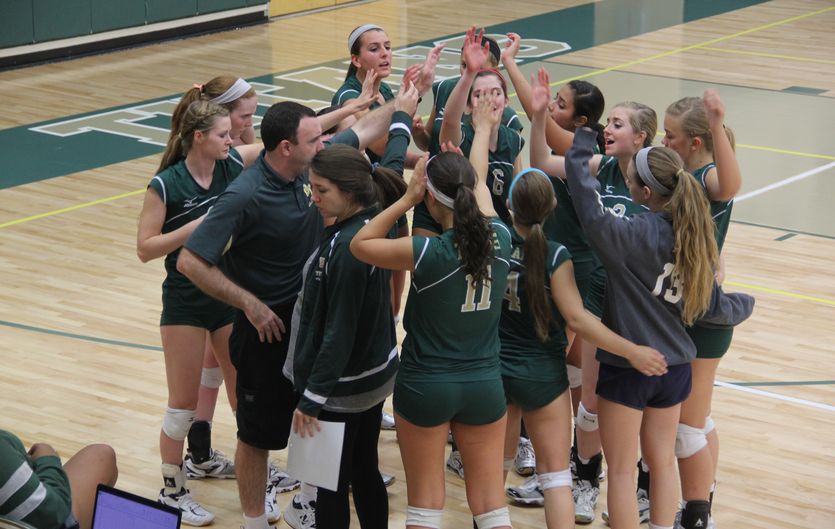 After their 3-0 loss to top-ranked Walton, Lassiter bounced back to defeat Marist. However, they were forced into playing four sets as the War Eagles claimed a set for themselves. Their upcoming match against Kennesaw Mountain, who have been on a tear with recent wins against Allatoona and North Cobb Christian, will be a tough matchup. The Kennesaw Mountain Mustangs current 3 game win streak, including a 3-0 region win over Hillgrove to keep them undefeated in the region, was more than enough to jump them up three spots in the rankings to the four-spot. With the team playing as good as they are, they'll have a good shot to upset second-ranked Lassiter next Tuesday. North Gwinnett fell 2-1 to class AAAAAA top dog Alpharetta but rebounded with a three-game win streak with 2-0 sweeps over Hillgrove, Peachtree Ridge and Collins Hill. Etowah creeps into the top ten thanks to a 3-1 win over Cherokee.
The Pope Greyhounds swept Lovett and Kell 2-0 after losing to top-ranked Alpharetta, keeping them slotted just below the Raiders. They should see continued success during their next matchup against Mt. Bethel Christian before facing off against Chamblee as they start to wrap up their regular season. A six day stretch with eight games for the Apalachee Wildcats resulted in an undefeated win streak including victors over Athens Academy and rivals Winder-Barrow. Harrison saw a two-spot drop in the rankings, landing the Hoyas in the five-spot. A pair of loses to Lovett and West Forsyth may have set the team back, but have plenty of opportunity to finish strong with upcoming matchups against River Ridge and Buford. Greenbrier emerges as the eighth ranked team thanks to a lengthy 17 game win streak. The win with the most weight came when the Wolfpack defeated rivals Lakeside-Evans 2-1 after failing to defeat them twice before.
McIntosh has yet to be dethroned from their top spot in class AAAAA. Their recent 2-0 victory over Jonesboro increased their region record to 6-0. The Veterans Warhawks advance to the six-spot after a week of solid outings. A 2-1 win over Union Grove paired with a three-game win streak put them in a good position heading into their matchup against fifth-ranked Locust Grove. Starr's Mill wrapped up their week with three regions wins over Jonesboro, Riverdale Fayette County. Whitewater skyrocketed into the top ten, all the way to the eight-spot. A pair of 2-0 sweeps over Jonesboro and more impressively Newnan put them deep in the conversation for a top ten spot.
The Blessed Trinity Titans were served their sixth loss of the season after a 2-0 loss to Mt. Paran Christian. They bounced back to take out West Hall and White County 2-0 to pick up two region wins and remain undefeated in their region. St. Pius X extended their win streak to five following a trio of wins against region opponents Oconee County and Madison, along with a solid victory over Buford. Third-ranked Columbus squared off Hardaway following a 2-1 loss to Alpharetta, and defeated their region rivals 2-0. Cartersville makes a top ten appearance in response to a 2-1 victory over seventh-ranked Northwest Whitfield. The Hurricanes went on to win three straight games before their final regular season matchup against North Paulding next Tuesday.
Westminster remains the second-ranked team behind Pace Academy following a 2-0 loss served to them by Alpharetta. Third-ranked Lovett saw an opportunity to dethrone powerhouse Pope but fell short with a 2-0 loss. They'll get a chance at an upset win again tonight as they take on Pace Academy. Calhoun dropped a spot in the rankings, swapping spots with Sonoraville after losing 2-1 to the Phoenix. They followed up on their loss by taking down region rival Adairsville 2-0 before taking on LaFayette.
Top ranked Coosa were served their eighth loss of the season following a 2-1 defeat from Calhoun but remain at the top of their class. Next, the Eagles will host the Armuchee Indians who them previously bested 2-1 earlier this season. Westside-Augusta sits at the seven-spot following a pair of region wins over Johnson-Augusta and Josey to increase their region record to 5-1. Second-ranked Pepperell defeated ninth-ranked Chattooga before grabbing a 2-0 victory over out-of-state opponent Asbury A.L. They'll face off against Cedartown, who they've split a two-game series with, before a favorable matchup against Cass.
The Mt. Paran Christian Eagles continued to prove they belong at the top of their class with a trio of wins against Woodward Academy, Blessed Trinity and region opponent Christian Heritage. They remain undefeated in the region as they approach a matchup against region opponent Whitefield Academy. Savannah Christian handed Calvary Day their third loss of the season, upsetting the Cavaliers 3-1. After hitting the second-ranked spot last week, North Cobb Christian dropped to the four spot after a pair of losses from Allatoona and Kennesaw Mountain. They'll look to rebound during their upcoming match against Walker, who sits just behind them in the rankings, in an effort to climb back into the top three.
Class AAAAAAA
1. Walton
2. Lassiter
3. Lambert
4. Kennesaw Mountain
5. Newnan
6. North Gwinnett
7. South Forsyth
8. East Coweta
9. Etowah
10. Roswell
Class AAAAAA
1. Alpharetta
2. Pope
3. Apalachee
4. Allatoona
5. Harrison
6. Sequoyah
7. Creekview
8. Greenbrier
9. Lakeside-Evans
10. Winder-Barrow
Class AAAAA
1. McIntosh
2. Chamblee
3. Buford
4. Union Grove
5. Locust Grove
6. Veterans
7. Starr's Mill
8. Whitewater
9. Eagle's Landing
10. Riverwood
Class AAAA
1. Blessed Trinity
2. St. Pius
3. Columbus
4. Northside-Columbus
5. Marist
6. LaFayette
7. Northwest Whitfield
8. Heritage-Catoosa
9. Flowery Branch
10. Cartersville
Class AAA
1. Pace Academy
2. Westminster
3. Lovett
4. Greater Atlanta Christian
5. Sonoraville
6. Calhoun
7. Morgan County
8. East Hall
9. Savannah Arts
10. Islands
Class AA/A-Public
1. Coosa
2. Pepperell
3. Harlem
4. Gordon Lee
5. Jordan
6. Armuchee
7. Westside-Augusta
8. Model
9. Chattooga
10. Rabun County
Class A-Private
1. Mt. Paran Christian
2. Hebron Christian
3. Calvary Day
4. North Cobb Christian
5. Walker
6. Savannah Christian
7. Athens Academy
8. Lakeview Academy
9. Eagle's Landing Christian
10. Trinity Christian