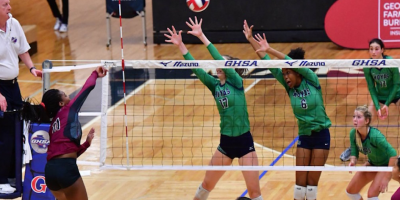 There is just one more full week of games before the playoffs begin and the Week 7 poll reflects minor shifts. In Class 7A, Walton remains No. 1 and Cherokee improved from No. 5 to No. 4.—sending North Forsyth down one slot to No. 5 in the process. Class 6A did not see any shifts with Sequoyah holding on strong at No. 1.
In Class 5A, No. 1 St. Pius is 37-1 and has won 22-straight wins. McIntosh fell 2-1 to Harris County on Sept. 22 and dropped from No. 5 to No. 9. Harris County used that victory to improve from No. 8 to No. 7. Class 4A saw No. 7 Jefferson defeat No. 8 Chestatee 25-21, 25-22 last Tuesday and the polls did not shift.
In Class 2A/A Public, Lovett ascended to No. 1 and replaced Pace Academy. Additionally, in Class A Private, Landmark Christian debuts at No. 7 and replaces Mt. Vernon in the polls.
Class 7A
1. Walton
2. Alpharetta
3. Lambert
4. Cherokee
5. North Forsyth
6. West Forsyth
7. North Cobb
8. Forsyth Central
9. Etowah
10. Harrison
Class 6A
1. Sequoyah
2. Buford
3. Pope
4. Creekview
5. Kennesaw Mountain
6. Lassiter
7. Johns Creek
8. Allatoona
9. Dacula
10. Lee County
Class 5A
1. St. Pius
2. Blessed Trinity
3. Greenbrier
4. Whitewater
5. Northside-Columbus
6. Woodward Aacademy
7. Harris County
8. Starr's Mill
9. McIntosh
10. Eagle's Landing
Class 4A
1. Northwest Whitfield
2. Fayette County
3. Heritage-Catoosa
4. Marist
5. Islands
6. Flowery Branch
7. Jefferson
8. Chestatee
9. Columbus
10. Madison County
Class 3A
1. Greater Atlanta Christian
2. Sandy Creek
3. Westminster
4. Savannah Arts
5. LaFayette
6. Morgan County
7. Oconee County
8. Richmond Academy
9. Hart County
10. Dawson County
Class 2A/A Public
1. Lovett
2. Pace Academy
3. Gordon Lee
4. Davidson Arts
5. Armuchee
6. Bremen
7. Woodville-Thompkins
8. Lamar County
9. Union County
10. ACE Charter
Class A Private
1. Athens Academy
2. Eagle's Landing Christian
3. Mt. Paran
4. Brookstone
5. Savannah Christian
6. Trinity Christian
7. Landmark Christian
8. Wesleyan
9. Holy Innocents'
10. Hebron Christian