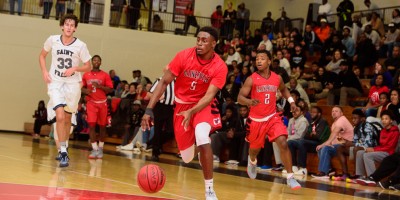 The Morgan County boys are at the top again this week. On Tuesday, Morgan defeated No. 3 Hart County 70-53 to move its record to 17-1. No. 2 Greater Atlanta Christian moved past No. 5 Dawson County in a Region 7 game on Tuesday to improve its record to 14-4 and 7-0 in the region. Hart County is third with Pace Academy at fourth. Dawson County comes in at fifth this week.
Woodville-Tompkins is the top-ranked team in Class AA again this week and it's still sporting its 20-0, 8-0 record after its 81-47 victory over Swainsboro on Tuesday. Woodville will face No. 2 Vidalia on Friday in an important game at the top of the class. Butler comes in at third with Elbery County and Thomasville rounding out the top-5.
Calhoun County takes the No. 1 spot in Class A-Public and is flawless on the year. Calhoun County moved past Macon County 74-65 on Saturday to remain perfect. Hancock Central comes in at No. 2 this week. Treutlen is third with Terrell County chasing at No. 4. Wilcox County is fifth and is riding momentum from a 63-46 victory over Echols County on Tuesday.
In Class A-Private, St. Francis is the team to beat again this week with Mt. Bethel at No. 2. Eagle's Landing Christian holds the third spot ahead of No. 4 Greenforest. Walker comes in at fifth.
Class AAAAAAA
1. McEachern
2. Meadowcreek
3. Grayson
4. Discovery
5. East Coweta
6. Newton
7. Norcross
8. Wheeler
9. Berkmar
10. Pebblebrook
Class AAAAAA
1. Coffee
2. Chattahoochee
3. North Atlanta
4. Tri-Cities
5. Douglas County
6. Lakeside-Evans
7. Sequoyah
8. South Paulding
9. Alexander
10. South Cobb
Class AAAAA
1. Fayette County
2. Buford
3. Southwest DeKalb
4. Woodland Stockbridge
5. Eagle's Landing
6. Lithonia
7. Kell
8. Statesboro
9. Jones County
10. Warner Robins
Class AAAA
1. Upson-Lee
2. Sandy Creek
3. St. Pius
4. Henry County
5. Americus-Sumter
6. Carver-Columbus
7. Baldwin
8. Woodward Academy
9. Thomson
10. Salem
Class AAA
1. Morgan County
2. Greater Atlanta Christian
3. Hart County
4. Pace Academy
5. Dawson County
6. Johnson-Savannah
7. Cedar Grove
8. Monroe
9. Windsor Forest
10. Westside-Macon
Class AA
1. Woodville-Tompkins
2. Vidalia
3. Butler
4. Elbert County
5. Thomasville
6. Glenn Hills
7. Northeast
8. Spencer
9. Therrell
10. South Atlanta
Class A-Public
1. Calhoun County
2. Hancock Central
3. Treutlen
4. Terrell County
5. Wilcox County
6. Georgia Military
7. Greene County
8. Macon County
9. Irwin County
10. Wilkinson County
Class A-Private
1. St. Francis
2. Mt. Bethel
3. Eagle's Landing Christian
4. Greenforest Christian
5. Walker
6. Lakeview Academy
7. Wesleyan
8. Holy Innocents'
9. Trinity Christian
10. Mt. Pisgah