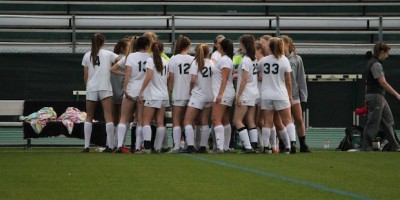 Westminster remains No. 1 in Class 3A. Credit: Westminster
Following a light week with Spring Break, the soccer rankings did not change much. Lassiter is the top team in Class AAAAAAA, with Parkview moving from third to second. Milton, previously second, fell to third following Parkview's climb. Johns Creek leads Class AAAAAA with Creekview, Harrison, Sequoyah and Dacula chasing.
McIntosh holds the top spot again this week in Class AAAAA. Veterans, Flowery Branch, Decatur and Starr's Mill fill out the top five. Blessed Trinity is fending off Marist for the second week in a row in Class AAAA. Marist, St. Pius, Northside-Columbus and Columbus fill out the top five.
In Class AAA, Westminster is leading ahead of Lovett, Greater Atlanta Christian, Savannah Arts and Dawson County. Defending champion St. Vincent's is leading in Class AA ahead of state runner-up East Laurens, Lamar County, Screven County and Berrien.
In Class A, Athens Academy leads ahead of First Presbyterian Day, Holy Innocents', Brookstone and Savannah Country Day.
Class AAAAAAA
1. Lassiter
2. Parkview
3. Milton
4. Mill Creek
5. Forsyth Central
6. Peachtree Ridge
7. Roswell
8. Brookwood
9. Collins Hill
10. Walton
Class AAAAAA
1. Johns Creek
2. Creekview
3. Harrison
4. Sequoyah
5. Dacula
6. Glynn Academy
7. Pope
8. Lanier
9. Apalachee
10. Alexander
Class AAAAA
1. McIntosh
2. Veterans
3. Flowery Branch
4. Decatur
5. Starr's Mill
6. Whitewater
7. Riverwood
8. Grady
9. Chamblee
10. Harris County
Class AAAA
1. Blessed Trinity
2. Marist
3. St. Pius X
4. Northside-Columbus
5. Columbus
6. North Oconee
7. Jefferson
8. Mary Persons
9. Northwest Whitfield
10. Spalding
Class AAA
1. Westminster
2. Lovett
3. Greater Atlanta Christian
4. Savannah Arts
5. Dawson County
6. Lumpkin County
7. Bremen
8. Jackson County
9. Pike County
10. Sonoraville
Class AA
1. St. Vincent's
2. East Laurens
3. Lamar County
4. Screven County
5. Berrien
6. Model
7. Vidalia
8. Harlem
9. Dade County
10. Rockmart
Class A
1. Athens Academy
2. First Presbyterian Day
3. Holy Innocents'
4. Brookstone
5. Savannah Country Day
6. Walker
7. Paideia
8. Mount Pisgah
9. Eagle's Landing Christian
10. Calvary Day