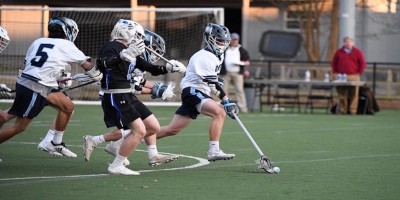 The boys Class 6A-7A poll experienced a lot of changes this week and there are some major top 10 matchups scheduled in the coming days. Undefeated Lambert (12-0) remains No. 1 and is currently the top-ranked team in the MaxPreps National poll. North Paulding moved up to No. 2 after its 13-0 start and will host previous No. 2 and current No. 5 ranked Pope on Thursday. The Greyhounds fell from No. 2 to No. 5 after a 13-7 loss to Walton. Roswell moved up from No. 5 to No. 3 and Walton moved up from No. 6 to No. 4 after its big win over Pope. Creekview improved from No. 8 to No. 6 and Lassiter will have a big showdown with No. 3 Roswell on Tuesday. Lassiter was replaced in the polls by Centennial after falling 11-9 to the Knights and 10-9 to Johns Creek.  Harrison recently fell 10-6 to Lassiter, but also has victories over Walton and Woodstock and is a solid No. 10. Finally, No. 8 ranked Johns Creek will visit No. 9 ranked Buford Tuesday night—making three different Class 6A-7A top 10 showdowns to watch this week.
In Class A-5A boys, No. 1 Lovett is 10-0 and No. 2 Wesleyan is 10-0. The top-ranked Lions recently defeated No. 3 Blessed Trinity 16-9 last Friday. Blessed Trinity will have a big game with No. 5 Westminster on Friday. Also, Fellowship Christian improved from No. 10 to No. 7 and No. 8 Woodward Academy will host No. 10 Starr's Mill on Wednesday.
In Class 6A-7A girls, No. 1 ranked Milton improved to 10-0 with a 16-11 win over No. 2 Walton and is currently No. 3 in the MaxPreps National poll. Creekview comes in at No. 3 and Hillgrove sits at No. 4 with its lone loss (8-6) coming to Creekview back on March 4. Lassiter moved up two spots to No. 5, Alpharetta jumped from No. 10 to No. 6, Mill Creek fell from No. 5 to No. 7 after a 9-6 loss to No. 8 Chattahoochee and No. 9 North Paulding rounds out the poll with No. 10 Roswell.
In Class A-5A girls, 14-0 Blessed Trinity remains No. 1 ahead of No. 2 Wesleyan and No. 3 Westminster. Northview makes a strong debut in the poll at No. 4 and McIntosh comes in at No. 5. Mt. Paran also debuted this week and comes in at No. 8. King's Ridge and Fellowship Christian both exited the poll.
BOYS
Class 6A-7A
1. Lambert
2. North Paulding
3. Roswell
4. Walton
5. Pope
6. Creekview
7. Centennial
8. Johns Creek
9. Buford
10. Harrison
Class A-5A
1. Lovett
2. Wesleyan
3. Blessed Trinity
4. King's Ridge
5. Westminster
6. North Oconee
7. Fellowship Christian
8. Woodward Academy
9. Marist
10. Starr's Mill
GIRLS
Class 6A-7A
1. Milton
2. Walton
3. Creekview
4. Hillgrove
5. Lassiter
6. Alpharetta
7. Mill Creek
8. Chattahoochee
9. North Paulding
10. Roswell
Class A-5A
1. Blessed Trinity
2. Wesleyan
3. Westminster
4. Northview
5. McIntosh
6. St. Pius
7. Decatur
8. Mt. Paran
9. Pace Academy
10. Marist