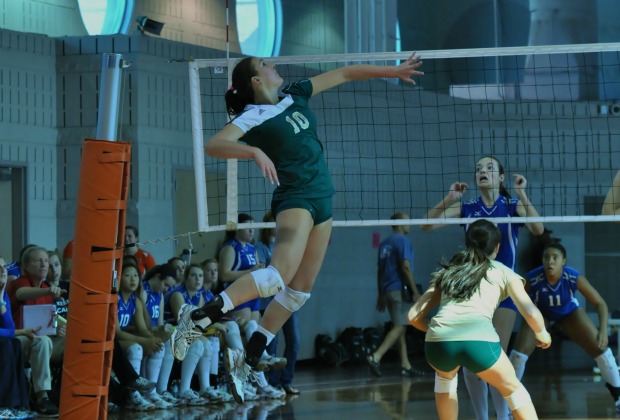 Perry McIntyre
In Class AAAAAA, No. 1 Walton cruised through its six opponents on Saturday, including a (25-14, 25-21) beatdown of Chattahoochee and wins over Roswell and Sandy Creek. No. 2 South Forsyth played seven cross-state matches over the weekend and dropped four of them, but will be well-tested for a region battle with Chattahoochee Tuesday night.
In Class AAAAA, Pope was exposed by Sequoyah (25-9, 25-20) and the Greyhounds drop to No. 7. Sequoyah's resume locks them in at No. 2 over Starr's Mill after adding a big win over Woodstock last week as well.
Sandy Creek continues its battle through one of the toughest schedules in the state, but the Patriots were able to grab a huge win over previously No. 1 Columbus on Thursday. Marist takes over the No. 1 spot in Class AAAA after a win over Class AAAAAA North Cobb and Columbus takes over No. 2. Sandy Creek jumps to No. 6.
Fresh off a County title, Buford witnessed first hand how tough Class AAA No. 1 Blessed Trinity is during a (25-7, 25-21) defeat last Tuesday. Morgan County comes in at No. 8 after beating previously No. 6 ranked Oconee County.
In Class AA, the rankings stayed the same, but a battle between No. 3 Lovett and No 1 Westminster is slated for Tuesday night.
No. 2 Wesleyan had a straight set win over GAC and Jefferson last week and is right in the mix for No. 1.
In Class A, Holy Innocents' had an impressive (26-24, 25-22) win over Lovett that moves the Golden Bears to No. 1.
WEEK 8 RANKINGS
Class AAAAAA
1. Walton
2. South Forsyth
3. Johns Creek
4. Harrison
5. Chattahoochee
6. East Coweta
7. North Cobb
8. Roswell
9. North Gwinnett
10. Woodstock
Class AAAAA
1. McIntosh
2. Sequoyah
3. Starr's Mill
4. Harris County
5. Whitewater
6. Riverwood
7. Pope
8. Lakeside-DeKalb
9. Creekview
10. Northgate
Class AAAA
1. Marist
2. Columbus
3. River Ridge
4. Veterans
5. Heritage-Catoosa
6. Sandy Creek
7. Carrollton
8. Southeast Whitfield
9. Woodland-Stockbridge
10. South Effingham
Class AAA
1. Blessed Trinity
2. St. Pius X
3. Woodward Academy
4. Buford
5. Sonoraville
6. Hart County
7. North Hall
8. Morgan County
9. Oconee County
10. Islands
Class AA
1. Westminster
2. Wesleyan
3. Lovett
4. GAC
5. Jefferson
6. Calhoun
7. Westside-Augusta
8. St. Vincent's Academy
9. Kendrick
10. Lamar County
Class A
1. Holy Innocents'
2. Hebron Christian
3. Landmark Christian
4. Savannah Christian
5. Walker
6. ELCA
7. Mount Paran
8. Pace Academy
9. George Walton Academy
10. Savannah Country Day