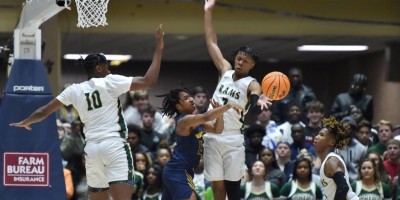 In Class 7A, No. 1 ranked Newton remains undefeated within the state of Georgia and is 14-1 on the year. No. 2 Pebblebrook improved its record to 13-2 with a 71-65 win over No. 10 East Coweta on Tuesday and No. 3 Berkmar improved to 8-3 with its only in-state loss coming to Class A Private No. 1 Greenforest Christian in its opener. Class 6A saw Habersham Central replace Statesboro in the poll following the Blue Devils' 49-47 loss to unranked Class 4A program Benedictine. Down in Class 5A, Jonesboro moved up from No. 5 to No. 4 and jumped Southwest DeKalb in the process.
Class 4A No. 1 McDonough scored another big victory Tuesday night in its 73-65 win over No. 8 Fayette County. Also, Miller Grove replaced Marist at No. 10 in the poll due to its win over the War Eagles' earlier in the season and its recent success. In Class 3A, Sandy Creek replaced Windsor Forest for No. 1 and the rest of the poll remained intact. Class 2A did not see any changes in this week's poll and Columbia remains No. 1.
In Class A Private, Christian Heritage and Mt. Pisgah moved up to No. 5  and No. 6, respectively. Additionally, Walker returned to the poll at No. 10 in place of WD Mohamed. The Class A Public poll saw Chattahoochee County drop from No. 7 to No. 10 following a 66-62 loss to unranked Macon County.
Class 7A
1. Newton
2. Pebblebrook
3. Berkmar
4. McEachern
5. Milton
6. North Gwinnett
7. Grayson
8. South Gwinnett
9. Norcross
10. East Coweta
Class 6A
1. Wheeler
2. Buford
3. Shiloh
4. Osborne
5. Centennial
6. Alexander
7. Westlake
8. Tucker
9. Kell
10. Habersham Central
Class 5A
1. Eagle's Landing
2. St. Pius
3. Tri-Cities
4. Jonesboro
5. Chapel Hill
6. Southwest DeKalb
7. Lithia Springs
8. Walnut Grove
9. Woodland-Stockbridge
10. Lithonia
Class 4A
1. McDonough
2. Monroe
3. Bainbridge
4. Westover
5. Baldwin
6. Jefferson
7. Spencer
8. Fayette County
9. Mays
10. Miller Grove
Class 3A
1. Sandy Creek
2. Windsor Forest
3. Americus-Sumter
4. LaFayette
5. Salem
6. Cross Creek
7. Thomson
8. Greater Atlanta Christian
9. Groves
10. Lakeview-Fort Oglethorpe
Class 2A
1. Columbia
2. Pace Academy
3. Westside-Augusta
4. Washington County
5. Thomasville
6. Butler
7. Vidalia
8. Putnam County
9. Rabun County
10. Chattooga
Class A Private
1. Greenforest Christian
2. Galloway
3. King's Ridge
4. Darlington
5. Mt. Pisgah
6. Christian Heritage
7. North Cobb Christian
8. Heritage School
9. Providence Christian
10. Walker
Class A Public
1. Drew Charter
2. Social Circle
3. Dublin
4. Monroe
5. Calhoun County
6. Lanier County
7. Turner County
8. Portal
9. Warren County
10. Chattahoochee County