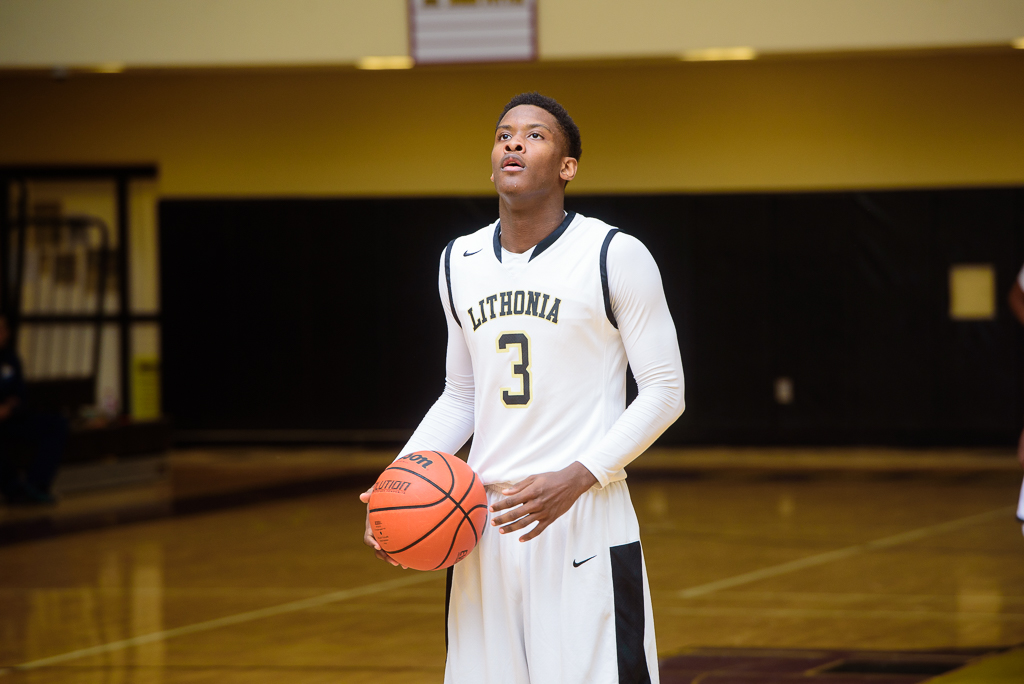 Photo By Ty Freeman
*Originally released Monday morning*
If there was ever any question as to if No. 1 Westlake deserved the top spot in Class AAAAAA, there shouldn't be anymore. The Lions picked up a 76-70 win at No. 7 Pebblebrook to remain undefeated in Region 3 and more importantly, the state of Georgia. Chuma Okeke and Ronald Bell posted double-doubles with 19 points and 15 rebounds and 18 points and 16 rebounds respectively as they exploited the smaller Falcons. Auburn signee Jared Harper was held in check with just 23 points. Shiloh slips three spots to No. 5 after suffering their first in-state regular season loss since Feb. 7, 2014 (Archer) as No. 9 Dacula scored a huge 66-57 win at home and in the process finds itself back in the top ten. The Generals falling three spots isn't meant to be a harsh punishment or to say Shiloh isn't one of the state's elite teams, it is just a credit to how well Norcross, Wheeler and Tift County are playing, making the slightest of slip ups costly. No. 6 Newton has hung around the bottom of the poll but has never dropped out and now finds itself cracking the glass ceiling and a spot away from being in the top five. Coach Rick Rasmussen's Rams crushed Alcovy 120-51 behind Jaquan Simms' career-high 30 points, JD Notae's 24 and freshman Ashton Hagans' 16 points and 10 assists. They followed it up on Saturday by spanking North Oconee 75-37. Grayson (15-3) slips out of the rankings due to Dacula's impressive win and a 69-61 loss to Brookwood (13-5). The Broncos are in fifth-place in Region 8 with a 5-4 mark, but have impressive wins over Berkmar, White County, Johns Creek, 2ANo. 8 GAC, Heritage-Conyers and Grayson, making them one of the most dangerous teams in the state that has yet to hold a top ten ranking. Teams on the bubble of making the poll including Lambert (17-2), Johns Creek (17-2), Brookwood, Grayson and others, will have an eye on what No. 10 Collins Hill does on Tuesday at No. 2 Norcross. The Blue Devils blitzed the Eagles for a 93-72 win earlier in the year and another lopsided loss may knock Collins Hill from their perch in the poll.
Region 5's finest went at it again in AAAAA and once again it was No. 2 Allatoona coming up big and extending its region dominance to 66-straight wins (now 67 after win over Lithia Springs on Saturday). The Bucs fended off host No. 7 South Paulding 53-44 after blasting them at home on Dec. 18, 65-46. Ephraim Tshimanga and Trey Doomes were too much up top. Tshimanga finished with 15 points, six rebounds, four assists and three steals while Doomes went for 12 points, eight rebounds, six assists and four steals. Kane Williams of South Paulding was held to 11 points, seven rebounds and six assists. 6-foot-7 forward Ja'Cori Wilson scored 21 in the losing effort. No. 4 Gainesville steps into the limelight with a chance to make a statement in the state of Georgia as they play at 6A No. 3 Wheeler, the defending state champs, on MLK Day. The game was an in-season pick up after the Red Elephants lost three games due to their out of state mishap in Kentucky. Gainesville's record may be 11-3, but they have only lost one game to Brentwood Academy (TN) in the King of the Bluegrass tournament while their other two losses came via forfeit in Lanierland. No. 5 Cedar Shoals won a thrilling game late Friday night against Heritage-Conyers, 54-51, after taking their first lead with just 6:06 left in regulation. Snipe Hall scored a game-high 16 points to lead the way while Phlan Fleming added 11. The loss was Heritage's third straight. The Patriots (15-4) were ranked as high as No. 5 this year and were No. 7 last week, but losses to Rockdale County in overtime, Brookwood 96-68 and now Cedar Shoals has seen the talented group tumble out. Replacing them is No. 10 Effingham County, who debuts in the rankings. The Rebels have eight wins by six points or less and their three losses have come by a total of 10 points. They are in first-place in Region 3 at 8-0, but have four teams hot on their tracks, highlighted by defending state champion Brunswick (15-4) who has now won eight straight.
Spots 2-4 in Class AAAA belong to Region 6. No. 3 St. Pius jumps two spots after getting revenge against No. 4 Grady, 62-50 at the X-Dome. Christian Merrill scored a game-high 17 points, Jakob Spitzer posted 12 points, seven rebounds and three blocks and Kerney Lane notched 13 points to knock off Grady. Bucknell-commit Avi Toomer was held to 16 points in the loss. With the win, the Golden Lions now have a chance at a region title in the log-jammed standings. As it stands today, Grady is now tied (hold tie-breaker) at 11-1 with No. 2 Lithonia, while St. Pius slides in at 10-2. No. 6 Eagle's Landing rallied from down 25-7 to edge No. 8 Walnut Grove 69-61. Freshman Chris Hood got hot and scored 23 in the win for the Eagles. No. 7 Upson-Lee has won nine in a row and hosts Perry (10-7, 7-0) on Friday to take first-place from the Panthers, who beat the Knights 68-63 earlier in the year for Upson-Lee's only Region 2 loss. Sandy Creek (13-5) peaked at No. 5 early in the season but now finds itself on the outside looking in after a loss to Whitewater 56-54 sees them fall from No. 8 to unranked. Replacing the Patriots is No. 10 Worth County. The Rams opened the year at No. 7 but fell from the top ten in Week 4 and hadn't returned until this week. Unsigned 6-foot-5 forward Brandon Moore has put up beastly numbers next to 6-foot-8 Auburn signee Anfernee McLemore. Moore went for 32 points and 10 rebounds in a 60-59 win over Monroe. He and McLemore make up most likely the toughest post duo in the state as Moore averages 22.4 points, 12.3 rebounds and 1.8 blocks while McLemore posts 15.2 points, 12.8 rebounds and 6.3 blocks through 12 games.
East Jackson (9-8) had a chance to prove it could hang with AAA No. 1 Morgan County, but once again it was the Bulldogs taking a bite out of the Eagles for a 75-56 win. Colin Hubbard recapped the action as Florida Atlantic commits Jailyn Ingram and DeVorious Brown were too much for the young birds. Something you haven't heard in years: No. 5 Laney has dropped two of its last three games. Josey (7-8) upset the Wildcats 66-55 on Saturday led by Donald Jordan's 17 points. No. 6 Central-Macon won a classic over Southwest-Macon (13-5) in double overtime, 80-76. Derrick Evans (23 points, 14 rebounds, 5 assists) and juniors Kentravious Jones (19 points, 13 rebounds, 4 blocks) and Anterious McCoy (26 points, 8 rebounds) were too much for the Patriots and have formed possibly the most potent inside-out trio in the classification. The two hottest teams in the state? No. 3 Calhoun and No. 7 Westminster are both riding 16-game winning streaks. The Yellow Jackets buzzed Murray County 74-44 to remain undefeated. Ray Reeves poured in 24 points while Jireh Wilson (12) and Chapin Rierson (11) also scored in double figures for Coach Vince Layson's always balanced attack.
In Class AA, No. 2 Seminole County swaps places with No. 1 Thomasville after an 82-69 slip to Bainbridge. Expect Seminole County and Thomasville to battle for No. 1 all season long. The two Region 1 foes meet again on Feb. 2, at Thomasville, the second to last game of the season. No. 3 Vidalia rises a spot after No. 4 Crawford County lost 98-80 to Northside-Warner Robins. The Indians also earned their rise by beating Long County 76-65 at Long County, knocking the Blue Tide (14-5) from the rankings temporarily. No. 5 Pace Academy might not be above .500, but they are peaking now that they are in Region 6 play. They dropped No. 6 Lovett 53-40 this past week. No. 10 Holy Innocents' clings onto the top ten, but barely after taking a 77-37 thrashing at now No. 8 GAC. The Golden Bears have been banged up and the Spartans (7-1 in region) have found a new lease on life after some addition by subtraction, losing two of their best players. Early County instead of Holy Innocents' drops from the rankings from No. 7 after a bad loss to Brooks County, 68-67. The Trojans are just 7-10 overall this season. No. 9 Dublin debuts in the poll after taking down Swainsboro 65-56 and are riding a seven-game win streak. On Tuesday the Fighting Irish host Houston County, who handed Dublin their first loss of the season 88-77 on Dec. 4.
No. 2 St. Francis is finally hitting its stride in Class A-Private. Kobi Simmons poured in 34 points at the HoopHall Classic to defeat Lone Peak (UT) 94-92 in double overtime. Chance Anderson added 24 in the win. The win is a big one as Lone Peak is one of two out-of-state teams that has handed 5A No. 1 Miller Grove a loss, 73-71 at the FreeTaxUSA.com Shootout earlier this season. After the game, Simmons announced that he will be heading to Arizona to play college basketball, ending the long courtship of the 5-star guard. He and Alterique Gilbert of Miller Grove both were selected Sunday night to play in the McDonald's All-American game. Elsewhere in the state, newly minted No. 10 Hebron Christian has a chance to pick up a signature win over No. 5 Lakeview Academy. Lakeview currently is 7-0 in Region 8 while Hebron is 6-0. The two teams meet at Lakeview on Tuesday.
Class A-Public's hottest team outside of No. 1 Treutlen is No. 2 Hancock Central, who rides an eight-game win streak. No. 5 Turner County is also red-hot, rising five spots on its seven-game winning streak. No. 9 Randolph-Clay has fallen six spots after losses to Stewart County and Early County. Mitchell County (9-6) drops out of the top ten after losses to Westover and Quitman County. No. 10 now belongs to defending state champion Calhoun County. The Cougars have won three in a row and are 8-3 in Region 1.
Class AAAAAA
1. Westlake (13-2)
2. Norcross (16-2)
3. Wheeler (13-5)
4. Tift County (17-2)
5. Shiloh (14-3)
6. Newton (16-2)
7. Pebblebrook (12-7)
8. McEachern (15-3)
9. Dacula (13-4)
10. Collins Hill (16-2)
Class AAAAA
1. Miller Grove (17-2)
2. Allatoona (18-0)
3. McIntosh (16-2)
4. Gainesville (11-3)
5. Cedar Shoals (19-2)
6. Riverwood (19-1)
7. South Paulding (15-3)
8. Warner Robins (12-2)
9. Southwest DeKalb (16-3)
10. Effingham County (15-3)
Class AAAA
1. Jonesboro (16-3)
2. Lithonia (14-4)
3. St. Pius (16-2)
4. Grady (16-2)
5. Liberty County (15-1)
6. Eagle's Landing (18-1)
7. Upson-Lee (15-3)
8. Walnut Grove (17-2)
9. Thomson (14-3)
10. Worth County (12-3)
Class AAA
1. Morgan County (15-3)
2. Jenkins (15-2)
3. Calhoun (16-0)
4. South Atlanta (14-4)
5. Laney (15-2)
6. Central-Macon (16-2)
7. Westminster (17-2)
8. Callaway (9-3)
9. Westside-Augusta (10-2)
10.  Banks County (17-2)
Class AA
1. Thomasville (18-1)
2. Seminole County (13-4)
3. Vidalia (16-2)
4. Crawford County (14-2)
5. Pace Academy (7-8)
6. Lovett (12-4)
7. Chattooga (18-1)
8. GAC (12-7)
9. Dublin (14-3)
10. Holy Innocents' (13-5)
Class A-Private
1. Greenforest (17-1)
2. St. Francis (13-5)
3. North Cobb Christian (14-3)
4. SWAC (11-8)
5. Lakeview Academy (15-4)
6. Our Lady of Mercy (13-3)
7. Whitefield Academy (11-7)
8. St. Anne-Pacelli (13-5)
9. Stratford Academy (12-3)
10. Hebron Christian Academy (14-4)
Class A-Public
1. Treutlen (15-1)
2. Hancock Central (12-4)
3. Wilkinson County (12-5)
4. Atkinson County (13-3)
5. Turner County (12-5)
6. Taylor County (10-6)
7. Lincoln County (11-4)
8. Hawkinsville (9-5)
9. Randolph-Clay (13-6)
10. Calhoun County (10-7)