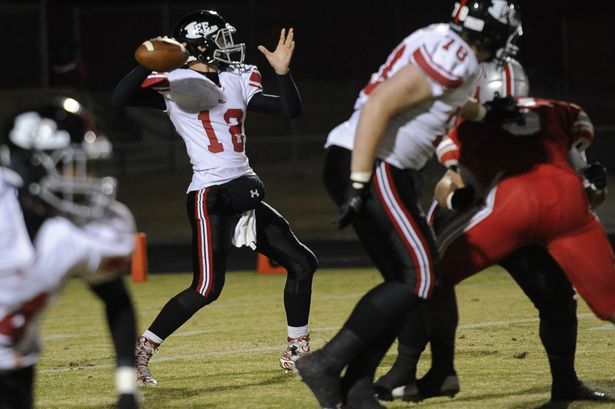 In Class AAAAAAA, No. 1 Roswell cruised to a 45-14 victory over previously-unbeaten Lassiter, which sent the Trojans to No. 8.  North Paulding also lost its first game of the season in a 31-28 loss to Hillgrove. North Cobb replaced the Wolfpack at No. 10 after hanging tight with No. 4 McEachern 17-10. North Cobb hosts North Paulding this Friday.
In Class AAAAAA, Lee County torched Houston County 55-29 and took over No. 1. Houston County fell all the way to No. 9 due to the strength of Class AAAAAAA. Valdosta climbed to No. 2 after toppling previous No. 1 Northside-Warner Robins 14-6. Harrison moved to No. 4 after improving to 6-0 for the first time since 2008.
Class AAAAA and Class AAAA remained the same for the second straight week. In Class AAAA, especially, the top 10 was unstoppable. While three of the 10 teams were on a bye week, the remaining seven teams in the AAAA top 10 outscored their opponents 325-26.
Defending Class AAA state champion Westminster has officially put its 0-2 start in the rearview mirror as the Wildcats now find themselves slotted at No. 2 following an impressive 49-36 home victory against defending AA champ No. 5 Pace Academy. Peach County holds fast at No. 3, the Middle Georgia power collecting a 48-0 shutout of Central-Macon. Pike County falls out of the top 10 and is replaced by No. 10 Jackson, who beat the Pirates 48-12. The Red Devils are now 5-2 on the season.
The only change in Class AA comes at the No. 9 and No. 10 positions. Dublin was dumped by Dodge County 28-21, knocking the Irish from the rankings. Toombs County is a beneficiary, moving up to No. 9 while Screven County makes an appearance at No. 10 after flying under the radar. The Gamecocks are 5-1.
Stratford Academy tumbles out of the top 10 as it becomes Class A-Public No. 2 Twiggs County's latest private school victim, losing 21-0. No. 10 Mt. Paran is now 5-1 and starting to find its groove after an early season loss to No. 7 Fellowship Christian.
The aforementioned Cobras from Twiggs County are red-hot, jumping four spots to No. 2 in A-Public. The Cobras have beaten three ranked teams this season (Toombs County 24-17, First Presbyterian 29-17, Stratford 21-0) with their only loss coming to 5-0 Cambridge Christian, Fla., 38-14. Twiggs travels to A-Private No. 9 Tattnall Square for a chance to notch their fourth victory against a ranked opponent.  Outside of Twiggs, both No. 3 ECI and No. 6 Randolph-Clay dominated as well. ECI drilled Wheeler County 55-0 in Alamo, knocking the Bulldogs out of the top 10 while Randolph-Clay hung 76 points on Baconton Charter. No. 10 Mitchell County replaces Wheeler County in the rankings.
Class AAAAAAA
1. Roswell
2. Mill Creek
3. Grayson
4. McEachern
5. Norcross
6. Lowndes
7. Colquitt County
8. Lassiter
9. Parkview
10. North Cobb
Class AAAAAA
1. Lee County
2. Valdosta
3. Northside-Warner Robins
4. Harrison
5. Dalton
6. Tucker
7. Alexander
8. Mays
9. Houston County
10. Glynn Academy
Class AAAAA
1. Buford
2. Stockbridge
3. Kell
4. Rome
5. Carrollton
6. Grady
7. Thomas County Central
8. Ware County
9. Woodland-Stockbridge
10. Arabia Mountain
Class AAAA
1. Cartersville
2. Thomson
3. Woodward Academy
4. Jefferson
5. Cairo
6. Blessed Trinity
7. Mary Persons
8. Burke County
9. Ridgeland
10. Marist
Class AAA
1. Greater Atlanta Christian
2. Westminster
3. Peach County
4. Liberty County
5. Pace Academy
6. Calhoun
7. Crisp County
8. Lovett
9. Cedar Grove
10. Jackson
Class AA
1. Benedictine
2. Fitzgerald
3. Rabun County
4. Callaway
5. Jefferson County
6. Brooks County
7. Pepperrell
8. Heard County
9. Toombs County
10. Screven County
Class A-Private
1. Eagle's Landing Christian
2. Wesleyan
3. Prince Avenue
4. Landmark Christian
5. Calvary Day
6. Athens Academy
7. Fellowship Christian
8. First Presbyterian Day
9. Tattnall Square Academy
10. Mt. Paran
Class A-Public
1. Clinch County
2. Twiggs County
3. Emanuel County Institute
4. Mt. Zion
5. Manchester
6. Randolph-Clay
7. Macon County
8. Commerce
9. Marion County
10. Mitchell County