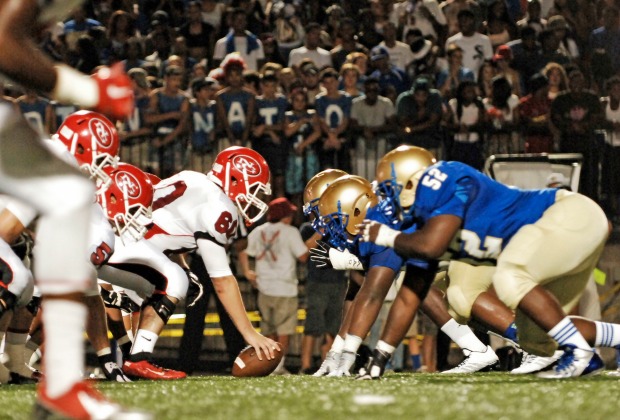 Photo by Sonny Kennedy
While some programs continue to string together winning seasons year after year, reclassification, newly built programs and coaching changes help challenge the hierarchy each year. With all the state competing for the ultimate goal, each season will have the good, the bad and the ugly.
FREE FALLIN' …
In Class AAAAAA, it is amazing to see how far certain programs have fallen the past few years. Lassiter entered the 2012 playoffs as the No. 1 team in the state and finished 7-4 last year with a 59-20 exit to Peachtree Ridge in the first round of the playoffs as the No. 1 seed coming out of Region 5. This year, the Trojans are 0-4 and have allowed 49.8 points per game. Pope is 0-3 and has allowed 44 points per game with lopsided losses to Harrison, South Cobb and Etowah. Roswell, Woodstock, Milton, Cherokee and Etowah look like top teams in the region now after getting pushed around the past few years.
Region 5 is not alone. In Region 6, playoff powers have slid closer to the basement of the region and Class AAAAAA. Chattahoochee was thrashed 42-7 in its opener to Cherokee and grabbed a 20-17 win over North Forsyth before a 23-15 loss to West Forsyth last week. The Cougars kept it close with the Wolverines, but that same West Forsyth team was outscored 103-34 in its first two games to Mill Creek and Alpharetta. Johns Creek was 8-3 in 2012 and has since lost 13 consecutive games.
Meanwhile, south Georgia and Gwinnett County are getting stronger and stronger. Football is a numbers game and that seems to be what is happening. Gwinnett teams have increased participation each year as the schools' enrollments continue to grow. South Georgia's rich history keeps participations numbers consistent season to season. In Cobb County and parts of Fulton County, a lot of kids are choosing baseball and lacrosse over football.
I can't really blame them. Football practice is not fun and there is no easy way to play this game. Football practice is going to have to be that way if a team is going to be successful. These schools thrived over the years because they'd get kids into the program at a young age and once they'd get to high school they could develop their first three years and then, when senior year came, it would be their time to play. It is 2014 and I just don't see as many kids wanting to practice for four years just to play in a handful of varsity games. In certain schools there is still that level of pride where that is worth it but in other areas of the state, lacrosse and baseball look a lot more appealing. I see this trend continuing and teams could face this challenge for years to come.
WEEKEND SLATE …
While some teams are certainly struggling this season, football in the Peach State is better than ever and this weekend has plenty of must-see action. McEachern has the hardest schedule in the state according to the Maxwell Ratings and will face its fourth consecutive ranked opponent on Friday. The Indians play at Lovejoy in a clash of Class AAAAAA powers.
Roswell at Milton and Collins Hill at North Gwinnett are crucial region matchups along with Parkview at Grayson. Grayson topped Archer last week and a win over Parkview would put the Rams in the driver's seat of Region 8.
Houston County at Warner-Robins and Northside-Warner Robins at Jones County pin together some of middle Georgia's finest programs. Houston County entered the Class AAAAA rankings this week after a 3-0 start and Northside-Warner Robins looks to protect its No. 1 ranking against a 3-0 Jones County team.
Glynn Academy and Coffee is a great South Georgia matchup. Coffee is coming off a loss to Ware County and the Red Terrors could gain footing in Region 3-AAAAA by handing Coffee a second region loss.
Stephenson lost rival Tucker to Class AAAAAA with region realignment, but Creekside, the team that beat Tucker 52-28 in the Class AAAAA championship last season, steps into the Jaguars' region for the first time. These two are the favorites for the Region 5 crown and the winner on Friday will be in a direct path to capturing it.