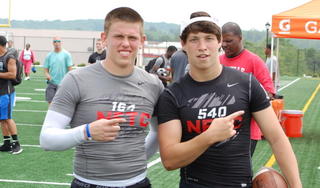 IJ Rosenberg
The Gainesville girls soccer team captured its first region title since 2005 with a 4-0 win over Walnut Grove to take the Region 8-AAA title. Freshman Elizabeth Fischer scored the first goal of the game for the Lady Red Elephants.
Turner Field played host to several high school games over the weekend. Providence Christian scored 14 runs to knock off King's Ridge 14-5 in extra innings. Austin Golden went 4-for-5 with five RBI in the win. Austin Loyd was 3-for-5 with three runs and two RBI. Joshua Dobbs helped Alpharetta take out North Forsyth 6-3 at Turner Field.
Austin McKinnon raised some eyebrows over the weekend by firing his second no-hitter of the year in a Jordan 10-0 win over Macon County. He helped his own cause with a 2-for-3 day at the plate with three runs. His previous no-no came against Chattahoochee County.
In track & field news, Marietta swept the boys and girls Region 5-AAAAA titles while the Harrison girls forced a split with the Campbell girls in the race for the Region 4-AAAAA crown.
Buford High School hosted Atlanta's Nike Football Training Camp where more than 250 players from around the southeast took part in position-specific drills designed by some of the top NFL players and sports performance specialists. Three Centennial seniors, Chase Rosenberg, Vincent Calhoun and Ryan Bennett, took part in the NFTC and all three left Buford felling good about their performances and ability to play alongside with the elite players in the area. The camp featured some of the top rising seniors in the country, including former Troup County linebacker Reuben Foster, the No. 2 ranked player in the nation. Seven players earned invitations To "The Opening,'' the July recruiting showcase on ESPN in Beaverton, Ore. Joshua Dobbs of Alpharetta took home MVP honors from the event.