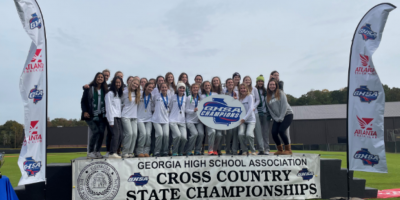 The first day of competition in the GHSA Cross Country State Championships finished at the Carrollton Course on Friday, with six team and six individual championships being awarded in Class 2A, Class 3A and Class 4A for both the boys and girls. Here's how today's competition unfolded.
Class 4A: On the boys side, defending-champion Chestatee won the team championship ahead of Marist, Jefferson and Pickens. Druid Hills runner Sage Walker won the individual title while Chestatee runners Garret Grater (2nd) and Gavin Grater (4th) placed in the top five. For the girls, Marist controlled the event and won the program's 22nd state title while successfully defending 2020's championship. Four Marist runners finished in the top-5 led by state champion Ruby Little and followed by Johna Grisik (2nd), Nicole Pizzo (3rd) and Kate Selover (4th).
Class 3A: After today's victories, Westminster has won each the boys and girls title for the fifth straight season. For the girls, Westminster won its ninth straight championship. In total, the Wildcats have 34 girls titles and 29 boys championships. Matthew Fernando (1st), Joseph Jaquot (4th) and Jack Ramsey (5th) led the boys. Palmer Walstead (1st) and Janie Cooper (2nd) led the girls side for the Wildcats.
Class 2A: On the boys side, Pace Academy won its seventh state title – but first since 1994 — led by individual champion Edward Blaha. The Knights also got a big performance out of fourth-place finisher George Blaha. For the girls, the Knights successfully defended the 2020 championship and won the program's 16th title. Caroline Hood won the individual state championship for Pace with teammates Laura Arenth (2nd) and Kate Jonas (4th) finishing in the top 5.
Class 4A Boys Individual Results
1.  Sage Walker, Druid Hills, 16:34.63; 2. Garrett Grater, Chestatee, 16:41.67; 3. Tommy Latham, Marist, 16:50.26; 4. Gavin Grater, Chestatee, 16:53.55; 4. Matthew Schroeder, Jefferson, 16:58.27.
Class 4A Boys Team Results
1. Chestatee, 38 points; 2. Marist, 46 points; 3. Jefferson, 95 points; 4. Pickens, 146 points.
Class 4A Girls Individual Results
1. Ruby Little, Marist, 18:54.24; 2. Johna Grisik, Marist, 19:40.66; 3. Nicole Pizzo, Marist, 19:45.21; 4. Kate Selover, Marist, 19:49.33; 5. Katherine Law, Jefferson, 20:07.06
Class 4A Girls Team Results
1. Marist, 17 points; 2. Jefferson, 101 points; 3. Central-Carroll, 116 points; 4. Flowery Branch, 140 points
Class 3A Boys Individual Results
1. Matthew Fernando, Westminster, 15:59.05; 2. Alex Arrambide, East Forsyth, 16:40.97; 3. Stephen Clark, West Hall, 16:51.37; 4. Joseph Jaquot, Westminster, 17:01.53; 5. Jack Ramsey, Westminster, 17:05.68
Class 3A Boys Team Results
1. Westminster, 19 points; 2. Oconee County, 116 points; 3. Greater Atlanta Christian, 127 points; 4. Hart County, 155 points
Class 3A Girls Individual Results
1. Palmer Walstead, Westminster, 19:22.64; 2. Janie Cooper, Westminster, 19:55.57; 3. Margaret Wade, Savannah Arts; 20:01.51; 4. Clodagh O'Bryant, North Hall, 20:04.90; 5. Harleigh Smith, North Hall, 20:22.71
Class 3A Girls Team Results
1. Westminster, 43 points; 2. Savannah Arts, 61 points; 3. Oconee County, 96 points; 4. Mary Persons, 117 points
Class 2A Boys Individual Results
1. Edward Blaha, Pace Academy, 16:09.62; 2. Buck Ledford, Banks County, 16:24.58; 3. Luke Churchwell, Bleckley County, 16:48.18; 4. George Blaha, 16:48.77; 5. Hunt Shurling, Lovett, 16:53.13
Class 2A Boys Team Results
1. Pace Academy, 28 points; 2. Lovett, 76 points, 3. Bleckley County, 161 points, 4. Jeff Davis, 173 points
Class 2A Girls Individual Results
1. Caroline Hood, Pace Academy, 19:09.32; 2. Laura Arenth, Pace Academy, 19:38.94; 3. Mary Parrish, Lovett, 19:47.06; 4. Sophia Cook, Coosa, 19:59.53; 5. Kate Jonas, Pace Academy, 20:05.46
Class 2A Girls Team Results
1. Pace Academy, 27 points; 2. Lovett, 61 points; 3. Bleckley County, 107 points; 4. Oglethorpe County, 169 points