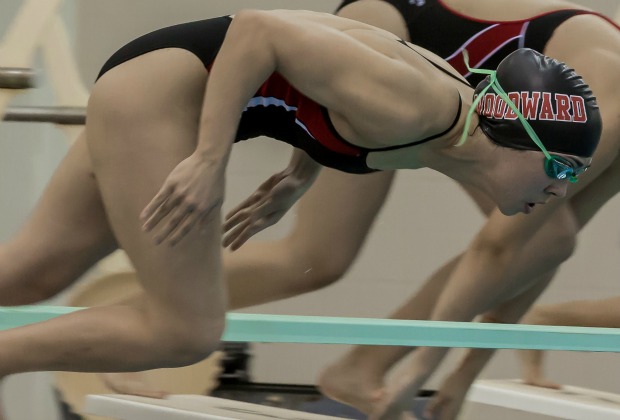 Photo by Kelsey Emerson
Alpharetta, Westminster and Woodward Academy raced to victories at last weekend's 44th Metro Swimming and Diving Championships. Westminster, which hosted the event, saw both its boys and girls place in the top three of their respective meets-good enough for a combined team win (311.5 points to runner-up Marist's 309). Alpharetta's boys edged the host Wildcats by the slimmest of margins, 176 points to 175.5. The Woodward girls finished first ahead of Marist, with 200 points to the War Eagles' 169. Like Westminster, Marist placed in the top three in each of the meets.
The boys' showdown between Alpharetta and Westminster all came down to the final race, the 400-yard freestyle relay. It could not have been much closer; not the overall competition or the decisive relay. Alpharetta and Westminster took first and second, respectively, with the Raiders' foursome of Patrick Cusick, Max Lee, Jonathan Vater and Derek Wu besting the Wildcats' team of Derek Cox, Erek Cox, Gabriel Bellott-McGrath and Patrick Leonard by one second (3:11:25 to 3:12:32).
Cusick, who won the 200 backstroke, and Derek Cox also squared off in the 200 individual medley. The Westminster sophomore prevailed in 1:53.83 to Cusick's 154.15. Bellott-McGrath and Lee also met in the 200 freestyle, with Bellott-McGrath toughing the wall first for the Wildcats only 45 hundredths of a second ahead of Lee. Northview, whose boys place fourth out of 18 schools, got a pair of triumphs from Knox Auerbach in the 100 and 500 freestyle competitions. Kathleen Cook of Woodward (100 freestyle and 200 freestyle) and Elise Hart of Cartersville (100 backstroke, 100 butterfly) were the two girls who won a pair of individual events.
Chamblee, Dunwoody and Lakeside-DeKalb all placed in the top three of both the boys and girls competitions when the DeKalb County Swim and Dive Championships wrapped up last Saturday at Chamblee High School. The Chamblee boys beat Lakeside-DeKalb 274-220 while Lakeside-DeKalb's girls got past Dunwoody 276-250.
The victorious Bulldog boys were led by Caleb Wikle and the Oh brothers, Nicholas and Noah. Wikle took home top individual honors in one-meter diving, Nicholas won the 100 freestyle and Noah swam to victory in the 500 freestyle. Tucker's Cash DeLoache set DeKalb County records in both the 100 butterfly and 100 backstroke. The Lakeside-DeKalb girls were paced by individual wins from Julianna Cartwright (200 freestyle and 500 freestyle), Raleigh Bentz (200 individual medley and 100 backstroke) and Nicole Hollahan (100 butterfly).