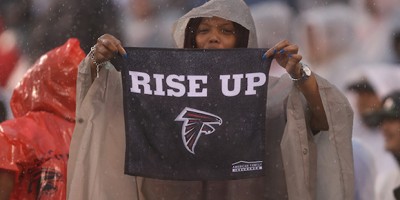 Atlanta Falcons
A three-game losing streak for the Falcons came to an end after they took down the New York Jets 25-20 in MetLife Stadium this past Sunday. Atlanta seemed to be on the decline over recent weeks, losing to the Dolphins after holding a 17-point lead, and managing to score only once against their Super Bowl rematch against the Patriots. No one was feeling particularly good about the Birds, and a road win seemed almost necessary to revive the rest of the season.
Even though the Falcons played a sloppy game, their mistakes weren't enough to hold them back from a road win. The good and bad takeaways from SB Nation's Dave Choate highlight the Falcons' Sunday performance.
ESPN's Vaughn McClure explains the importance of this division game victory, and the impact it has on the rest of the season.
After the game Dan Quinn discussed the process of how the Falcons were able to take down the jets, courtesy of 247 Sports' James Parks.
Matt Urben from the Falcons Wire points out some key notes regarding the offensive, defensive and special teams performances.
Julio Jones may have had a slow game, but this 54-yard catch showed the receiver still has elite skill at the position.
JULIOOOOOOO

54 Yards pic.twitter.com/oUAeNI8Fog

— Carlton (@SlopingGiraffe) October 29, 2017
Here's what Matt Ryan had to say about the comeback win over the Jets.
The Week 8 breakdown of the NFC South provided by Tim Weaver with Falcons Wire shows where each team is in the division at this point in the season.
Atlanta Falcons writer Kelsey Conway elaborates on the injury Devonta Freeman suffered during Sunday's game.
Moving forward, the Falcons will take on the NFC South second-place Carolina Panthers in their third-straight road game. This division matchup is key to both teams' seasons, with winning records and playoff spots on the line. Hopefully the Falcons can continue to shift their momentum in the right direction against the Panthers, who are averaging a 18.5 points per game, just 23rd-best in the league.