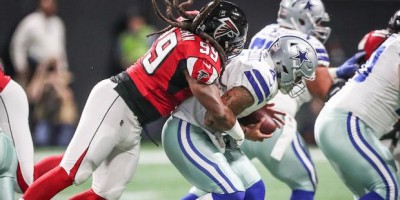 Adrian Clayborn gets one of his six sacks on Dak Prescott. Credit: Atlanta Falcons
Heading into their Week 10 matchup against the Dallas Cowboys, the Falcons were coming off a tough road loss to NFC South opponent Carolina. Sitting at 4-4, it was clear that every game for the remainder of the season mattered if the Birds wanted to salvage their season. They returned to Mercedes-Benz Stadium after three straight road games to welcome the Cowboys, minus their star running back Ezekiel Elliott. A quick turnover during the Falcons' first possession hinted that the game might be a long one for Atlanta fans, but the tone quickly changed, and the Falcons rolled over the Cowboys 27-7.
The Falcons' second-half struggles were nonexistent in Week 10, and the team controlled the majority of the game. The Falcoholic's Allen Strk discusses how all pieces of the team helped contribute to their win over the Cowboys.
FalconsWire's Tim Weaver says the highlight of the team's performance was Adrian Clayborn's six sacks, breaking the Atlanta record for most sacks in a game. He also forced two fumbles to add to his dominant performance.
Devonta Freeman is expected to miss time after sustaining a blow to the head. SBNation's Harry Lyles Jr. goes into detail about how to absence of Freeman will affect Tevin Coleman and the rest of the Falcons offense.
Vaughn McClure from ESPN discusses the road ahead for the Falcons, and how their Week 10 win may shift the direction of their season.
The AJC's D. Orlando Ledbetter sheds some light on how head coach Dan Quinn felt after leading his team to victory.
Here's what Matt Ryan had to say after his great performance leading to the team's Week 10 win.
The Falcons will face off against the Seattle Seahawks at CenturyLink Field next week, looking to continue their success against a Seattle defense that is allowing the seventh-fewest points per game to opposing teams.