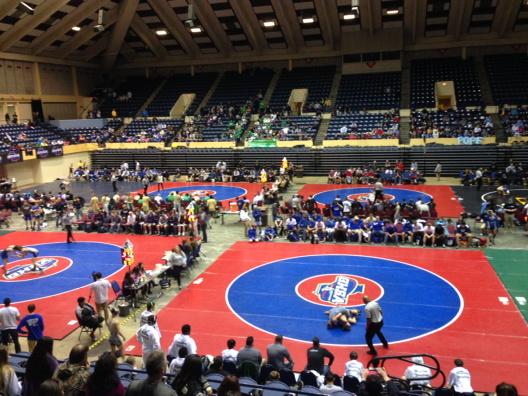 Photo by GHSA.net
Two-time defending Class AAAAAA champion Archer has once again loaded the field and sent a wrestler to state in all 14 weight classes from its nationally-ranked roster.
"Obviously our goal was to get all 14 in," said Archer head coach Tom Beuglas in an interview with the Gwinnett Daily Post, " The guys are wrestling good and everybody's healthy so I feel pretty good about it."
Archer's Grant Aycox (138), Thomas Bullard (160), Daniel Bullard (170) captured individual state titles last year and placed first in the Class AAAAAA West Sectionals this weekend. Chris Diaz (132) and Quinn Miller (220) were Archer's other two first-place finishers at sectionals and return to Macon after runner-up finishes a year ago.
Out of the East Sectionals, Gwinnett County was once again dominant with five schools crowning champions. Collins Hill's Codi Russell (126), Mountain View's Adam Flatt (132), Norcross' Rudy Guillen (145), Duluth's Rodney Jones (170) and Mill Creek's Bobby Klemm (285) each placed first at the East Sectionals. Overall, 35 Gwinnett wrestlers finished in the top eight of the East Sectionals and will make the trip to Macon. Russell's first-place finish at 126 will highlight a weight class at the state tournament that includes Valdosta's Reggie Dennis, who defeated Archer's Alex Standridge 5-4 in the West Sectional finals. Flatt's top finish at 132 could set up a star-studded showdown with Archer's Diaz at state. Flatt finished as a state runner-up last year at 120 pounds and Diaz finished runner-up at 126 pounds. Flatt and Diaz fell to Collins Hill standouts Sean Russell (now at Edinboro) and Ryan Millhof (Oklahoma), respectively in the finals.
Archer's Elliott Lee won state at 195 pounds last year, but sophomore Isaiah Pryor took over the weight class and Lee moved up to 285 to replace last year's state champion M.J. Couzan. Lee used a 3-2 decision over Berkmar's Jose Acosta to finish third in the West Sectionals last weekend at 285 pounds.
Pope's Jake Adcock (152 pounds) will seek perfection and his first Class AAAAAA state title after winning 138 pounds in Class AAAAA last year. Adcock was the only Cobb County wrestler to win his weight class at sectionals last weekend and improved to 49-0 on the season with a pin of South Forsyth's Felipe Hayes in the finals. Adcock will meet a field that includes Lowndes' Davis Ison, who finished first at 152 pounds in the West Sectionals. Ison finished fourth at state at 145 pounds last season. Ison grabbed the 152 title at sectionals by defeating Archer's Sam Bullard 11-8. Bullard saw a second place finish at state last year at 138 pounds.
FRONT-RUNNERS AND FAVORITES…
Since the inception of crowning dual state champions in 2002, we have seen 48 of the 67 dual state champions go on to complete the season sweep and take home the traditional state title the following month. Archer, Camden County and Gilmer are aiming for sweeps this weekend in the state's highest three classification and like Archer, Camden County and Gilmer will also have wrestlers in all 14 weight classes this weekend.
Camden County was overshadowed by Archer in Class AAAAAA last season and fell 249-183.5 in last year's traditional state tournament, but reclassification bumped the Wildcats down to Class AAAAA this year and their prowess over their competition has been evident throughout the year. Camden County dominated the Class AAAAA East Sectionals, reaching the finals in every weight class. Nine Camden County wrestlers were crowned champions, while the other five classes finished second.
Two-time defending Class AAAA champion Gilmer crowned six champions and three runner-up finishers at the West Sectionals last weekend despite a shuffled lineup from a year ago. The Bobcats' team depth was on full display as two of Gilmer's runner-up finishers at sectionals were state champions a year ago. Gilmer's Alberto Perez, Marcelino Lopez and Daniel Bautista swept the lightest three weight classes at state last year but Lopez and Perez were beat in the sectional finals this year in new weight classes. Perez took the 106 pound state title last year and was topped by Northwest Whitfield standout Blake Hayes at 126 pounds in last weekend's sectional finals. Lopez was last year's 113 state champion, but was edged by Heritage-Catoosa's Charles Thurman for first place in the 120-pound finals. Trevor Preece, however, keeps the Bobcats stacked towards the lighter classes and after taking over the 113-pound class, finished first at sectionals, while teammates Lucas Patterson (132), Will Gudger (145), Jamie Lopez (152), Matthew Waddell (170) and Levi Seabolt (285) also won their respective weight classes. Last year's Class AAA traditional state champion Buford jumped to Class AAAA this year and returns to Macon after seeing three champions, one runner-up, one top 3 and two top 5 finishes at sectionals. Cass will send four wrestlers to state after placing second in state last year behind Gilmer.
In Class AAA, history will unfold as Jefferson aims for its 15th straight traditional state wrestling title this weekend. After winning eight straight titles in Class A (2001-2008), Jefferson captured six-straight titles in Class AA from 2009-2014. Now, the Dragons return to Macon to make their Class AAA debut.
Jefferson crowned six individual state champions last year and is on pace to match that level of success once again after qualifying 13 wrestlers for state and seeing seven first-place finishes at the 3A- East Sectionals last weekend. Dawson Bates (106), Mitchell McGhee (113) and Ben Kelly (120) swept the lowest three weight classes at sectionals, and last year's Class AA 113 state champ Price Joiner finished second at sectionals in the 126 weight class. Jefferson's Tanner Thurmand finished runner-up at state last year at 132 pounds and returns to Macon as a favorite after taking first at 132 pounds in the East Sectionals. Jeremy McCloskey took third at 138 and Chase Piperato and Williams Ballard left sectionals as champions at 145 and 152, respectively. Piperato moved up several weight classes to 145 after winning the state title at 120 last year. Jefferson's Caleb Little won the state title at 160 pounds last year and is transitioning well to 182, where he cruised for a first place finish at sectionals.
Topping Joiner at 126 in the East Sectional finals was Oconee County's Stepon Amirkhanyan. Oconee County's Rexx Hallyburton also finished first last weekend at the 170-pound class, while teammates Rudy Rodriguez (second at 106), Drake Dawson (fifth at 138), Chris Couch (second at160) and Dalton Sikes (sixth at 220) gave the Warriors depth and experience entering the tournament.
In Class AA, Social Circle defeated Bremen 34-31 for the dual state championship last month (the school's first-ever wrestling state title) and will be battling with a deep Class AA field as the team to beat in Macon.
While Bremen looks to avenge its loss to the Redskins, Greater Atlanta Christian placed fifth in state last year behind Jefferson, Bremen, Social Circle and Toombs County, but has emerged as a contender entering the state tournament following an impressive showing at sectionals.
GAC will send 10 wrestlers to state, including seniors Joshua "D.J." Coker (285 pounds) and Kyle Politz (145), who captured first-place finishes in their respective weight classes at sectionals. Justin Van Luween (113), Ian Politz (126) and Thomas Lord (183) ended sectionals as runner-ups. GAC actually had 12 wrestlers qualify for sectionals, but Emertius Morris (152) could not participate after suffering a hip fracture and the Spartans would send 10 of the active 11 wrestlers at sectionals to state.
"[10] It's a good number for us," GAC head coach Jeff Harsh told the Gwinnett Daily Post. "We're competing with Social Circle and Bremen as far as the top three teams [in Class AA]"
Social Circle saw five first-place finishes at sectionals and will send a dozen top 3 finishers from sectionals to Macon to compete for the state title. James Corasaniti (132), Reid Harris (138), Cade Lackey (152), Cameron Paschal (160) and Aaron Forester (182) all placed first at the 2A-East Sectionals. Last year, Social Circle placed eight wrestlers in the top 4 at state and it will be Lackey returning as the only reigning champion after claiming the state title at 132 last year.
In Class A, Commerce successfully defended its first and only dual state championship with a 54-24 win over Mt. Zion-Carroll last month and will look to defend its first traditional state won last year in Macon with a full-lineup of state qualifiers. Commerce outscored Treutlen (59-15) and Trion (66-4) by a combined 106 points en route to its dual state title and the dominance has continued through area action and sectionals.
The Tigers placed all 14 wrestlers that qualified for sectionals for state and like Archer, Camden County and Gilmer, will have a wrestler in each weight class this weekend. Commerce left the Class A-West Sectionals with nine individual champions and four second-place finishers.
Commerce's Casey Burchett (106), Jacob Brewer (113), Dalton Flint (120), Owen Brown (138), Chase Forrester (152), Knox Allen (160), Cole Chancey (170), Cole Sweeney (195) and Derek Benoit (285) were the sectional winners and Austin Brock (second, 126), Mitchell Patton (second, 132), Dontavious Mosley (third, 182) and Tyreke Wiggins (second, 220) are top three finishers that can threaten the field in Macon.
Last year's Class A runner-up Gordon Lee moved up to Class AA and qualified just three wrestlers to state. Athens Christian will be amongst the schools competing with Commerce and is led by Zane Wolf, who won the sectional title at 145 pounds. Wolf's teammates Travis Kellogg (126) and David Sanford (285) took third and fourth in their respective weight classes at sectionals and are bound for Macon.