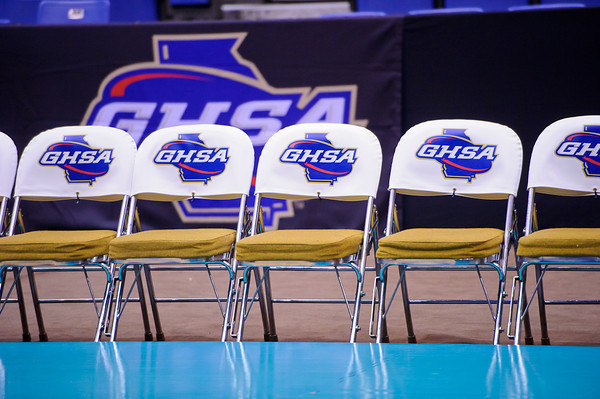 Class AAAAAA
No. 1 Westlake 65, Douglas County 59: UNC signee Brandon Robinson scored 22 points, but it was not enough to stop host Westlake. The Lions received 20 points, 12 rebounds and three assists from Chuma Okeke. Danny Lewis finished with 22 and Jamie Lewis notched 14 points, nine assists and four boards in the Region 3 tilt.     
No. 3 Norcross 55, Mill Creek 52: The Blue Devils survived at home against an upset-minded Mill Creek team. Rayshaun Hammonds finished with 17 points and 12 rebounds. Dalvin White added 14 in the win.
No. 6 McEachern 64, Kennesaw Mountain 51: Darius Jones scored 15 points to pace the Indians. AJ Jones had 12 points, nine assists and eight steals. Tre Peoples narrowly missed out on a double-double with 11 points and nine boards.
Duluth 63, No. 7 Collins Hill 57: TeShaun Hightower of Collins Hill was ejected two minutes into the second quarter after the referees thought an elbow to the chest was flagrant. With Hightower out, Duluth built a 14-point halftime lead and held on for a crucial Region 7 victory. Javis Diaz scored 20 points, Obinna Ofodile 17 and Adam Flagler 13 to hold off the visiting Eagles. Collins Hill received 14 points from a now healthy AJ Cheeseman and 12 from Kai Lambert, both transfers from Duluth in the past two seasons.
No. 8 Newton 80, Lovejoy 39: The Rams jumped out to a 29-9 lead after the first quarter and never looked back. JD Notae scored 17 points and Jaquan Simms netted 15. Dante Johnson scored 10 points off the bench.
Class AAAAA
No. 1 Miller Grove 82, Mays 57: The No. 1 ranked Miller Grove Wolverines dispatched of the Raiders behind four players in double digits. UConn signee Alterique Gilbert scored 24 points and totaled five assists. Aaron Augustin added 14 points and eight assists. Raylon Richardson scored 13 points and grabbed seven rebounds while Colin Young chipped in 10 points. Mays was led by Reo Wright (17), Malik McClain (16) and CJ Arnold (14).
No. 2 Allatoona 72, Chapel Hill 32: Trey Doomes scored 19 points and added four rebounds and two steals to his ledger to lead the way for the undefeated Buccaneers. Ephraim Tshimanga finished with 12 points four rebounds and two steals. Rolan Wooden scored eight points and Randy Legros pulled down 11 rebounds.
No. 3 McIntosh 81, Union Grove 44: Two huge stories took place in the Chiefs rout of Union Grove. Furman signee Jordan Lyons scored 20 points to become the school's all-time leading scorer, passing Gabby Seiler. Isaac Kellum, who was ruled ineligible to play by the GHSA without providing reason, was reinstated after a long emotional journey. The Fayette County transfer made his senior season debut and scored 12 points. Wofford signee Dishon Lowery posted another double-double with 17 points and 12 rebounds.
No. 4 Gainesville 83, Lanier 65: The Red Elephants sank 12 threes to bury the Longhorns. Five players scored in double figures led by KJ Buffen's 14. D'Marcus Simonds and Michael White both added 13 points apiece. Messiah Dorsey and Harry Oliver chipped in 11 points apiece as well. Bailey Minor and Tae Turner both netted eight points.
No. 6 Heritage 67, Loganville 34: Isaiah Banks scored 13 points to lead 11 different Patriots that made it into the score column. Marquis Davis had 11 points as the team's second leading scorer.
No. 8 South Paulding 54, New Manchester 46: The Spartans picked up a big region road win over the Jaguars. Ja'Cori Wilson scored a team-high 18 points. Kane Williams finished with 15 points, six rebounds and six assists.
No. 9 Riverwood 68, River Ridge 27: Kohl Roberts was too much inside for the Knights. The unsigned big man finished with 20 points and 10 rebounds. Elijah Jenkins scored 10 points and Charnchai Chantha added nine points and three assists.
Class AAAA
No. 2 Grady 78, Chamblee 61: Christian Bryant finished with 22 points (11-12 FT), four assists and six steals to pace the Knights. Ty'Kwaan Bryant had 18 points and six rebounds. Bucknell-commit Avi Toomer tallied 13 points, seven rebounds and five assists. DJ Brittian collected nine points, five rebounds, three assists and three steals.
No. 4 St. Pius 49, Marist 35: In front of a packed house at the X-Dome, the Golden Lions took care of Marist in a hard fought defensive struggle. Kerney Lane led St. Pius with 15 points while his brother, Everett, netted 10 points. Christian Merrill added nine. The War Eagles were led by Patrick Zeck's 11 points.
No. 6 Walnut Grove 83, Hampton 35: Faizon Jackson scored a team-high 18 points to help the Warriors stay hot. Dre Durham added 16 points and AJ Jones chipped in 11.
No. 7 Sandy Creek 58, Troup County 44: Elias Harden had 25 points and Javon Jackson scored 18 to power the Patriots. Gardner-Webb signee Christian Turner finished with seven points, eight rebounds and five assists. Keith Heard II blocked six shots.
No. 8 Eagle's Landing 96, Henry County 83: Jordan Lewis poured in 27 points and Tarrence Evans added 19 to move the Eagles to 13-1 overall. The Warhawks continued their slide and received 25 points from Javon Greene and 21 from Dominque Joseph in the loss.
No. 9 Thomson 78, Greene County 68: Darius Thurman scored 18 points and San Antonio Brinson pitched in 17 to lead the Bulldogs.
Class AAA
No. 1 Laney 101, Hephzibah 63: The Wildcats remained undefeated behind the play of Zep Jasper and Christian Keeling. Jasper, a College of Charleston signee, finished with 21 points, six rebounds and 11 assists. Keeling, heading to Charleston Southern, scored 31 points, grabbed nine rebounds and added four assists, three blocks and five steals.
No. 4 South Atlanta 58, North Clayton 52: Kindle Vildor scored 15 points in the loss.
No. 5 Calhoun 66,  Lakeview-Fort Oglethorpe 38: Jireh Wilson poured in 17 points and Kaelan Riley added 16 points and nine rebounds as the Yellow Jackets remained unblemished. Chapin Rierson finished with 14 points and five rebounds.
No. 6 Central-Macon 94, Jordan 49: A pair of juniors powered the Chargers. Kentravious Jones posted a double-double with 22 points and 14 rebounds while Anterious McCoty chipped in 16 points. Senior Derrick Evans finished with eight points and 10 assists.
Class AA
No. 1 Thomasville 63, Bainbridge 61 OT: Thomasville survived against a potent Bainbridge lineup led by UGA signee Tyree Crump thanks to a Jordan Willis game-winner. Willis scored 16 points on the night and Shedrick Cooper paced the Bulldogs with 24. Reggie Perry had six points and eight rebounds. Crump scored a game-high 26 for Bainbridge while Trevon Shaw added 11.
No. 3 Seminole County 71, Miller County 59: UGA signee Jordan Harris exploded for 35 points, 16 rebounds and six assists. Anfernee King had 19 points, 10 assists and five steals.
Pace Academy 63, No. 4 Holy Innocents' 58: Pace Academy took out host Holy Innocents' to help muddy up the Region 6 picture. Wendell Carter Jr. had 21 points while Isaiah Kelly added 15 and Zack Kaminsky 10. The Golden Bears, who were without center Brent Duncan, who has been dealing with an injury, were led by Jules Erving's 20 points. Richard Surdykowski and Cole Smith both pitched in 13 points in the loss.
Class A
No. 1 Greenforest 95, Galloway 35: Justin Forrest led the Eagles with 22 points and five assists. Baybe Iyola finished with 12 points and eight rebounds. Mohammed Abdulsalem scored 10 points and grabbed six boards. Janden Duggan netted 12 points and four assists. Mike Evans had 10 points and five assists.
No. 2 St. Francis 72, King's Ridge 71: The Knights survived on the road and escaped a pesky Tiger team. Kobi Simmons willed St. Francis to victory with his game-high 33 points. Anthony Showell added 17 and Chance Anderson 13. King's Ridge was led by Eric Coleman's 17 points and Hank Blair (14) and Jake Hiser (11).
Paideia 71, No. 6 Landmark Christian 61 OT: The Pythons fended off the War Eagles at home in overtime. In the loss, Collier Schultz had 22 points and five assists while Adam Eubanks scored 11 off the bench.
No. 7 Lakeview Academy 60, Athens Christian 52: The Lions got back into the win column behind Tre Gober's 19 points. Drew Cottrell added 16 and Daniel Fadool notched a double-double with 10 points and 10 assists.
No. 7 Lincoln County 95, Glascock County 44: The Red Devils drilled Glascock County and in the process were able to sit their starters after 10 minutes of play. Zach Crite led Lincoln County with 21 points. Ahmad Rand scored 10 points, grabbed 16 rebounds and blocked nine shots.
No. 8 Whitefield Academy 71, Pinecrest Academy 59: Brendon Myles scored 22 points and hauled in 11 rebounds to lead the Wolfpack. Isaiah Hart finished with 23 points, four assists and five steals.
GIRLS
Class AAAAAA
No. 6 South Forsyth 60, North Forsyth 42: Sarah Myers netted a game-high 19 points while Emily Dreslinski added 11 to win the Civil War. Haley Simpson scored 17 points in the loss.
Northview 38, Alpharetta 36: Freshman Ashlee Austin pitched in 18 points to lead the Lady Titans. Freshman Maya Richards netted 10 points in the win.
Class AAAAA
No. 2 Flowery Branch 65, Apalachee 22: Taniyah Worth finished with 18 points and eight rebounds. Maddie Hetzel scored 12 while Caroline Wysocki (11) and Julianne Sutton (10 points, eight rebounds) both finished in double figures to lift the Lady Falcons to 16-0.
Class AAAA
No. 2 Marist 49, St. Pius 26: Diarra Oden finished with 16 points and eight rebounds while Dominique Oden notched 15 points and five rebounds to knock off the Lady Golden Lions. St. Pius had 10 points from Macey Carson and eight points from Kathryn McKenzie.
Pickens 62, Southeast Whitfield 50: Mackenzie Hampton posted 15 points and 16 rebounds in the win for the Nettes.
Class AAA
North Clayton 55, No. 10 South Atlanta 47: Dalania Clardy scored 19 points and Jasmine Holcombe recorded a double-double with 12 points and 16 rebounds to upset the Lady Hornets.
Calhoun 68, Lakeview-Ft. Oglethorpe 32: Ryan Brzozoski finished with 13 points to provide the sting for the Lady Yellow Jackets. Jana Johns scored 11 points while Ashlyn Barnes posted a double-double with 10 points and 10 rebounds. Cassie Henderson added 10 points and six rebounds.
Jenkins 46, Islands 38: Jazmyne Ulmer scored a game-high 17 to lead the Lady Warriors. The Sharks received 16 points from Brittany Walker.