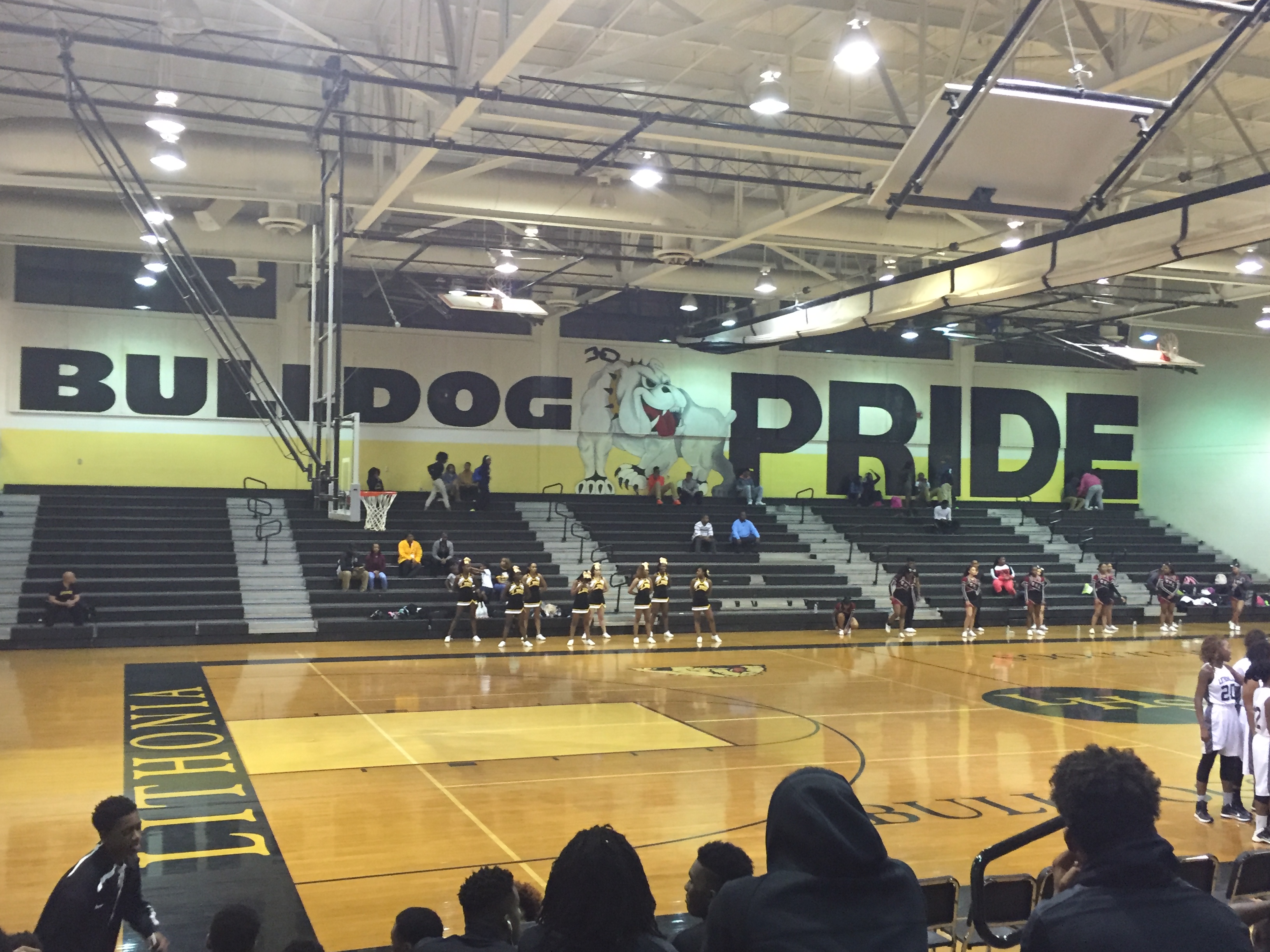 Photo By Kyle Sandy
Class AAAAAA
No. 6 Collins Hill 89, Clarkston 23: The Eagles overpowered the Angoras in blowout fashion. TeShaun Hightower paced all scorers with 16 points. JD Ozoh added 13 while AJ Cheeseman and Justin Lee finished with 12 and 11 points respectively. Kenny Stanciel also chipped in 10.
No. 7 Lambert 68, Centennial 26: 15, yes, 15 players scored for the Longhorns. Tre Bell led Lambert with 12 points while Tanner Hall added 11.
No. 9 Dacula 74, Central Gwinnett 64: Wofford signee Kevon Tucker continued his offensive onslaught with 33 points and 11 rebounds. Derek St. Hilaire added 14 points and six rebounds while Gary Bishop netted 10.
Berkmar 70, 3A No. 2 Jenkins 62: At the Valhalla Classic, Zach Cooks scored 17 points and Al Durham added 14 to knock off AAA's No. 2 ranked team.
Class AAAAA
No. 2 Gainesville 86, Salem 60: D'Marcus Simonds paced the Red Elephants with 18 points. Michael White scored 15 and Tae Turner chipped in 12 points. Bailey Minor added 10 points and both Messiah Dorsey and KJ Buffen added nine points apiece.
No. 4 Allatoona 58, New Manchester 47: Guard play was the deciding factor in the Bucs victory. Trey Doomes scored 23 points and collected seven steals, seven rebounds and two blocks. Ephraim Tshimanga went for 12 points, eight steals and eight rebounds.
No. 5 Cedar Shoals 73, Clarke Central 44: Jerrick Mitchell scored 17 points, grabbed seven rebounds and added six assists in the Jaguar win. Phlan Fleming finished with 13 points, five rebounds and five assists. Stavion Stevenson chipped in 11 points.
No. 7 Riverwood 59, Creekview 49: Riverwood rolled to 12-0 at the Region 7 Krossover Showcase. Kohl Roberts scored 13 points and grabbed 13 rebounds while adding two blocks and three steals defensively. Charnchai Chantha led the Raiders with 18 points, four assists and three steals. Elijah Jenkins added 13 points.
Class AAAA
No. 1 Lithonia 55, No. 6 St. Pius 44: The Bulldogs rebounded in an important Region 6 meeting after falling to Grady the night before, 62-52. Jacara Cross and Tyheem Freeman both scored 18 points to lead the charge. Cross posted a double-double with 11 rebounds.  Rodney Chatman finished with nine points, nine assists and six rebounds.
Seneca (SC) 93, No. 3 Henry County 75: The Warhawks fell at the Valhalla Classic after Braden Galloway scored 33 and Xzavier Barmore 26 for the Bobcats. Henry County was paced by Javon Greene's 24 and Damion Rosser's 23.
Class AAA
No. 7 Calhoun 64, Adairsville 30: The Yellow Jackets scored a region victory behind a balanced scoring attack. Chapin Rierson and Ray Reeves led the way with 12 points apiece. Rierson added four rebounds while Reeves chipped in six. Dyaln Greeson scored 11 points. Kaelan Riley narrowly missed out on a double-double with nine points and 10 rebounds.
No. 10 Southwest-Macon 66, Northeast-Macon 51: The Patriots used a 20-to-9 fourth quarter to advance to 6-1 and drop Northeast to 0-7. Justin Slocum finished with 21 points and nine rebounds while Nick Hargrove added 20 points. Slocum also added four assists and six steals while Hargrove notched eight assists and four steals.
Class AA
No. 1 Seminole County 77, Berrien 58: Jordan Harris poured in 37 points, 14 rebounds, 10 assists, two steals and one block to add to his legendary career. Anfernee King added 12 points, seven boards, five assists and four steals.
Class A
No. 4 Whitefield Academy 60, Lanett (AL) 55: Brendon Myles exploded for 26 points and six rebounds to lead the Wolfpack. Isaiah Hart went for 19 points and six assists, while blocking two shots and collecting two steals on defense. Jimmy McCarthy scored four points and seven rebounds in the win.
No. 6 Lakeview Academy 59, Prince Avenue 42: Carter Reeves posted another double-double to lead the Lions. He finished with 12 points and 11 rebounds. Tre Gober scored 12 points and Daniel Fadool handed out eight helpers.
No. 7 St. Anne-Pacelli 70, Excel Christian 61 OT: A night after losing in overtime, the Vikings found a way to win in the extra period. Tre Sudberry scored 28 of his game-high 32 points in the second half, dished out seven assists and grabbed 10 rebounds to power the Pacelli. Armon Prophet tacked on eight points and 11 assists in the win. Triston Wells notched 12 points and seven rebounds.
No. 8 Landmark Christian 55, Mt. Pisgah 43: Zack Allen posted another double-double with 17 points and 10 rebounds. Wix Patton hauled down 15 rebounds.
Girls
Class AAAAAA
No. 4 South Forsyth 73, Northview 41: Maryland signee Sarah Myers finished with 22 points to power the War Eagles to a blowout win. Emily Dreslinski added 12 points while Zoe Maisel notched 10.
Class AAAAA
No. 2 Sequoyah 60, Cherokee 52 2OT: Kelley Hartman scored 18 points and sister Lauren added 12 to lift the Lady Chiefs over rival Cherokee in double-overtime. Lauren also added 13 rebounds while Kelley pulled down 13 of her own and added seven blocks. Alyssa Cagle and Emily Seres both pitched in eight points apiece. Cagle notched four assists and four steals. Cherokee was led by Lacie McCoy's 18 points.
Class AAAA
No. 3 Marist 40, No. 6 Redan 33: Dominique Oden paced the Lady War Eagles over Redan in a top ten showdown in Region 6. Oden scored 15 points and added three assists and six rebounds. Ansley Gross chipped in five points, eight assists and five rebounds in the win.