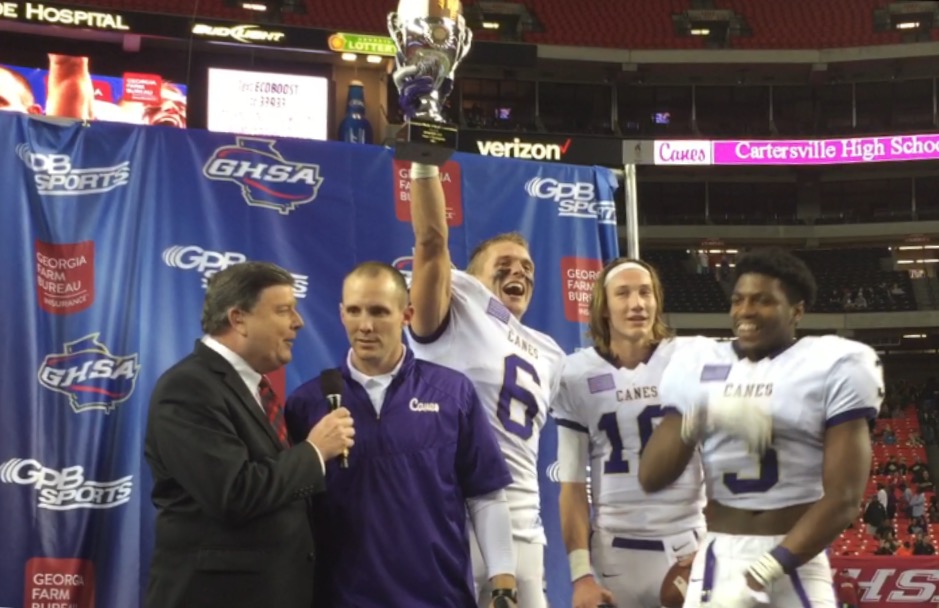 It was a rematch of last year's semifinals that saw Carterville's season end at the hands of the Wolves 27-3. The Purple Hurricanes came to the Georgia Dome with vengeance on their minds as they shocked Buford and walked away as state champions after playing like the better team on both sides of the football. Cartersville secured its first undefeated season since 1999 with the 10-0 victory and ended the 16-year state title drought. 11-time state champion Buford's streak of four straight state titles was snapped and they failed to put points on the board for the first time since 2010.
The Cartersville offense was led by sophomore quarterback Trevor Lawrence, whose first two varsity seasons has designated him as one of the top quarterback prospects in the nation for the Class of 2018.
Lawrence threw the game's only touchdown with 1:35 left in the first half on a 5-yard pass to tight end Miller Forristall. The touchdown followed a Jonathan Cruz 47-yard field goal that sailed through less than four minutes earlier that allowed Cartersville to take a 10-0 lead into the half. The touchdown was set up by a Buford fumble that gave the Canes a 1st and goal at the 10-yard line.
"We just had to finish the drill," said Forristall. "We know if can play with them [Buford], we can beat anyone. Finish the drill, come in and do what we do and become State Champs."
A powerhouse like Buford is not a team accustomed to playing from behind too often but Cartersville head coach Joey King made an emphasis on the second half after Buford's second half explosion in the semis.
"We saw them comeback last week against a good Woodward Academy team and that's what we preached in the locker room at halftime," explained King. "It's a 0-0 ballgame."
Buford's offense was held in check primarily by an outstanding tackling effort by the Cartersville defense. By taking away Buford's effectiveness out in space, Cartersville had the perfect gameplan to take down the Wolves and force Buford quarterback Mic Roof to take shots against a polished Cartersville secondary and aggressive defense.
"We've done a pretty good job all year at tackling in space," said King. "We work on it every day and we tackle every day. If you can't block and tackle you can't win ball games and our defense rose to the occasion."
Roof threw three interceptions that the killed any chance at the Wolves' gaining momentum. The final interception came in the red zone on the 1-yard line and was brought in by Cartersville senior linebacker, Tyler Reed.
"You believe in your guys. The coaches work hard developing a good game plan," explained King. "The kids just have to show up to play. We were all counting on them and they did a heck of a job."
Tiamon Pennymon led Cartersville's rushing attack with just 23 yards off of 11 carries, while Lawrence finished 11-of-23 passing for 141 yards and the score to Forristall. Cartersville punter Gabriel Gridley was injured on his first punt attempt after a roughing the punter flag but Jonathan Cruz came in and punted six times with a 38.2 average. Kobie Whitfield led the defense with 13 tackles.