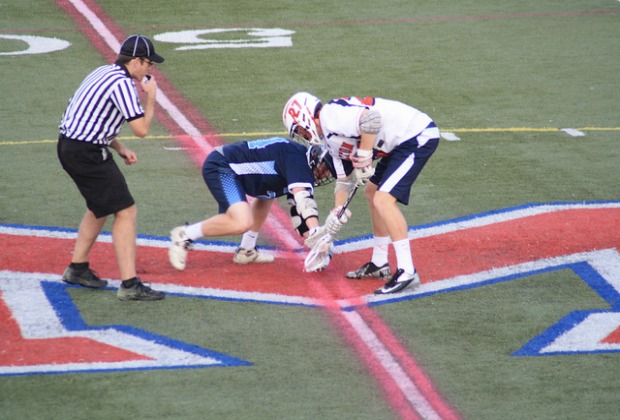 Photo by Jim Compton
With the lacrosse season well underway, Score Atlanta will release its boys and girls lacrosse polls every Monday by noon. This season's rankings will include scores and a breakdown regarding any movement from the previous week.
Boys
Class AAAAAA
1. Centennial
2. Hillgrove
3. Harrison
4. North Gwinnett
5. Milton
6. Walton
7. Lambert
8. Roswell
9. Etowah
10. Chattahoochee
RUNDOWN: Coming in at No. 1 is defending state champion Centennial, which is off to a 4-0 start with wins over Druid Hills (24-1), North Forsyth (25-1), West Forsyth (20-1) and Alpharetta (18-7). Undefeated Hillgrove debuts at No. 2 and has outscored its first six opponents 112-8 (a 17.33 average margin of victory). Harrison debuts at No. 3 and opened the season with quality wins over Etowah, Walton and Westminster. No. 4 North Gwinnett boasts wins over St. Pius, Chattahoochee and Greater Atlanta Christian during its 5-0 start and undefeated, two-time state champion Milton rounds out the top 5.
Boys Class AAAAA-A
1. Westminster
2. Northview
3. Lovett
4. St. Pius X
5. Blessed Trinity
6. Whitefield Academy
7. Pace Academy
8. McIntosh
9. Fellowship Christian
10. Pope
RUNDOWN: Defending champion Westminster sits at No. 1. Undefeated Northview debuts at No. 2 and Lovett comes in at No. 3 with only an out-of-state loss on its record. Pope fell to No. 2 Northview in overtime 8-7 on March 1, but the Greyhounds two other losses to Alpharetta (9-6) and McIntosh (10-9) drop their debut to No. 10.
Girls Class AAAAAA
1. Milton
2. Lassiter
3. Chattahoochee
4. Walton
5. Roswell
6. Centennial
7. Etowah
8. John's Creek
9. North Gwinnett
10. Woodstock
RUNDOWN: Eight-time state champion Milton sits at No. 1 in Class AAAAAA. The Eagles are 3-0 with wins over Cherokee (23-0), Etowah (21-0) and Roswell (19-4). Lassiter (4-0) sits at No. 2 in front of Chattahoochee, which is off to a 3-0 start. Walton debuts at No. 4 and is 3-0-1 after demolishing three opponents by a combined 69-8 and tying a talented Lamar High School team from Texas 12-12 the second game of the season.
Girls Class AAAAA-A
1. Westminster
2. Northview
3. Cambridge
4. Kell
5. Blessed Trinity
6. Holy Innocents'
7. McIntosh
8. Pope
9. St. Pius X
10. Marist
RUNDOWN: Four-time defending champion Westminster tops the Class AAAAA-A top 10 and has dominated its first four opponents. The Wildcats beat Darlington 21-4 in the season opener before posting wins over Riverwood (21-3), Allatoona (20-0) and Creekview (21-1). Northview has a convincing 19-5 win over Wesleyan and an 18-9 victory over John's Creek and debuts at No. 2. Undefeated Cambridge (5-0) enters the poll at No. 3 and Kell comes in at a No. 4 with wins over Sprayberry (19-2), Darlington (22-2) , Mill Creek (14-10) and Harrison (16-6).