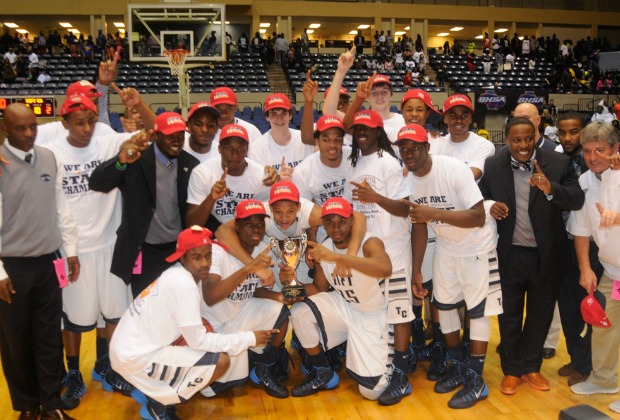 Walter Pinion
While there were quite a few upsets in the seven boys state tournaments, some classifications saw little change from the pre-playoffs poll. Class AA was one of those, which saw the top four stay the same (although in different order). However, other classifications saw drastic shake-ups throughout their respective top 10s.
Miller Grove moved to No. 1 for the first time since the preseason poll by dominating the Class AAAAA playoffs. Allatoona which had been No. 1 for much of the year, dropped to No. 6 after getting manhandled by Stephenson at home in the quarterfinals. Much of the Class AAAAA top 190, however, consisted of the same teams although Northside-Warner Robins debuted in the poll.
In the state's largest classification, Tift County took over at No. 1 after beating Wheeler in the final. One interesting omission from the final poll was Westlake, which was ranked at the top for much of the season, but lost in the first round of the state tournament.
In Class AAAA, coach Don Maehlman's Jonesboro squad finally reached No. 1, as he exclaimed in the post-game interview Thursday night. While Columbia held the top spot for much of the season, the Cardinals now own it for good.
Morgan County emphatically earned the No. 1 ranking in Class AAA behind Tookie Brown's incredible finals performance against Buford. Callaway and Thomson each entered the top 10 after being unranked heading into the postseason.
The Class A combined poll features eight private teams, with St. Francis leading the way after its first boys state title. Athens Christian jumped from No. 7 to No. 1 and Turner County and Aquinas each made the final poll after missing out in the pre-playoff rankings.
Class AAAAAA
1. Tift County
2. Wheeler
3. North Gwinnett
4. Norcross
5. Pebblebrook
6. Berkmar
7. Hillgrove
8. Luella
9. Walton
10. Brunswick
Class AAAAA
1. Miller Grove
2. Warner Robins
3. Stephenson
4. Tucker
5. Jenkins
6. Allatoona
7. Osborne
8. Clarke Central
9. Sprayberry
10. Northside-Warner Robins
Class AAAA
1. Jonesboro
2. Columbia
3. Alexander
4. Westover
5. Glenn Hills
6. Rutland
7. Fayette County
8. Sandy Creek
9. Eagle's Landing
10. Johnson-Gainesville
Class AAA
1. Morgan County
2. Buford
3. Johnson-Savannah
4. Callaway
5. Washington County
6. Cartersville
7. Cedar Grove
8. Thomson
9. St. Pius X
10. Elbert County
Class AA
1. GAC
2. Calhoun
3. Vidalia
4. Laney
5. Jefferson
6. Pelham
7. Model
8. Manchester
9. Crawford County
10. Coosa
Class A
1. St. Francis
2. Whitefield Aca.
3. Athens Christian
4. North Cobb Christian
5. Wilkinson County
6. Calvary Day
7. Greenforest Christian
8. Turner County
9. Holy Innocents'
10. Aquinas