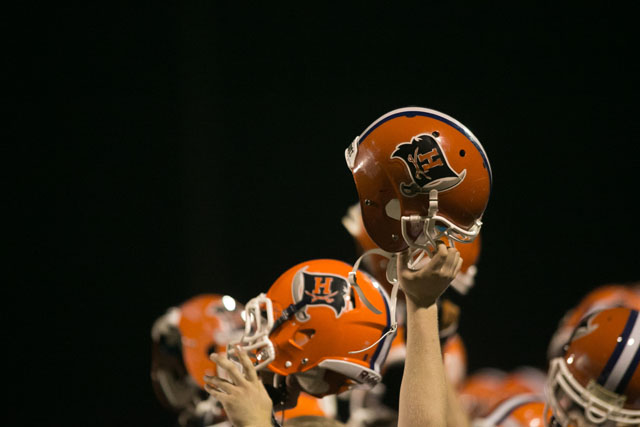 Habersham Football
Under the direction of first-year head coach Benji Harrison, the Raiders enter this season looking to improve on a tough 2014 campaign. Habersham finished second-to-last in Region 7 AAAAAA, and have not had a winning season since 2011. But with every new season brings new opportunity and Coach Harrison has his troops focused and ready to compete. "They don't practice like a 1-9 team", Harrison said optimistically.
On the offensive side the Raiders will lean on junior running back Michael Babers, who rushed for over 100 yards per game last year and finished with 10 scores. "We have to find ways to get him the ball." said Coach Harrison, implying that Babers could make an impact in the receiving game as well. "We have a big, physical O-line" said Harrison. It will be this line's job to open lanes for Babers. Under center for the Raiders will be junior quarterback Cole Wilbanks. Even though this will be Wilbanks' first year as a starter, the team has confidence in his abilities and Coach Harrison noted that he has "Shown that he can be a leader." Wilbanks will be targeting the receiver combo of Mason Kinsey and Jim Barnett, two guys who the Raiders are confident can make plays for them. The kicking duties will be handled by senior Alex Alvarado who has proven himself as a reliable special teams weapon.
On the defensive side of the ball the Raiders will lean on the playmaking ability of linebacker Jake Jones, who is a converted safety. Senior defensive lineman Jeremiah Nicely will be tasked with stopping the run and getting pressure on opposing quarterbacks. Several Raiders lineman will be asked to play both sides of the ball including Clay Nelson and Carson Ivester. This will not be an easy task but the Raiders coaching staff have been working diligently to get their team into peak physical condition. Coach Harrison summed it up when he said "We want to work."
The Raiders are in one of the toughest regions in the state, drawing matchups with Mill Creek, North Gwinnett, Norcross, and Peachtree Ridge. The road to the playoffs will not be an easy one for them, but Coach Harrison and crew are up for the challenge.