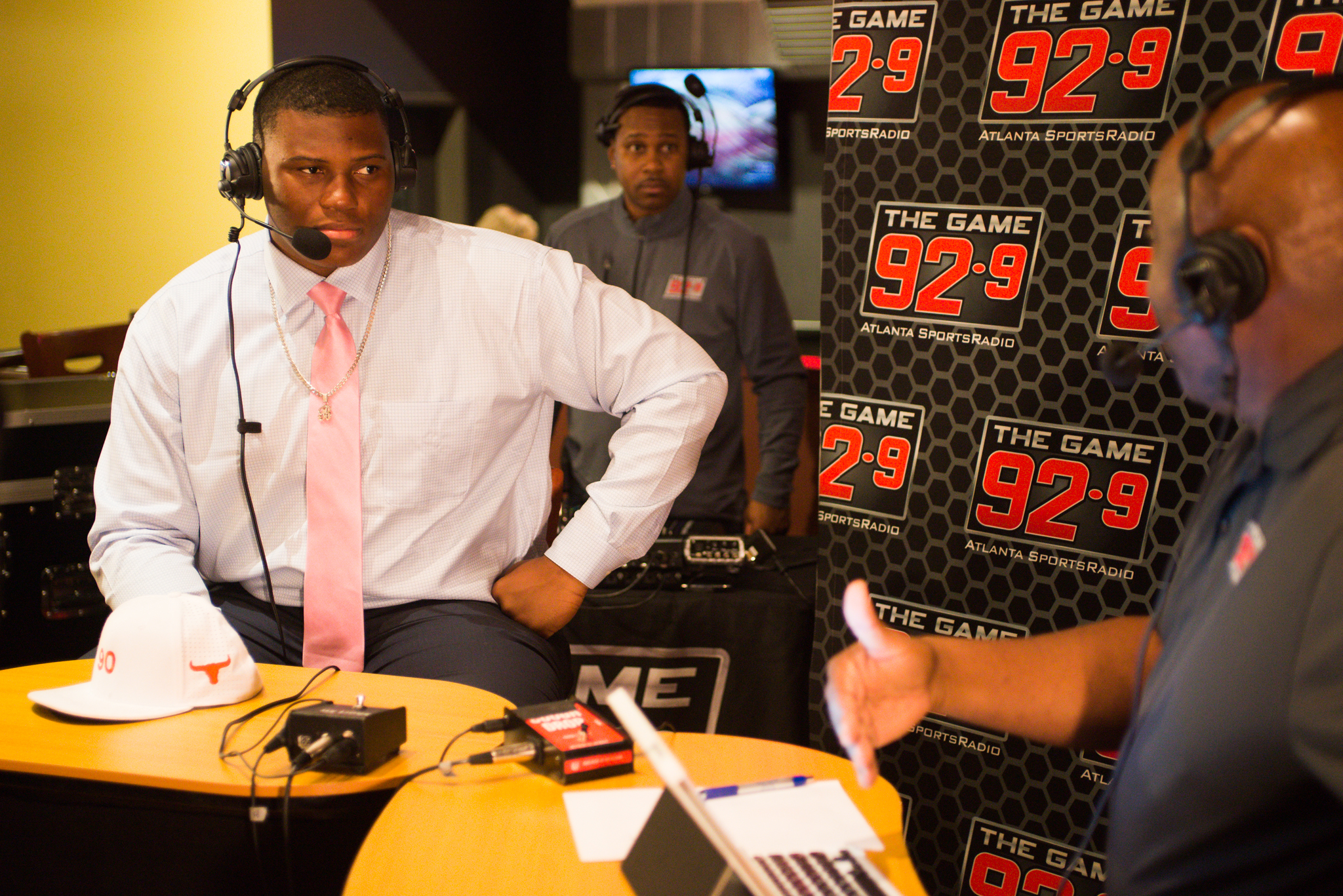 Photo By Jason Mussell
Once again, Stars and Strikes in Sandy Springs was the home to National Signing Day Frenzy. 92.9 The Game broadcasted live all day from the bowling lanes while the face of Atlanta sports, Sam Crenshaw, helped host the teams and coaches that decided to come celebrate their student-athletes moving on to the next level. From the Ivy League to the SEC, every conference imaginable was represented on the football holy day known as National Signing Day. In attendance were big names such as Derrick Brown, Antwuan Jackson, Baylen Buchanan and Tyler Simmons.
The biggest star both literally and figuratively was Derrick Brown. The consensus No. 1 ranked player out of Georgia was also tabbed as a top ten player in the nation regardless of position by 247Sports. Standing 6-foot-4 and 317 pounds, the agile defensive tackle known for living in opponents backfields entered the day uncommitted. At 3 P.M. back at Lanier High School, Brown inked his letter of intent when he surprised many by pulling out an Auburn hat from underneath his chair to announce he will be a Tiger.
Cedar Grove filled the stage with 11 players including linebacker Elysee Mbem-Bosse and defensive tackle Antwuan Jackson. Mbem-Bosse signed to play for Coach Jim Harbaugh at Michigan while Jackson, a four-star recruit, will be lining up alongside Brown on the Auburn defensive line.
SEC Country
While Auburn plucked two of the Peach State's top ranked defensive linemen, Georgia and Tennessee got some talent of their own. Baylen Buchanan, the son of former two-time All-Pro and Falcons defensive back Ray Buchanan, pledged his allegiance to Tennessee. The cornerback headlined an impressive senior class out of Peachtree Ridge and will continue to play in the secondary with high school teammate Nigel Warrior, who is also heading to Rocky Top. Along with Buchanan, Coach Mark Fleetwood brought Malik Staples (Louisville), Mike Terry (South Carolina State) and brothers Matt (Kent State) and Maxwell Bell (NGSA).
Tyler Simmons of McEachern was one of seven Indians brought by Coach Kyle Hockman. Earlier in the day the three-star wide receiver made headlines by flipping his commitment for Alabama to Georgia, noting that his heart wanted him to stay near home.
Straight A's
Following a disappointing 5-6 season a year ago, Coach Mo Dixon of Walton steered the program back in the right direction with a 9-3 season. An intelligent senior class on and off the field was a big reason why the Raiders were back in the playoffs. Eleven players graced the stage for Walton, impressive in its own right, but when four of them inked to go play in the Ivy League, it gave renewed meaning why the future graduates are called student-athletes. Joey Goodman (Harvard), Christian Sullivan (Princeton), Karekin Brooks (Penn) and Ryan Roegge (Dartmouth) all proved that being a standout on the gridiron and on the classroom can go hand in hand.