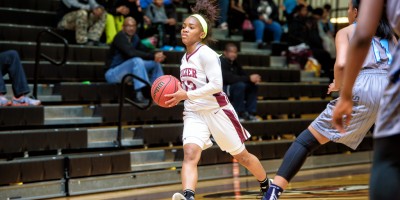 Photo By Ty Freeman
Much like the Krossover Classic a few weeks ago, the Wesleyan Showcase displayed the best of the best in the state of Georgia. Class AAAAAA No. 2 Norcross won its 11th straight game, beating 5A No. 2 Southwest DeKalb 70-60. The Lady Blue Devils are putting major heat on No. 1 Archer, who continues to answer the bell by passing every test Region 8 presents them. The Lady Tigers knocked off Parkview for the second time this year, 47-44 on the road and in the process dropped the Lady Panthers from the top ten. No. 10 Woodstock clings onto the final spot following a 53-49 loss at home to No. 3 Collins Hill, proving that the Lady Wolverines are deserving as being considered one of the state's best and can play with anyone. No. 5 Tucker moves up a spot ahead of No. 6 Harrison after their impressive 59-53 win over 2A No. 4 Holy Innocents' at the Wesleyan Showcase, 59-53. No. 4 McEachern has won 10-straight highlighted by a 58-37 beat down of West Forsyth and Maryland signee Jenna Staiti
No. 3 Flowery Branch scored a pair of important wins in Region 8-AAAAA, easily the state's strongest region in terms of depth with five teams over 15 wins. The Lady Falcons got revenge against Gainesville, their only previous loss, beating them 45-42 on the road, dropping the Red Elephants from the top ten. Flowery Branch also picked up a win at Winder-Barrow, 56-41. Sequoyah falls from No. 2 to No. 7 following a surprise loss at Rome, 64-51. Region 7A first-place is up for grabs as the War Lodge will be packed for rival Creekview. Both teams are 19-4 and 10-1 in region play. The Lady Chiefs disposed of the Grizzlies 43-28 in their first meeting. No. 10 Mays claws its way back into the top ten after a long absence. The Lady Raiders have won six-straight and are starting to peak at the right time as they search for their second-straight trip to the state championship.
Marist takes over No. 1 in AAAA after a 44-34 win at Redan that knocked the Raiders out of the poll and a Buford loss at the Wesleyan Showcase to 2A No. 1 Wesleyan, 58-39. With Redan's departure, No. 10 Bainbridge debuts. They visit No. 2 Americus-Sumer on Friday for the most anticipated game of the night. Both teams are 13-0 in Region 1. No. 6 Carrollton slips two spots after losing to North Forsyth 54-47. Griffin (18-5) defeated No. 7 Mt. Zion-Jonesboro 65-48. The Lady Bears have regained their early season form since dropping out of the rankings.
AAA saw No. 5 Johnson-Savannah take care of No. 6 Beach 53-41. The Atomsmashers jumped three spots for their resume building win.
No. 1 Wesleyan's case for being not only the best team in AA but the best regardless of classification has gotten stronger. Routs of Buford and Lovett have the Lady Wolves looking better than ever. No. 4 Holy Innocents' falls one spot for its loss to Tucker. No. 5 Jeff Davis beat Vidalia 43-41 and dropped the annual power form the top ten. Vidalia, Bleckley County and Lovett all lose spots. Into the poll for the first time all year are No. 8 Fitzgerald, No. 9 Haralson County and No. 10 Swainsboro. Haralson County has won 22-straight following a 57-53 loss to open the season at Calhoun. Swainsboro is just 15-8, but boast wins over Vidalia and now Dublin coming on Saturday, 45-37.
In Class A-Private, No. 4 Tattnall Square Academy beat No. 7 Stratford Academy 32-23, the only team to hand the Trojans a loss this season. No. 10 Paideia has lost three of its last four games, but they have come against the state's best. The Pythons have lost to Stratford, No. 3 Greenforest and No. 6 Our Lady of Mercy over the rough patch.
The Terrible T's reign of terror over Class A-Public has rolled on, with Turner County, Taylor County and Terrell County going 1-2-3. The Greenwave of Terrell County beat No. 5 Calhoun County 47-39 last week. No. 9 Woodville-Tompkins dropped a heartbreaker to A-Private No. 9 Savannah Country Day, 51-49.
Class AAAAAA
1. Archer 20-3
2. Norcross 18-4
3. Collins Hill 20-1
4. McEachern 16-7
5. Tucker 20-4
6. Harrison 18-3
7. South Forsyth 19-4
8. Douglas County 20-1
9. Westlake 18-4
10. Woodstock 19-3
Class AAAAA
1. Glynn Academy 21-1
2. Southwest DeKalb 18-6
3. Flowery Branch 21-1
4. Brunswick 21-2
5. South Effingham 20-2
6. Warner Robins 17-1
7. Sequoyah 19-4
8. Grovetown 23-1
9. Carver-Columbus 19-3
10. Mays 17-6
Class AAAA
1. Marist 20-2
2. Americus-Sumter 21-1
3. Buford 19-4
4. Jonesboro 18-3
5. Veterans 19-4
6. Carrollton 18-5
7. Mt. Zion-Jonesboro 19-4
8. Henry County 18-5
9. Northwest Whitfield 19-4
10. Bainbridge 20-4
Class AAA
1. Morgan County 20-3
2. Jackson-Atlanta 21-1
3. Kendrick 22-1
4. Laney 19-4
5. Johnson-Savannah 18-5
6. Beach 19-4
7. East Hall 18-4
8. Ringgold 19-2
9. Dawson County 21-2
10. Peach County 20-2
Class AA
1. Wesleyan 21-2
2. Model 23-0
3. Pelham 20-1
4. Holy Innocents' 17-5
5. Jeff Davis 22-1
6. Putnam County 19-4
7. Rabun County 19-3
8. Fitzgerald 17-4
9. Haralson County 22-1
10. Swainsboro 15-8
Class A-Private
1. St. Francis 21-1
2. Calvary Day 20-1
3. Greenforest 19-0
4. Tattnall Square Academy 20-1
5. Mt. Paran 17-3
6. Our Lady of Mercy 18-2
7. Stratford Academy 19-3
8. Lakeview Academy 17-6
9. Savannah Country Day 17-6
10. Paideia 15-8
Class A-Public
1. Turner County 23-0
2. Taylor County 21-2
3. Terrell County 17-3
4. Commerce 15-4
5. Calhoun County 17-5
6. Wheeler County 18-4
7. Wilcox County 17-5
8. Mitchell County 14-6
9. Woodville-Tompkins 15-7
10. Greenville 14-7
Class AAAAAA
1. Archer 20-3
2. Norcross 18-4
3. Collins Hill 20-1
4. McEachern 16-7
5. Tucker 20-4
6. Harrison 18-3
7. South Forsyth 19-4
8. Douglas County 20-1
9. Westlake 18-4
10. Woodstock 19-3
Class AAAAA
1. Glynn Academy 21-1
2. Southwest DeKalb 18-6
3. Flowery Branch 21-1
4. Brunswick 21-2
5. South Effingham 20-2
6. Warner Robins 17-1
7. Sequoyah 19-4
8. Grovetown 23-1
9. Carver-Columbus 19-3
10. Mays 17-6
Class AAAA
1. Marist 20-2
2. Americus-Sumter 21-1
3. Buford 19-4
4. Jonesboro 18-3
5. Veterans 19-4
6. Carrollton 18-5
7. Mt. Zion-Jonesboro 19-4
8. Henry County 18-5
9. Northwest Whitfield 19-4
10. Bainbridge 20-4
Class AAA
1. Morgan County 20-3
2. Jackson-Atlanta 21-1
3. Kendrick 22-1
4. Laney 19-4
5. Johnson-Savannah 18-5
6. Beach 19-4
7. East Hall 18-4
8. Ringgold 19-2
9. Dawson County 21-2
10. Peach County 20-2
Class AA
1. Wesleyan 21-2
2. Model 23-0
3. Pelham 20-1
4. Holy Innocents' 17-5
5. Jeff Davis 22-1
6. Putnam County 19-4
7. Rabun County 19-3
8. Fitzgerald 17-4
9. Haralson County 22-1
10. Swainsboro 15-8
Class A-Private
1. St. Francis 21-1
2. Calvary Day 20-1
3. Greenforest 19-0
4. Tattnall Square Academy 20-1
5. Mt. Paran 17-3
6. Our Lady of Mercy 18-2
7. Stratford Academy 19-3
8. Lakeview Academy 17-6
9. Savannah Country Day 17-6
10. Paideia 15-8
Class A-Public
1. Turner County 23-0
2. Taylor County 21-2
3. Terrell County 17-3
4. Commerce 15-4
5. Calhoun County 17-5
6. Wheeler County 18-4
7. Wilcox County 17-5
8. Mitchell County 14-6
9. Woodville-Tompkins 15-7
10. Greenville 14-7