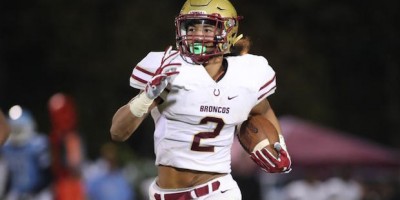 Matthew Hill has Brookwood in the 7A semis. Credit: AJC
For the past 26 years, the Corky Kell Classic has been kicking off the high school football season in the state of Georgia. The event has grown significantly in size since its inaugural 1992 double header at the Georgia Dome and is now bannered by a three-day, 18-team marathon of carefully selected matchups.
The competition intensifies each year and the storylines that unfold on the Corky Kell's stage carry over into the regular season and more often than not reach far into the postseason. All that postseason drama culminates in the state championships and then those programs return to the Corky Kell motivated to once again set the tone for their season.
While this has been the driving force behind the event's celebrated history and success, the upcoming 2018 MetroPCS Corky Kell Classic is already shaping up to be the most incredible lineup of games the event has ever seen.
The 18 teams participating in the 2018 classic have combined for a 176-46 record this season. Fifteen of the teams advanced past the first round of the playoffs, 11 reached the quarterfinals and Colquitt County, McEachern, North Gwinnett, Brookwood, Tucker, Buford, Rome and Calhoun are all getting ready for the state semifinals this weekend.
"If you are going to play in the Corky Kell, you are not going to play a weak team," assured Corky Kell Executive Director Dave Hunter.
If eight state semifinalists doesn't make the event sound big enough already, consider how many of the other participating teams have been eliminated by the Corky Kell field. Mays, which will make its Corky Kell debut against Norcross in 2018, was taken out by 2017 Corky Kell participant Lee County in the quarterfinals. Mary Persons, which lost to Lee County in this year's Corky Kell opener is still in the Class AAAA semis. In the second round of this year's Class 7A playoffs Walton, at 11-0, lost to Colquitt County, Mill Creek lost to Archer and Milton lost to Brookwood.
All four of the Class 7A semifinalist (Colquitt County, Brookwood, North Gwinnett, McEachern) started their seasons in the Corky Kell, but only the Packers left the event with a victory. Brookwood lost to Archer, North Gwinnett lost to Walton and McEachern fell to Mill Creek. Opening the season in the company of so many outstanding programs has benefitted the 2017 field of teams and the momentum continues to build for an even better atmosphere in 2018.
"All of the games were so competitive this past year," said Hunter. "I know from a coach's point of view these games give your team a sense of urgency. You don't want to come out and play poorly in this event. There is a lot of pressure on these teams and they get to gain that experience."
Here's a look at next year's schedule:
2018 MetroPCS Corky Kell Schedule
Thursday, Aug. 16 at ROME's BARRON STADIUM
5:30 p.m. Ridgeland vs. Calhoun
8:30 p.m. Rome vs. Marietta
Friday, Aug. 17, at GEORGIA STATE STADIUM
5:30 p.m. Buford vs. Tucker
8:30 p.m. Archer vs. Milton
Saturday, Aug. 18, at MERCEDES-BENZ STADIUM
9 a.m. Kell vs. East Coweta
11:45 a.m. Brookwood vs. North Gwinnett
2:45 p.m. McEachern vs. Colquitt County
5:45 p.m. Mill Creek vs. Walton
8:45 p.m. Norcross vs. Mays