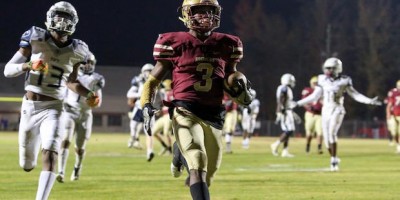 Dante Black of Brookwood. Credit: A.J. Reynolds/AJC.
Colquitt County (10-3) at Brookwood (11-2)
This makes the second straight season these two programs have met twice. In 2016, Brookwood lost both matchups—in the regular season and second round of the playoffs—by a combined 69 points. This season, however, top seed Brookwood defeated Colquitt at home 42-25 in September to give the Packers their first loss. The teams also met in a championship-game shootout in 2010, with the Broncos winning 52-38 to earn their second-ever title, first since 1996. Colquitt won titles in 2014-15, its second and third.
Visiting Colquitt County is led by senior quarterback Steven Krajewski, a 6-foot-4 UConn commit. He has passed for 2,127 yards and 21 touchdowns, completing 65 percent of his passes (175-of-270). Running back Ty Leggett has rushed for 1,164 yards and 10 touchdowns, and wide receiver Cam Singletary has 935 yards receiving. Colquitt dropped its last two regular-season games, to Region 1 opponents Tift County and Lowndes to drop to a No. 3 seed but has survived two No. 1 seeds in Walton (28-21) and Archer (12-7). Rush Propst is in his 10th season in Moultrie and has a record of 104-33 in Georgia.
Brookwood recovered from a 0-2 start with losses to Archer and Walton to win 11 straight, including a 30-27 win over Parkview on Oct. 20 to all but ensure a Region 7 title. Against Colquitt the first time around, Brookwood's Dante Black rushed 32 times for 267 yards and five touchdowns. After 124 yards rushing in Brookwood's 35-28 home win over Tift County in the second round, Black has 1,757 yards on the season. Star wideout Matthew Hill rushed nine times for 98 yards and had four catches for 46 yards. He has 1,403 yards from scrimmage this year.
McEachern (10-3) at North Gwinnett (12-1)
McEachern entered the playoffs unranked after regular-season losses to Mill Creek and Grayson to open the year and Hillgrove right before the playoffs. The Indians earned the No. 2 seed out of Region 3 and scored an amazing comeback victory, 36-31, over No. 1 Lowndes in the second round after trailing 21-0. North Gwinnett lost to No. 1 seed Walton to start the fall but quickly recovered, beating 7A playoff teams Milton, Hillgrove and Norcross out of region and dominating Region 6 to earn a top seed. Neither program has ever won a state championship.
McEachern's Paris Brown and Jalen Thornton led the Indians rushing attack, with Brown going for 150 yards and two touchdowns and Thornton for 88 yards and two scores. Kyle Hockman's team uses two quarterbacks—freshman Carlos Delrio-Wilson and senior Malik Evans—and it was Delrio-Wilson who got the start against Lowndes and helped spark the comeback. The two only combined for 6-of-25 passing against Parkview, but the running game's dominance was enough. Genuine Potts is the team's top target in the passing game. McEachern started the playoffs with a 39-7 win over Etowah.
North Gwinnett survived a wild quarterfinals game against the at-large team, Marietta, in which the Bulldogs led 44-21 in the second half but found themselves up just three, 44-41 in the fourth quarter. North Gwinnett eventually won 51-44 thanks to Tyler Goodson's 293 yards rushing and three touchdowns. Goodson has had an outstanding playoff stretch, also rushing for two touchdowns in North Gwinnett's easy 55-7 win over North Forsyth and 156 yards and three scores in the 35-28 win over Grayson. The Bulldogs are now 11-0 with Jimmy Urzua as starter after Texas A&M commit Cade Fortin was lost for the season.