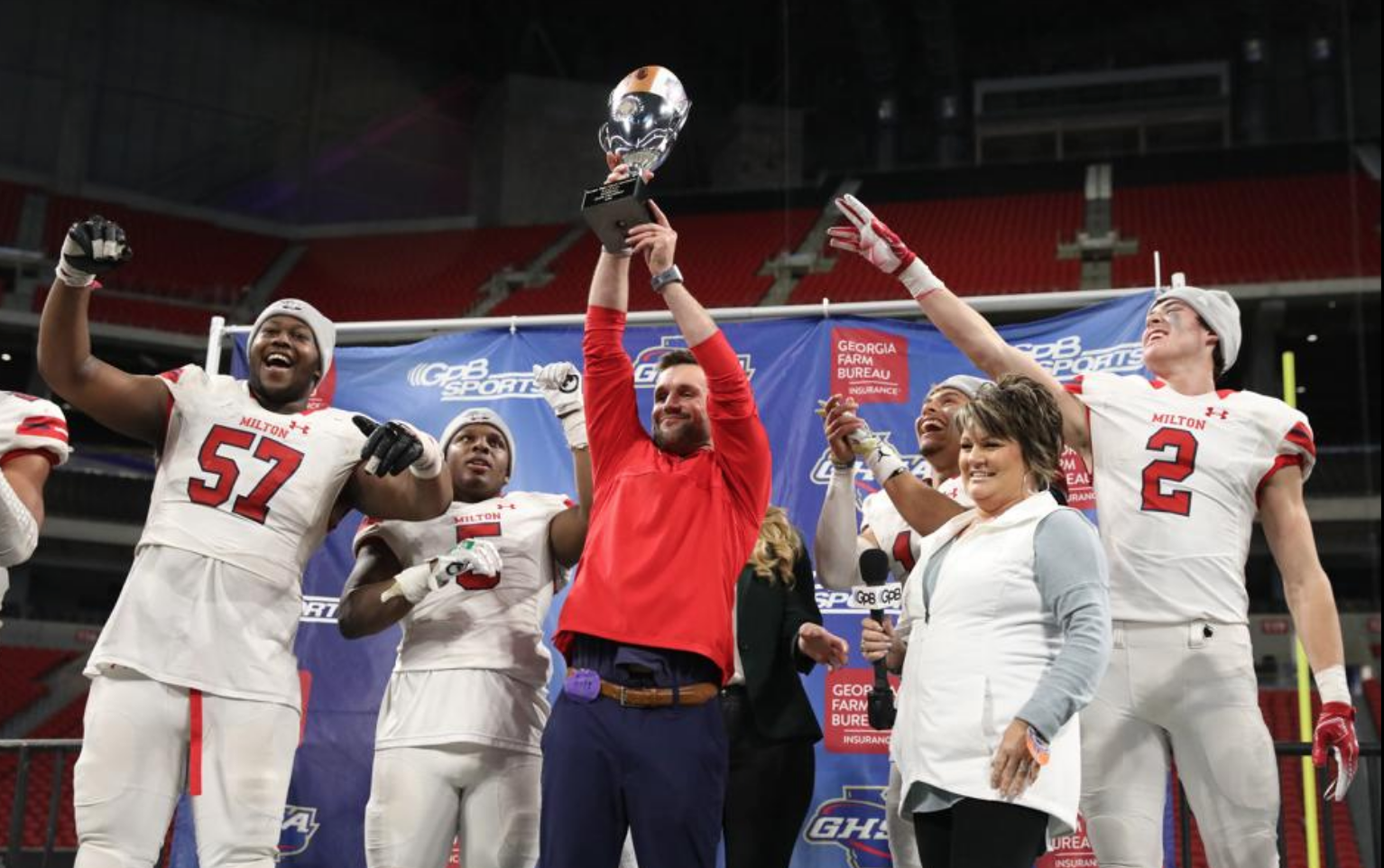 Milton's 14-13 win over No. 2 Colquitt County in the Class AAAAAAA championship gives the Eagles the top position to finish the year. Archer, which went into overtime against the Packers in the semis, comes in at No. 3, while one-loss Hillgrove and Parkview round out the top 5.
In Class AAAAAA, two-time defending state champion Lee County retains its status as No. 1. Northside-Warner Robins comes in at No. 2 after its impressive run to the finals, and Creekview, Dacula and Valdosta round out a crowded top 5.
It's hard to believe that neither Rome, nor Buford are in the Class AAAAA top 2, but state champion Bainbridge and runner-up Warner Robins earned it following their playoff dominance. Bainbridge made its title run with a very young team, so expect the Bearcats to be at the top of next year's preseason polls as well.
Top-ranked Blessed Trinity defeated Cartersville in the Class AAAA final to win its second-straight championship, and complete its first perfect season in school history. Marist is a deserving No. 3, while Mary Persons and Troup round out the top 5. Ridgeland got the nod over Flowery Branch for No. 10 after defeating the Falcons 34-14 in the first round.
Cedar Grove's victory over Peach County in the AAA championship game accounted for the Saints' second-ever state championship following its first in 2016 after it defeated Greater Atlanta Christian at the Georgia Dome. Peach County, which advanced past third-ranked Calhoun in the semifinals, finishes second. Pierce County is fourth with Monroe Area finishing at fifth.
In Class AA, Heard County finishes first after its victory over Rockmart in the AA championship game. Callaway is third after falling to Rockmart 28-22 in the semifinals. Dublin is fourth after losing to Heard County in the quarterfinals. Fitzgerald, which moved through Harlem, Swainsboro and Rabun County before falling to Heard County, is fifth.
Clinch County's top-ranking was earned following its 27-20 victory over Irwin County in the A-Public title game. Irwin finishes second in the polls with Pelham, a semifinalist, at third. Marion County, which lost to Clinch County in the semis, is fourth with Mt. Zion-Carroll at fifth to finish the year.
ELCA might've weathered an early deficit but it finished strong to take its fourth-straight Class A-Private title after a 44-17 victory over Athens Academy. Athens Academy is second after moving through Mt. Vernon Presbyterian, Calvary Day and third-ranked Prince Ave. Savannah Christian and Calvary Day round out the top-5.
Class AAAAAAA
1. Milton
2. Colquitt County
3. Archer
4. Hillgrove
5. Parkview
6. Lowndes
7. Grayson
8. Walton
9. North Gwinnett
10. Tift County
Class AAAAAA
1. Lee County
2. Northside-Warner Robins
3. Creekview
4. Dacula
5. Valdosta
6. Lanier
7. Sequoyah
8. Allatoona
9. Harrison
10. Coffee
Class AAAAA
1. Bainbridge
2. Warner Robins
3. Rome
4. Buford
5. Stockbridge
6. Dutchtown
7. Wayne County
8. Jones County
9. Clarke Central
10. Carrollton
Class AAAA
1. Blessed Trinity
2. Cartersville
3. Marist
4. Mary Persons
5. Troup
6. St. Pius
7. Eastside
8. Cairo
9. Pickens
10. Ridgeland
Class AAA
1. Cedar Grove
2. Peach County
3. Calhoun
4. Pierce County
5. Monroe Area
6. Westminster
7. Benedictine
8. Greater Atlanta Christian
9. Dawson County
10. Pace Academy
Class AA
1. Heard County
2. Rockmart
3. Callaway
4. Dublin
5. Fitzgerald
6. Washington County
7. Brooks County
8. Hapeville Charter
9. Bremen
10. Rabun County 
Class A-Public
1. Clinch County
2. Irwin County
3. Pelham
4. Marion County
5. Mt. Zion-Carroll
6. Commerce
7. Charlton County
8. Greene County
9. Schley County
10. Mitchell County
Class A-Private
1. Eagle's Landing Christian
2. Athens Academy
3. Prince Avenue Christian
4. Savannah Christian
5. Calvary Day
6. North Cobb Christian
7. Fellowship Christian
8. Darlington
9. George Walton Academy
10. Hebron Christian