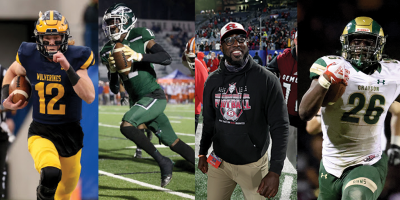 The 2020 High School Football season showcased Georgia's depth and talent in all of the classifications and the list below will unite the best-of-the-best to form an all-classification team. Offensively, Class A-Private's Prince Avenue Christian's Brock Vandagriff gets the nod at quarterback after leading the Wolverines to a historic first-ever state title and accounting for 46 passing touchdowns and 17 rushing scores. In the backfield is Grayson's Phil Mafah and River Ridge junior Amehre Morrison. Mafah ran for 18 touchdowns and 1,130 yards in his 10 starts this season. As for Morrison, he paced the Knights to a historic 11-1 record this season and accounted for 1,958 yards and 29 touchdowns. Travis Hunter is the only player that made the list on both sides of the football. He earned his spot as a receiver on the all-classification list for his 137 receptions, 1,746 yards and 24 touchdowns and is represented as a defensive back after finishing 2020 with 51 total tackles and eight interceptions. The other receiver on the list is Rabun County's Adriel Clark—who racked up 73 catches for 1,558 yards and 28 touchdowns this season. Oconee County's 6-foot-6 junior Jake Johnson made the list at tight end. As for the offensive line, Amarius Mims (Bleckley County), Terrence Ferguson (Peach County), Micah Morris, Dylan Fairchild (West Forsyth) and Addison Nichols (Greater Atlanta Christian) made the list. Mims, Morris and Fairchild will be heading to Athens to be teammates at the University of Georgia next year and Ferguson is signed with Alabama. Nichols is a Class of 2022 prospect that is a four-star and the highest rated junior offensive lineman in the state for his class. Lastly, Jefferson's five-star junior Malaki Starks makes the first-team list at the athlete position and he helped lead the Dragons to the Class 4A state finals this year with his 24 rushing touchdowns, 11 touchdown passes and 41 total tackles.
Cairo kicker Noah Jones and Westminster punter Connor Weselman received recognition as specialists. As for the defensive side, Appling County's Jamori Wright joins Hunter as a cornerback and also had eight interceptions this season. At safety is Dacula's Kaleb Edwards and Marist's Josh Moore. Edwards is signed to play at Georgia Tech next season and Moore is headed to UCLA after helping Marist take home the Class 4A state title on a defense that allowed just 3.69 ppg this season.
The three linebackers that made the list are Carrollton's Chaz Chambliss, North Gwinnett's Barrett Carter and Norcross' Jalen Garner. Chambliss is already enrolled at the University of Georgia, Carter is headed to Clemson after earning five-star status following his exceptional 2020 season and Garner is signed to play at Houston after helping lead Norcross to a 13-1 record with a team-high 142 tackles and 28 tackles for loss.
Senior James Smith (Collins Hill) and sophomore LT Overton (Milton) earned their place on the list as defensive ends. Smith had a phenomenal senior season and is heading to Tennessee Tech after accounting for a whopping 180 total tackles, 61 tackles for loss and 17 sacks. Overton has already ascended to four-star status and finished his sophomore season with 38 tackles for loss and a team-high 21.5 sacks. At the defensive tackle position is Hardaway junior Mykel Williams and Tift County junior Tyre West. Williams finished 2020 with a team-high 19 tackles for loss to go with his 69 tackles and also earned MVP in the Georgia Elite Classic's Junior vs. Senior Game. West opened his season by posting seven tackles for loss against Crisp County and is currently ranked as the No. 47 prospect in the country from the Class of 2022.
Finally, the All-Classification Coach of the Year is Warner Robin's Marquis Westbrook—who led the Demons to the Class 5A state title. Warner Robins' dropped their season opener to Valdosta before racking up 13-straight victories, including a 62-28 victory over Cartersville in the championship. In the win over the Canes, Warner Robins' offense exploded for 601 total yards of offense.
2020 ALL-CLASSIFICATION TEAM
OFFENSE
QB: Brock Vandagriff (Prince Avenue Christian)
RB: Phil Mafah (Grayson)
RB: Amehre Morrison (River Ridge)
WR: Travis Hunter (Collins Hill)
WR: Adriel Clark (Rabun County)
TE: Jake Johnson (Oconee County)
OL: Amarius Mims (Bleckley County)
OL: Terrence Ferguson (Peach County)
OL: Micah Morris (Camden County)
OL: Dylan Fairchild (West Forsyth)
OL: Addison Nichols (Greater Atlanta Christian)
ATH: Malaki Starks (Jefferson)
SPECIAL TEAMS
K: Noah Jones (Cairo)
P: Connor Weselman (Westminster)
DEFENSE
CB Jamori Wright (Appling County)
CB: Travis Hunter (Collins Hill)
S: Kaleb Edwards (Dacula)
S: Josh Moore (Marist)
LB: Chaz Chambliss (Carrollton)
LB: Barrett Carter (North Gwinnett
LB: Jalen Garner (Norcross)
DE: James Smith (Collins Hill)
DE: LT Overton (Milton)
DL: Mykel Williams (Hardaway)
DL: Christen Miller (Cedar Grove)
COACH OF THE YEAR
Marquis Westbrook (Warner Robins)