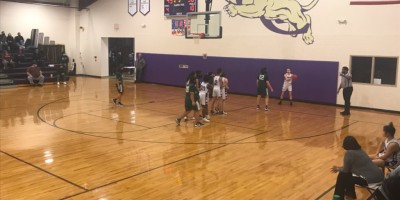 Lumpkin County's girls, ranked No. 4 in Class 3A, moved to 10-3 on the season and 2-0 in Region 7 after a 99-20 victory over West Hall on Friday.
The Lady Indians had five players in double-figures and freshman guard Averi Jones led with 23 points. Senior guard Isabel Davenport scored 20 points, sophomore guard Lexi Pierce finished with 16 points and sophomore forward Mary Mullinax and senior forward Makenzie Caldwell each scored 15 points.
See the rest of the scores below.
Boys
Arabia Mountain 40, Miller Grove 37
Archer 88, Duluth 61
Briarwood Academy 53, Glascock County 31
Buford 65, Central Gwinnett 53
Carrollton 76, Douglas County 38
Charlton County 67, Turner County 60
Cottage School 42, Cross Keys 39
East Laurens 59, Jeff Davis 56
Evans 79, Lakeside-Evans 59
Fayette County 68, Mt. Zion-Jonesboro 51
Fitzgerald 62, Berrien 60
Forest Park 63, Drew 43
Griffin 65, McIntosh 56
Heard County 59, Oak Mountain Academy 39
Heritage-Catoosa 62, Ridgeland 41
Jackson County 68, Johnson-Gainesville 33
Kell 86, Sprayberry 59
Lithia Springs 53, Grady 42
Lithonia 56, Northview 51
Lumpkin County 54, West Hall 30
M. L. King 69, Decatur 58
Marist 52, Hapeville Charter 46
McDonough 60, Luella 56
Metter 53, Jenkins County 42
North Atlanta 66, Langston Hughes 65
North Gwinnett 69, Mountain View 43
Pace Academy 64, Lovett 60
Rockdale County 69, Alcovy 63
South Atlanta 57, Elite Scholars Academy 45
St. Pius X 57, Southwest DeKalb 41
Tift County 53, Lowndes 50
Tri-Cities 91, Woodward Academy 68
Union Grove 59, Locust Grove 57
W.D. Mohammed 43, Our Lady of Mercy 38
Walker 64, North Cobb Christian 61
Ware County 60, Warner Robins 59
Wesleyan 60, KIPP Atlanta Charter 47
Westside-Macon 62, Rutland 42
Whitefield Academy 73, Landmark Christian 51
Girls
Athens Christian 55, Prince Avenue 39
Banks County 58, Towns County 32
Beach 48, Johnson-Savannah 44
Briarwood Academy 48, Glascock County 36
Brunswick 66, South Effingham 36
Buford 65, Central Gwinnett 19
Cairo 47, Monroe 43
Campbell 58, Newnan 23
Carrollton 57, Douglas County 32
Cherokee 56, Etowah 37
Coahulla Creek 72, Murray County 44
Colquitt County 58, Camden County 37
Cottage School 43, Cross Keys 38
Creekside 47, Banneker 43
Creekview 62, Centennial 27
Dacula 50, Habersham Central 45
Dougherty 44, Westover 29
Douglass 52, Sandy Creek 42
Druid Hills 64, Mays 14
Dutchtown 52, Jones County 33
Early County 77, Worth County 45
Emanuel County Institute 54, Claxton 35
Grady 41, Lithia Springs 35
Greenbrier 61, Walnut Grove 27
Griffin 54, McIntosh 45
Grovetown 48, Heritage-Conyers 44
Jackson 60, Villa Rica 47
Jenkins County 38, Metter 31
Johns Creek 69, Riverwood 37
Kennesaw Mountain 48, South Cobb 28
Lanier 36, Shiloh 27
Loganville 66, Apalachee 19
Lovejoy 65, Jonesboro 14
Luella 61, McDonough 48
Lumpkin County 99, West Hall 20
North Forsyth 53, Denmark 37
Northeast 61, Bleckley County 44
Parkview 68, Brookwood 59
Pepperell 52, Model 49
Pickens 55, Cedartown 50
Pope 55, Lassiter 21
Richmond Hill 40, Bradwell Institute 31
River Ridge 53, Chattahoochee 23
Rockdale County 82, Alcovy 22
Rome 80, East Paulding 49
Savannah Christian 56, New Hampstead 47
Sonoraville 69, Ringgold 43
Southwest DeKalb 65, St. Pius X 58
Statesboro 51, Glynn Academy 36
Stone Mountain 41, Clarkston 35
Trinity Christian 48, LaGrange 25
Trion 42, Gordon Lee 28
Union Grove 74, Locust Grove 19
Upson-Lee 54, Peach County 41
Veterans 38, West Laurens 37
Warner Robins 67, Northside-Warner Robins 55
Wesleyan 63, West Forsyth 48
Westlake 76, Lakeside-DeKalb 32
Westminster 62, Salem 12