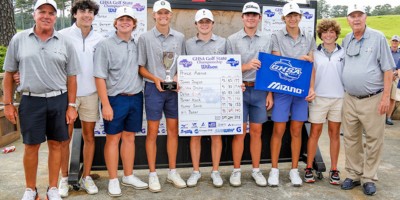 The GHSA golf state championships are around the corner as many teams are vying to hold onto their crown for consecutive years. This year's field contains some fierce competition including a flurry of seniors who are heading to the division one level after this season. In the two-day, two-round tournament beginning on May 16, each classification's championship will be held at a different site.
The Walker School is hosting both the boys and girls Class A Private championship at Dogwood Country Club in Roswell, GA. The boys defending champion, Prince Avenue Christian, shot a 277 in the Area Championships, beating out every other school by at least 17 strokes. Reed Lotter (Auburn commit), out of Savannah Country Day, is a name to keep an eye on for the individual low medalist. The hometown Walker girls team, led by Ella Stoll (Wofford commit), who shot 71 in the area championship, will look to win its first ever golf state title at home. Ther Kotchasanmanee of Darlington High School, shot an incredible 63 in the Area 3 Championship and is on track to take the girls individual title.
While Metter is hosting both the Class A Public boys and girls state championships, it is Lake Oconee Academy who will look to sweep both for the second consecutive season. The boys are led by Colby Bennet and Drew Williams who shot 68 and 69 at Area, respectively. The girls are led by Kelli Scheck (Butler-commit) who fired a 75 at Area.
In Class 2A, Brady Rackley (Georgia Tech-commit) looks to lead the Lovett School to its second consecutive championship at Southern Hills golf course. Lovett won the girls championship last year, however, the girls Class 2A field appears to be open as no one team truly separated themselves as the favorite following the Area Championships. The girls class AA state championship will take place at Southern Landings golf course.
Westminster has dominated Class 3A winning the last three boys state championships, and with a team score of 274, it outshot the rest of the area championships field by 23 strokes. Led by three seniors – William Love (Duke), Price Miller (Davidson), and Harris Barth (Furman) – Westminster looks for its fourth-straight state title at Bartram Trail. The girls 3A championship field is led by Pierce County high school with three golfers who all broke 85 in the Area 3 championship. It looks to pick up its second girls championship in three years at the Belle Meade Country Club.
Perry High School was once a dominating presence in boys golf, winning nine state championships from 1955 to 1965. Its last win came in 1995, and for the first time since then, it's back in the spotlight. Led by Andrew Reyes and Aaron Stockton, who both shot 70 in the Area tournament, Perry looks to win its first title in 27 years at the Class 4A championship, which is going to take place at its home course, Houston Lake Country Club.  The North Oconee girls swept through the Area Championship round by beating the next closest competitors by 11 strokes and its looks to defend its title at Healy Pointe Country Club.
Class 5A has a host of schools ready to take down defending champion St. Pius X, who is led by senior Carter Loflin (UGA-commit). Along with Northgate High School, who won the Area 2 championship, Carterville, Stars Mill, and Harris County all look to win the boys state title at Okefenokee Country Club (who hosts both boys and girls). Junior Ella Manley out of Calhoun High School shot 71 in her area championship as she looks to defend her low medalist crown in the 5A girls state championship at Okefenokee Country Club.
Johns Creek High School has won FIVE straight class 6A boys state championships and looks to continue that streak as they head to Glynn Academy's home, the Jekyll Island Golf Course (who host both boys and girls). Cambridge finished two shots behind Johns Creek at the Area 3 championship as it looks to win its first ever boys championship in class 6A. The girls Johns Creek team also turned in a masterful performance in the Area 3 championship led by Ella York who shot 74.
Gainesville will host the class 7A state boys championship at the Chattahoochee Golf Club. All time in 7A, Mill Creek has won two boys state championships and Lambert has won three for the girls of the first five including last season. The Milton boys look to defend its state championship with a strong group of returnees including Will Jones (Wofford-commit) and Rahul Rajendran (Virginia Tech verbal commit) who both shot under par in the Area-1 championship. There is a large group of individuals competing for the 7A title including Dax Isbell (Tennessee-commit) out of North Forsyth. Iris Cao (Dartmouth-commit), of the Lambert girls team, looks to lead her team to a second consecutive championship after her 69 in the Area-2 championship at Lamberts' home course, Chimney Oaks.