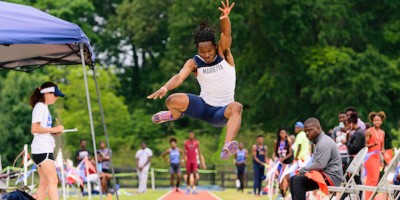 It was an eventful opening day at the GHSA Track and Field State Championships across each of four locations around the state – Hugh Mills in Albany, McEachern in Powder Springs, Grisham Stadium in Carrollton and Kinnett Stadium in Columbus.
In Session I on Thursday, state titles were awarded in pole vault, discus throw, high jump, shot put, long jump, triple jump as well as the 4×200 and 4×800 relays on the boys and girls side of each of the state's eight classes.
On the boys side of Class 7A, Alpharetta's Vincent McMillion won the high jump, Brookwood's Langston Jones won the discus throw state title and Dunwoody's Alon Rogow finished on top in the pole vault championship. Roswell's William Muller won the shot put competition, Ryane Martin Jr from Cherokee finished at the top in the long jump and Meadowcreek's Michael Tatnall took the top spot in the triple jump. In the 4×800 relay, Woodstock's Joseph Mines, Dillion Watson, Will Sumner and Cedric Ansong finished at the top with a 7:47.53 time.
For the 7A girls, Lowndes' Ariyah Davis topped the high jump ahead of teammate Trinity Hunter. In the discus throw, Grayson's Kameryn Hannon placed first and Cherokee's Skylar Harrelson won the long jump. The Harrison team of Riley Curtis, Kate Curtis, Lidia Longo and Samantha McGarity placed first in the 4×800 relay with a time of 9:19.30.
In the 7A team standings after day one, Marietta (24 points) leads Brookwood (21), Milton and Mill Creek (19) and Woodstock (16). On the girls side, Lowndes (33) leads Archer (22), Cherokee (21) and Hillgrove (16.50).
Session II on Friday includes the running prelims which begin at noon as well as the 1,600 and 3,200 meter run final later in the afternoon. The Session III running finals on Saturday begin at noon.
Here are the boys and girls past champions and to view all results from Thursday, follow the link.