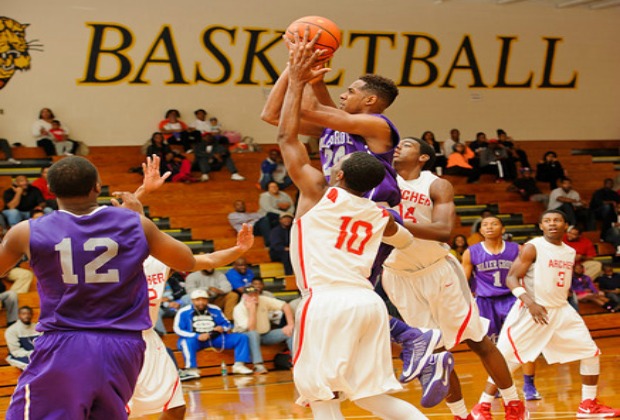 Ty Freeman
Holiday basketball tournaments wrapped up across the state Saturday with some of the state's best players leading their teams to titles.
Boys
Battle of the States (Hiawassee)
Dawson County 62, Murphy County 22: In the championship game, Dawson County rolled to victory. Will Anglin had a team-high 26 points, outscoring Murphy County by himself. Teammate Tyler Dominy scored seven points for the Tigers and was named the tournament MVP. Dawson County remains a perfect 13-0.
Big Red Shootout (Gainesville)
Chattahoochee 59, Parkview 48: Markus Terry continued his impressive scoring exhibition by dropping 24 points in the third place game of the shootout.
Lake City Classic (Allatoona)
Alexander 68, Central Gwinnett 63: In the championship game, Central Gwinnett fell short despite strong games from teammates Shaun Jones and Brian Egejuru. Jones scored 20 points and Egejuru scored 10. The duo earned all-tournament honors, but Alexander was able to take home the hardware.
McDonald's Invitational (Tift County)
Archer 57, Marist 55: Two clutch free throws from Archer's Randall Smith with 3.2 seconds remaining proved enough to stamp the win for the Tigers. Smith finished with a game-high 26 points and teammate Nafis Floyd scored 10 points. Marist standout Quinton Stephens scored 25 in the loss.
Union Grove Holiday Tournament
Woodland-Henry 62, Locust Grove 33: In the third place game of the tournament, Mark Bussey provided the victorious Wolfpack with an 18-point performance. Woodland-Henry was able to distance themselves early in the second half from its 29-19 halftime lead.
Woodward Academy 73, Monticello 61: Solomon Mangham recorded a monster of a championship game for the victorious War Eagles. Mangham scored 25 points while hauling in 15 rebounds. Teammate Trey Williams scored 15 points as Woodward Academy grabbed first place of the Union Grove Holiday Tournament.
Girls
Lanier Holiday Classic
Providence Christian 38, East Jackson 28: Following a strong opening two quarters, Providence Christian took a promising 22-8 lead into the intermission. Jessie Kowalewicz scored a game-high 11 points and teammate Katie Scott scored nine.
Union Grove Holiday Tournament
Woodland-Henry 49, Luella 31: In the championship game of the Union Grove Tournament, both teams were locked up at the half 18-18. It was a strong second half for the Wolfpack, who won the tournament and improved to 15-1 on the year. Aalyiah Dotson had a team-high eight points.
Westminster Holiday Classic
Grady 35, Paideia 30: In the championship game, both teams got off to slow starts with Grady holding a 5-3 lead after the first quarter. Ellery Koelker-Wolfe found baskets for Paideia and scored a game-high 15 points, but it was not enough to answer Grady's strong second half