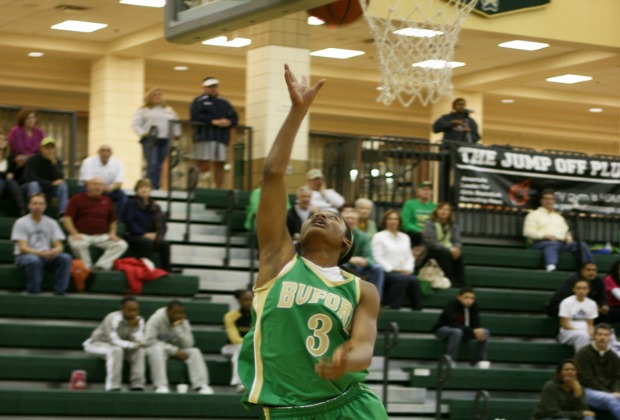 DJ Galbiati
Friday saw plenty of holiday basketball semifinal action across the state. Several state powers such as Norcross, Buford, Wesleyan and GAC picked up important victories in various holiday tournaments.
Boys
Battle of the States
Dawson County 39, Hayesville (N.C.) 25: Tyler Dominy scored 19 points to help Dawson County improve to 12-0 with a win over Hayesville. Zack Zottorell managed to keep Haynesville close with 11 points, but Dawson County, which has not allowed 30 points all season, stretched a 23-16 halftime advantage into the final score by pulling away in the third quarter.
Campbell Holiday Classic
Hiram 53, Pope 49: After jumping out to a 14-2 after the first quarter, Hiram appeared on its way to an easy victory. A barrage of 3-pointers from Pope tied the game 22-22 at the half, and Pope raced out to a 27-22 in the third. Hiram would recover to take a lead into the fourth, then bounce back from a 43-38 hole with a 9-2 run to ultimately pull away at the free throw line for a 53-49 win.
Capital City Classic
Aquinas 64, Ridge View (S.C.) 60: Ahmed Hill, one of the nation's top juniors, scored 27 points to pace Aquinas to a 64-60 win over Ridge View. Michael Scott contributed 24 points in the victory as Aquinas ended the game on a 9-3 run. The Fighting Irish will next take part in the Centennial Hoops In Overdrive Shootout, facing Shiloh on Jan. 1.
Gainesville Christmas Tournament
Dunwoody 75, Johnson-Gainesville 70: Dunwoody rallied from a halftime deficit to top Johnson-Gainesville 75-70 in overtime. Johnson-Gainesville held a 36-33 lead at intermission, but Chris Lawrence helped bring Dunwoody back to force overtime. Dunwoody outscored Johnson-Gainesville 9-4 in the extra frame. Lawrence finished with 23 points.
Great Florida Shootout
Chamberlain (Fla.) 83, East Hall 64: East Hall spotted Chamberlain an early lead and could not rally back after falling behind by 14 at halftime. Senior guards Brian Edwards and Daniel McCravy tried to spark East Hall with 33 points and 14 points, respectively, but Chamberlain was too much. The 6-foot-1 Edwards also grabbed nine rebounds in the consolation round game.
LaGrange Holiday Tournament
W.D. Mohammed 64, LaGrange 57: Junior Muhammad Hamilton scored 19 points to help W.D. Mohammed slip past tournament host LaGrange. Seniors Jihad Hameen and Omar Majid each contributed 15 points as W.D. Mohammed won the semifinal matchup and earned the right to face Hillgrove for the championship.
Lanier Christmas Tournament
Whitewater 84, Stockbridge 81: Whitewater made a statement with an 84-81 win over Stockbridge in the consolation round of the Lanier Christmas Tournament. Phil Cofer scored 19 points in the first quarter and 39 for the game to help the Wildcats score the victory.
Collins Hill 68, Chattahoochee 58: Markus Terry scored 34 points, but it was not enough to help host Chattahoochee fend off the Eagles off Collins Hill.
Girls
Colquitt County Shootout
Washington County 59, Monroe 45: Shon Kitchens scored 18 points to help Washington County race past Monroe in the Colquitt County Shootout semifinals. Nia Johnson had 17 points while Daknequa White contributed 15 points for the victors. Washington County led 30-19 at halftime before cruising to the win.
KSA Holiday Tournament (Orlando)
Lassiter 48, Wellington (Fla.) 34: The Lassiter Trojans traveled to Orlando for the KSA Holiday Tournament and posted an easy win in the opening round. Maeve Vitale scored 12 points to pace the Trojans while Gabby Garza contributed seven points in a winning cause.
Naples Holiday Shootout
Tucker 56, Wheaton East (Lou.) 43: The Tucker Tigers took care of business with a 56-43 victory over Wheaton East out of New Orleans. Naima Jackson paced the Tigers with 18 points as Tucker was never really challenged in the Florida tournament.
Peach State Holiday Basketball Invitational
Buford 62, St. Francis 48: Kaela Davis and MacKenzie Darrah helped Buford turn a slim 29-26 lead into a 14-point victory with strong outings. Davis led all scorers with 21 points while Darrah chipped in 15 points. Candice Williams led St. Francis with 15 points in a losing effort.
McEachern 55, Forest Park 45: Te'a Cooper led McEachern with 24 points and 16 assists as the Indians eased by Forest Park. Jada Lewis scored 12 points for McEachern, who led 28-27 at halftime thanks to a late score just before intermission. In the third quarter, Forest Park wrestled the lead back, but McEachern used a 19-6 fourth quarter to ice the victory. Shakira Thompson score 16 for Forest Park.
Wesleyan 52, Alcovy 43: Katie Frerking scored 17 points to pace Wesleyan in the Peach State Holiday Basketball Invitational. Fellow senior Brittany Stevens netted 14 points to help the Wolves bounce back from an overtime loss on Thursday. Buford awaits Wesleyan Saturday.
Walnut Grove Holiday Tournament
Greater Atlanta Christian 55, South Gwinnett 28: Three Greater Atlanta Christian scorers reached double-digits to help the Spartans take out Gwinnett County rival South Gwinnett. Cici Buford notched 16 points while Brianna Cummings added 13 and Sydney Means chipped in 10 points as the three accounted for more points than the entire South Gwinnett squad.
Westminster Holiday Tournament
Paideia 35, Northview 25: Paideia pulled away from Northview thanks to 28 big points from two valuable players. Ellery Koelker-Wolfe score 15 points to lead Paideia while Nia Smith added 13 as the two standouts outscored Northview.
Decatur 42, Pace Academy 34 Jordan Dillard led Decatur with 16 points.
Kell 61, Hillgrove 53: Kell used three double-digit scorers to knock off Hillgrove by a slim seven points. Hillgrove was led by Mackenzie Engram's 20 points and Aleigha Cass' 15 points. Tene Thompson added 10 for the Hawks.
North Gwinnett 62, Science Hill (Tenn.) 52: Lexie Brown impressed yet again, scoring 27 points and notching six steals to help North Gwinnett by the Tennessee powerhouse Science Hill. Peyton Whitted added 12 points and seven rebounds while Josh Belcher chipped in 10 points to run North Gwinnett's record to a perfect 10-0.