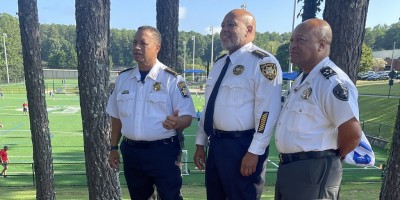 The Sheriff's Cup Invitational returns bigger and better than last year as we approach the upcoming football season. This year will feature a dinner and former Brookwood Player and Georgia star Rennie Curran who will talk to all participating players. It's an excellent initiative to bring attention to anti-gang and anti-bullying causes and provide resources to kids and parents who deal with these issues. The dinner will be held at the IBEW auditorium in Atlanta August 11th at 6:30 pm. 300 coaches, players, parents, and sheriffs are expected to be in attendance.
The coordinator and promoter of the event I.J. Rosenberg talked about what the event is trying to accomplish and the impact it wants to have on young kids.
"I think this is a great way to kick off the event allowing each of the four sheriffs to get in front of these kids and talk about what they should be doing and what they shouldn't be doing," said  "The Sheriff's feel strongly that getting the word out to younger member of society around the ages of 11-14 can make a big difference and the effectiveness of this program. If you live in one of the four counties and want a chance to meet your sheriff then come out to the games.
Cobb County representative and Sheriff Craig Owens talked about the significance of the event.
"If we're not doing it for them, who will," asked Sheriff Craig Owens of Cobb County. "It's a lot harder being a kid than when I was growing up. There are lots of outside negative pressures that children have right at their fingertip. This is our way of exposing positivity to our kids. We want them to have role models who can teach and show the importance of making productive decisions and working hard towards a goal."
Fulton County sheriff expressed the change he wants to be a part of going forward and how the Anti-Bullying campaign can help kids at a pivotal stage in their lives.
"As the 28th Sheriff of Fulton County, I am committed to be the change that I want to see in the world. That means fostering relationships within the communities I serve. I am honored to participate in the Sheriff's Cup, and the Anti-Bullying campaign," said Sheriff Patrick Labat. "It means everything to me to support our youth as they tackle bullying on and off of the football field. Together, alongside the Sheriffs of Cobb, DeKalb, and Gwinnett, we serve as a beacon of unity, pillars in the community, as we cheer on four youth football teams across Georgia. Community engagement sits at the cornerstone of our commitment to service."
Grayson Rams were a representative of the event last year matching up against the Parkview Panthers. Gwinnett County Sheriff Keybo Taylor talked about what it meant to be a part of the first ever event and how it bridges the gap between players and law enforcement.
"Last year we hosted the Inaugural Sheriff's Cup, which featured the Grayson Rams and the Parkview Panthers from the Gwinnett Football League," said Taylor. "The vision for the Sheriff's Cup was to continue to bridge the gap between law enforcement and the communities we serve. My mission was to provide a platform for our anti-gang and anti-bullying initiative through athletics. This year, we've expanded the Sheriff's Cup to include four counties, two football games, all with one mission."
The football action will kick off at 9 a.m. at Collins Hill High School on Saturday and will be broadcasted live on Peachtree TV. The first matchup will be Grayson vs Cambridge followed by Tucker vs McEachern and the winners at the end of one half of play will then faceoff in a full contest for this year's Sheriff's Cup title.
"It's our second year," said IJ Rosenberg. "The most exciting part of this season is adding Fulton, Dekalb, Cobb county sheriff's departments which will give the anti-bullying and gang campaign a much broader reach."
Grayson vs Cambridge
Grayson is coming off an electric championship victory that helped them seal back-to-back state championships after their defense came up with a big defensive stop on a two-point conversion and forced the game into overtime where their offense sealed the deal. Grayson Head Coach Brandon Cannon talked about what that moment meant to his program.
"The turning point in that game came when they had a chance to go for two and seal the deal. They've been in that position before and they play for each other and play with so much heart," said Cannon. "At that point, they were like hey this is it. We win or lose it right here. This is the chance where you can grow up and show people why you are back-to-back champs. They grew up right there in that one minute. It was a defining moment for that group to stop Lawrenceville from that extra-point attempt. I get goosebumps talking about it. It was amazing. They did their assignments and everything they were supposed to do. They are definitely a battle-tested group."
Grayson gets it done off the field as well as on the field. The majority of their team is on the A and B honor roll and coach Cannon holds his boys to a high standard.
"This will be my sixth year coaching this team. I've had them since six. I played college football at Clemson so there are some things from my foundation that I try to bring to this team. Most importantly I try to create that family atmosphere for these boys and parents," said Cannon. "It takes a whole group to make this work, especially at this age. I depend on parents to bring them and make sure they are on time. I also need to make sure the kids are doing what they are supposed to do on and off the field. That is big for me. These kids know they won't play for me if they don't make good grades. 80% of our team last year made the A and B honor rolls."
Coach Cannon talked about what it meant to play on TV. He also talked about what it meant to his players and program to get great exposure for his kids at an early age.
"I am excited for them to be able to tell their aunts and uncles hey tune in on local TV. I didn't get a chance to do that until I was in high school. Here they are in middle school getting an opportunity," said Cannon. "It's a great platform and I appreciate the opportunity to be a part of it. I think it is really cool, especially for kids with family members out of town and things like that. It's preparing them for what they will see in two more years at the high school level. What better way to start than with this? I am excited about it."
Coach Cannon has a son that plays for the team Maddox Cannon, who is a ballhawk in the secondary. He is great at coming down and making a run stop.
"Maddox is a ball hawk in the secondary and is not afraid to come down and make a hit," said Cannon. He always finds a way to make a play and be disruptive on the defensive side of the ball."
There will be some talented players to watch in this game on both sides. Among the Grayson players are QB Austin Leonard, RB Jaden Nored, DT Jaxson Roberts, CB Austin Taylor, DT Perry Riley, SS Cyrey Coleman, and CB Jeremiah Powers.
"Our quarterback Austin Leonard is a dual sport. He is a really athletic kid. He's smart and knows how to command our offense," said Cannon. "He's been doing it for a while but this year we have a new offensive coordinator so it will be a little bit of a learning curve. He's a special kid. Jaden Nored is playing his second year for us. He runs with a different type of edge. I am really excited about what he will be doing and the work he has been putting in this offseason. On the defensive side of the ball, we put a lot of emphasis on our defensive line. Everything for our defense starts with that. Jaxson Roberts is one of our defensive tackles. Kid has a knack for the ball and is able to be very disruptive on the defensive line. He is very quick off the ball so he is usually in the backfield a lot disrupting plays before they start. Next to him is Perry Riley, another defensive tackle. Cyrey Coleman is a dual sport athlete that runs tracks and plays football. His speed is very valuable to our team and we use him in a multitude of ways on the field. Jeremiah Powers is a returning starter on defense. Don't be fooled by his size. Powers has great cover skills and is very physical player."
Cambridge enters the season after a semifinal loss to eventual state champion Rome. The Bears' defense until that point was outstanding. Each game was a struggle for opponents against the stout defense.
"Last year, until we lost to Rome in the semifinals, who were the eventual champions, we did not give up a defensive touchdown through the entire regular season and multiple playoff games until the semifinals," said Coach Reid. "We are not a huge team. 11 heads to the football. They are not intimidated by the bigger kids. It was a really fun year last year and I'm looking for more success this year."
An interesting player to watch for Cambridge will be their quarterback Will Cousino. Cousino will be even better after his first year at the helm as quarterback for the Bears. So far this summer he has been at several camps perfecting his craft and improving as a passer. Year 2 will be an exciting one, especially since it is his second year in tackle football.
"Last year, I didn't have a true quarterback heading into the season. In fifth grade, a boy moved to the area. He was really athletic and we decided to make him my project last season and make him quarterback," said Reid. "His name is Will Cousino. He played quarterback for us last year as a second-year tackle player and first year as a quarterback. He did a phenomenal job and got better every week. A really good athletic kid that can run and throw and make good decisions. This year I expect even greater things from him. He's got a year under his belt. He's doing a lot of quarterback camps this summer."
Coach Rech has a son that plays on the team and talked about what it meant to coach him on the youth level.
"He played running back and safety for us last year. He grew up watching football and baseball as a baby. His older brother played baseball in college. He followed in their footsteps with the same love," said Rech.
McEachern vs Tucker
McEachern is coming off a semifinal berth and a great season. Some of their impressive players from last season that are moving to the high school program are even getting reps on the JV and varsity teams next season.
"Jaden Gurley, EJ, Edward Turner, Kingston Jordan. Kingston is getting some good reps," said coach Marion Clark. Those are the ones that have been doing a few OTAs with the varsity, so like whenever we have done defensive camps some of them have participated."
"Last year they were on the eighth-grade team. Jaden Gurley is a leader. He's like a coach on the field. He played offensive line and defensive end. Whatever we asked him, he did it. He's a very intelligent kid. Very mature. Is one of those yes sir no sir type players. Kingston plays offensive tackle. We spotted him every now and then on defense. EJ (Edward Turner) played both sides of the ball.
McEachern's key players will be Keyshawn Hall, Blandon Smith, London Lease, Cory Hilliard, and Xaiden White.
Tucker also made a great run to the Super Bowl in the first season under head coach Aundre Goode. Coach Goode had his players bought in and helped them realize their full potential in just one season under new coaches, players, and schemes.
"Last season was our coming out. The year before we stumbled. Last year everything was new. New head coach, newly appointed OC, new players. Preseason we started out 6-2 and it was a lot of promising things that we can build off of," said Good. "We started the season playing in Northwest Georgia, which is the league we play in and when we went there it was like we were undefeated. We lost one game and I will take the blame for that. It was a coaching error. We won the regular season and were regular season champs. Then we went to what they call the Super Bowl. We got to the Super Bowl and fell short against the Chattanooga Ravens but we did take a lot away from that season because we were a team on the brink of stardom."
Coach Goode's son plays quarterback on the team and he talked about staying hands off and allowing his coaches to get him where he needs to be.
"As far as the quarterback goes, I am always reluctant to say he is my son. I stay hands-off. I leave that to my other coaches," said Goode. "I am very proud as his coach of him playing running back in 8U and embracing the quarterback role. Now that coaches are really feeding into his abilities, he was another finalist for B2C Player of the Year at the quarterback position. During the season he was named player of the game by B2C.
Some players to watch for the Tucker Program are Karter Lumpkin, DL JT, McKoi King, and Frank Dey.
"Our running back is Karter Lumpkin, a first-year tackle football player. No one suspected he was a first-year guy. He actually played in a league called I9 flag football, so when he got introduced to the tackle side of football I saw his swag and style of running," said Goode. "Very athletic but I was concerned about him taking some hits. After game 3 or 4, he was numb to it. This guy is spectacular. He ended up being one of the finalists for B2C player of the year which I am very proud of. He got MVP of a losing championship game matter of fact. As far as the quarterback goes, I am always reluctant and hesitant to say he is my son. I stay hands off. I leave that to my other coaches. I am very proud as his coach. He was another finalist for B2C player of the year at the quarterback position. During the season he got player of the game through B2C.
We also have JT number 17. When he realized that the light bulb had gone off about his physique, he became very confident in himself. For a minute he was trying to adjust to being the biggest kid but now he is like a brick wall. I have another guy named McKoi King and we call him Lone Wolf. The reason why is that he is always to himself and very productive on the field. He is very knowledgeable about the position he plays at. Frank Dey is a returning starter and was runner-up for B2C offensive lineman of the year last season.
McEachern is not just about winning a state championship in youth football but also getting the boys ready to transition to the next level. Coach Clark talked about getting them ready to make an impact in high school football.
"We want to get the kids ready as they transition into high school whether that is with the play calls or formations," said Coach Clark." The objective is to try and have them understand and be somewhat familiar with what they will be stepping into at the high school level. Of course, you want to be better and compete in the championship game and that will be a goal but it's honestly getting these kids ready and acclimated to transition to high school. I want to get them prepared mentally and physically and set that standard for them on and off the football field."
McEachern will play on the Track Complex at McEachern High School around 3-3:30 for their home games. Cambridge will play most of their games at 11 am on Saturdays all over Fulton County.
The Sheriff's Cup will be broadcasted on Peachtree TV and streamed on the Atlanta News First App and the National Federation Network