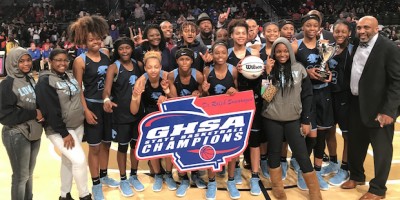 Lovejoy erased a 3-point deficit heading into the 4th quarter to win its first girls title.
ATLANTA — Both teams showed nerves early on the championship stage, and they played evenly through the first three quarters. By the end of the third, there were six lead changes and seven different occasions on which the score was tied. Lovejoy, however, found its confidence and stride in the fourth, outscoring the Hoyas 23-5 in the frame and running away with the first state title in program history with a 57-41 win.
"I thought they played like youngsters in the beginning," said Lovejoy head coach Cedric King. "In the second half, they composed themselves and they took control and just did what we do, attack the basket."
Amara Newsom (6 points) and Meredith Ward (2) gave Harrison eight points off the bench, but Lovejoy's starters did all the Wildcats scoring (the Lovejoy bench only attempted three shots all game). King recognized during his film study leading up to the game that depth was a weakness for both teams and that this matchup would likely come down to the starting fives in the final quarter. He substituted his starters out accordingly at the end of the third quarter to let them recharge, and Harrison closed it out strong and took a 36-33 lead. But then the energized Wildcats returned to the court and dominated the final quarter. Lovejoy went on a 12-0 run in the first four minutes and Harrison did not score until there were less than four minutes left in the game.
Lovejoy's Anaya Boyd led the way with a game-high 20 points and connected on nine of 13 attempts from the foul line. Teammate Genesis Bryant finished with 14 points and starters Avanna Preston (8 points), Kayla Brown (8) and J'Aunna Preston (7) provided the rest of the scoring.
Harrison's Harper Vick was the only Hoya to finish in double-figures (10) and hit the only one of Harrison's 11 attempted three-pointers in the game. The Hoyas also struggled from the foul line, shooting just 6-of-18 (33.3%).