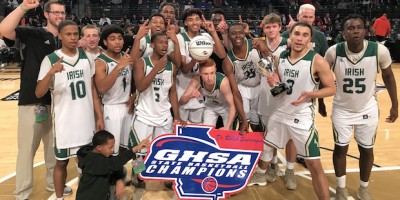 ATLANTA — Aquinas trailed by eight points in the first quarter and took a 33-26 deficit into the half before dominating St. Francis in the the third quarter and holding off the Knights late to clinch the program's first-ever state title, 65-60.
The Irish shot a frustrating 1-of-11 from the field in the second quarter, and went into the locker room searching for a spark. Head coach Darren Douglas, however, made his message simple.
"I told them we have to win the first three minutes of the quarter," said Douglas. "If we win the first three minutes of the third quarter, we will win the game."
The Irish opened the second half with two quick buckets and kept up the pace, shooting 10-of-12 from the field in the period and outscoring St. Francis 25-9. Aquinas senior Tre Gomillion corralled all 14 of his game-high rebounds on the defensive end and his quick outlet passes were finished with textbook transition basketball. Gomillion would finish with a team-high 16 points and Dajuan Hill (15), Daniel Parrish (14) and Trent Bowdre (10) also netted double-figures.
Aquinas continued to attack the basket, and made a living on the foul line, connecting on 24 of 27 attempts (St. Francis was 8-of-14). In the final quarter, the game slowed down and St. Francis brought it within three points late. St. Francis missed three-point attempt after three-point attempt, but still had a chance in the closing minutes. The Knights came down the court in hopes of the equalizer, but St. Francis head coach Drew Catlett called a timeout right before sophomore Dwon Odom's attempt went in. Out of the timeout, the Knights missed two more desperation attempts before Aquinas gained possession and Bowdre was sent to the line for the game's final two points.
"We wanted to wear them down and make them tired," said Douglas. "I'm pretty sure most games they play, they do the wearing down. Our team has been running up until basketball season four miles a day and lifting weights. They probably didn't understand it at the time, but I knew what it was for. It was for a game like this when you have to wear someone down. It was an 'impose your will' type of game and our guys were built for it."