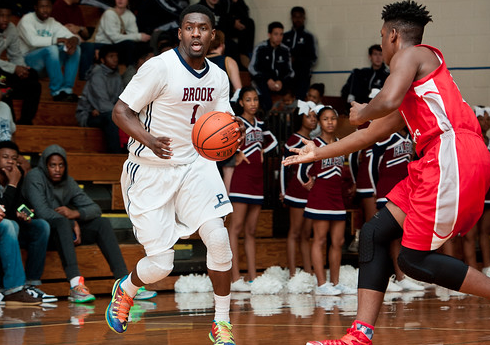 Photo by Ty Freeman
The biggest high school basketball event in the country this weekend will take place at Norcross High School on Saturday as 14 of the nation's top programs prepare for a seven-game marathon in the 9th annual Hilton Invitational. Among the championship-caliber teams will be some of the most coveted basketball prospects in the country.
North Gwinnett High School (GA) vs Christ School (NC)
In the first time slot (11:30 AM), North Gwinnett will face Christ School (NC). The Bulldogs have struggled since 2014's Elite 8 appearance and limp into the weekend with a 7-11 record after playing one of the toughest schedules in the state this season. Christ School sits 5-0 in their conference action and will complete a Georgia road trip that includes a Friday matchup at Rabun Gap and concludes with Saturday morning's clash with North Gwinnett. The Greenies fell 65-46 to Norcross last year in the Invitational.
Greater Atlanta Christian School (GA) vs Lee High School (AL)
Greater Atlanta Christian, which owns four state championships the past five seasons plays at Hapeville Charter Friday night and will tipoff Saturday at 1:30 PM against Lee High School (AL) in the Hilton Ivitational. Sharp shooter Cam Boyd and the Spartans face a Lee team that is ranked No. 1 in Alabama's Class AAAAAA. The Generals last game versus a Georgia opponent was a 61-44 New Year's Eve victory over Alcovy back in 2012.
Jenkins High School (GA) vs Winston-Salem Prep Academy (NC)
The third game includes Class AAA's No. 3 ranked Jenkins Warriors, who are led by Georgia State-commit Malik Benlevi, a 6-foot-5 forward averaging 15.4 points and 4.6 rebounds per game. Jenkins will take on North Carolina juggernaut Winston-Salem Prep. The good news for Jenkins is that Benlevi has missed the Warriors' last eight games with a knee injury, but is expected to return to the court for this weeekend. 6-foot-4 guard Trevion Lamar is the team's second leading scorer (10.3) and leads the team in rebounding with 6.3 per game. Seniors Eric Johnson (9.2 ppg, 3.7 apg) and Jamori Bryant (8.4 ppg, 1.7 spg) have stepped their game up in the absence of Benlevi. Senior Nicholas Severado is Jenkins' tallest player at 6-foot-8 and is the Warriors' rim-protector blocking nearly three shots per contest. Jenkins has scored big wins over No. 6 Johnson, No. 5 MLK (5A), No. 4 Columbia (4A), and No. 4 Butler, while losing to No. 1 Miller Grove (5A) by seven. The Warriors have split in their out of state games this season going 1-1. Winston-Salem Prep has won three straight 1A state championships. The Phoenix offense starts with freshman Daivien Williamson, a 5-foot-10 point guard averaging over 13 points per game. Sophomore big man Zaire Williams flirts with double-doubles on most nights and is a shot blocking presence. NeQuan Carrington and Chrishawn Watson are both scoring threats while 6-foot-6 D.J. Harrison is another shot blocker for the Phoenix averaging nearly two per game. This meeting with Jenkins will be W-S Prep's only out of state game all season. Last season, the Phoenix attended the Hilton Invitational and was dropped by eventual state champ GAC, 72-64.
Covenant Christian Academy (GA) vs Montrose Christian School (MD)
The fourth matchup and halfway point of the action will pin Covenant Christian Academy with Maryland's Montrose Christian, the former school of reigning NBA MVP Kevin Durant. Montrose Christian is one of the top-ranked teams in Maryland and features Tulane commit Taron Oliver and Sacred Heart University signee Jermaine Ukaegbu. Covenant Christian brings Troy commit Tope Arikwe, a 6-foot-8, 230-pound power forward, to the matchup.
Norcross High School (GA) vs Madison Academy (AL)
At 5:30 PM, Class AAAAAA's No. 6 team, the Norcross Blue Devils take on Madison Academy (AL) with one of the biggest lineups in the state with 11 players listed as 6-foot-2 or taller. The host Blue Devils are experienced with six seniors playing key roles. 6-foot-6 Ricky Madison gets it done of both ends of the floor and is a double-double threat every night. The High Point-commit went for 25 points and 11 rebounds in a win at No. 7 Collins Hill on Tuesday. Senior guard Tim Cameron is as solid as they come and holds offers from Georgia Southern, Louisiana Tech, and Middle Tennessee State. 6-foot-7 sophomore Rayshaun Hammonds is one of the top ranked players in his class, and is a nightmare in the paint. Devin Huffman is another strong guard that should play at the next level. Norcross has gone 2-1 against out of state competition this season but this will in the eight previous years of the Hilton Invitational, Norcross has never lost. Madison Academy's record isn't as sparkling as the Blue Devils but don't let them fool you. The Mustangs suit up just two seniors and rely on a plethora juniors and sophomores. 6-foot-6 shooting guard Joshua Langford is a high major prospect with interest from the likes of Kentucky, Florida, and Indiana. The five-star junior guard is averaging 26.8 points, 10.2 rebounds, and 4.1 assists per game to lead the Mustangs. Myles Parker is a 6-foot-7 sophomore who averages 10.5 points and 5.9 rebounds. Junior Will Acuff averages 9.8 points per game and 6-foot-8, 275 pound sophomore Austin Troxell bangs inside. Madison Academy has gone 0-2 out of the state this year with both losses coming from Georgia schools. No. 8 in 6A Douglas County nipped the 'Stangs by three and Class AA's No. 3 ranked team, Holy Innocents' won by 21.
Pebblebrook High School (GA) vs Dematha High School (MD)
The Pebblebrook Falcons who are ranked No. 3 in Class AAAAAA will face DeMatha, which is ranked No. 8 in the Nation by MaxPreps in the 7:00 PM timeslot. Pebblebrook features senior guard Ty Hudson (Clemson) and Georgia-commit Derek Ogbeide inside. Hudson averages 19.1 points, 5.8 rebounds and 5.4 assists to go along with four steals per game. 6-foot-9 Ogbeide blocks over four shots per game and averages 13.7 points and 12.1 rebounds. The Falcons' x-factor however is unsigned junior point guard Jared Harper who leads the team in points (21.5) and assists (8.2). Trhae Mitchell rounds out the Falcons' attack averaging 13.4 points and 7.4 rebounds per game as a 6-foot-5 forward. Pebblebrook has gone 4-3 against teams outside of Georgia, dropping its past three games.
Prestigious DeMatha has been a hotbed for basketball talent. Alumni include Danny Ferry, Adrian Dantley, Victor Oladipo, and most recently Jerami Grant. This year's DeMatha squad features four-star sophomore guard D.J. Harvey and Binghamton-commit 6-foot-7 Thomas Bruce along with Drexel-commit Terrell Allen, a 6-foot-1 guard. The Stags are long all over the floor. Jaelin Grant is the youngest brother in the aforementioned Grant family and stands 6-foot-7. Forward Isaiah Jemel Buck has been recruited by Villanova, Virginia, and Xavier while three-star junior guard Markelle Fultz has piqued interest from the likes of Arizona, Maryland, and Georgetown. DeMatha has gone 6-1 in national games with its only loss coming to Sierra Canyon (CA) by five, who also beat Pebblebrook by one. The Stags' last meeting with a Georgia school came in the 2012-13 season at the Hilton Invitational where DeMatha fell to eventual state champs Norcross, 68-67.
 Jonesboro High School (GA) vs Spain Park High School (AL)
The finale sets up one of the most intriguing matchups of the basketball season. Class AAAA No. 1 Jonesboro will face Alabama powerhouse Spain Park. The Jaguars host Vestavia Hills Friday night and will turnaround the next night to play arguable the best team in Georgia regardless of classification with Jonesboro (8:30 PM tip). Spain Park has been dominant against its Peach State opponents already this season and completed a three-game sweep of Fayette County (76-68), North Cobb Christian (69-56) and Pope (71-51) in the Lake City Classic last month. Sophomore Austin Wiley is Spain Park's player to watch and the 6-foot-9 power forward has risen to five-star status this season and is currently considered a top 10 recruit in the nation for the Class of 2017 by 247sports.
Jonesboro has its own nationally-ranked sophomore in 6-foot-5 shooting guard M.J. Walker Jr., captured its first-ever state championship last year and is off to a 19-1 start this season. Walker leads the team with 16.4 points per game, but it is the explosive scoring of senior Tracy Hector Jr. (12.4 points per game) and Deantre Mack (11.4 points per game) that make the Cardinals offense one of the best in the state.