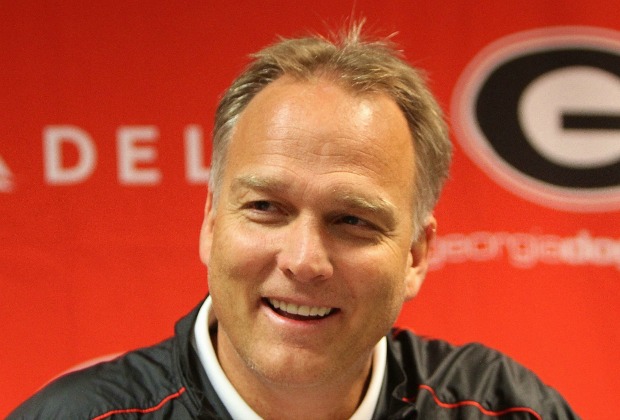 Photo by Rob Saye
University of Georgia announced Wednesday afternoon that it has given head football coach Mark Richt a contract extension. The new deal for Richt is now going to pay him $4 million annually.
Previously, Richt had been making $3.2 million dollars per season. After picking up his seventh 10 win season in his 14 year tenure in Athens. J Reid Parker Director of Athletics Greg McGarity is happy with the way things are going inside Sanford Stadium.
"We are very pleased with the direction of our program under Mark's leadership," McGarity said in a statement released by UGA. "Mark and his staff are making significant strides in all areas of our program, and we look forward to great things in the years to come."
Over the past two offseason's Richt has needed to make coaching hires for a new offensive and defensive coordinator. Last year it was Jeremy Pruitt being hired on, after Todd Grantham decided to leave for the same job at Louisville. This year, Richt hired on new OC Brian Schottenheimer and offensive line coach Rob Sale. These moves were made after Mike Bobo left to become Colorado State's head coach and took Will Friend with him.
With all of these changes and coming off of a 10-win season, Richt is excited about the future in Athens.
"I appreciate the confidence that Greg McGarity has in the direction of our football program and how we represent the University of Georgia," Richt said in a statement released by UGA. "Our staff has an outstanding work ethic and we are committed to the development of our student-athletes on and off the field."
Richt is now 136-48 in his career at Georgia. With the bump in pay, he is now tied with South Carolina's Steve Spurrier as the 10th highest paid coach in the country according to USA Today.
UGA Spring Football Dates Set
National Signing Day is near and that means that the college football season is trending even closer to kick off in the fall. Yes, spring football practice dates have been announced.
Georgia's Athletic Communications office announced Wednesday that spring practice will start on March 17 and go all the way until April 16. The Bulldogs will have 15 practices.
Their annual G-Day Game will be played on April 11 at Sanford Stadium. Pro Day is going to be earlier this year on March 18. Last year, Georgia had it in April with quarterback Aaron Murray trying to bounce back from a torn ACL.